Joanna Gaines Is Teaming Up With Her Sister For A Brand New Show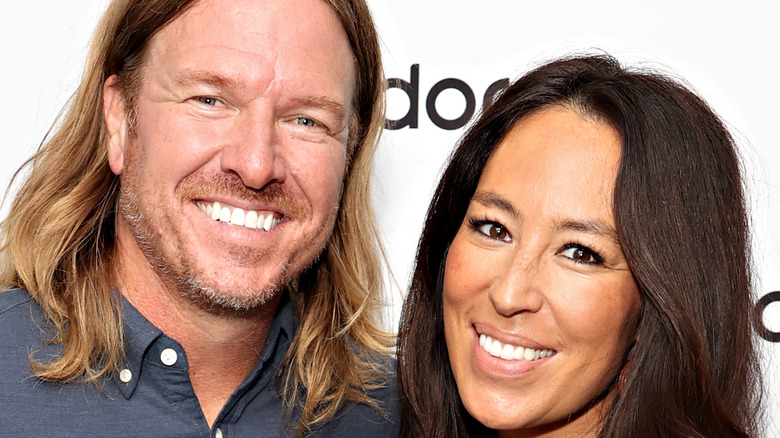 Cindy Ord/Getty Images
Joanna Gaines is used to working with family. After all, the "Fixer Upper" star has been on camera with her husband Chip for a decade, and she frequently let viewers get a glimpse of their relationship with their five children. Now, fans will get to enjoy even more of Joanna's clan.
Joanna has announced that she'll be teaming up with sister Mary Kay "Mikey" McCall for a brand new TV show on the Magnolia Network, according to People. The show, which is titled "The Retro PlantShop with Mikey and Jo," will follow Mikey as she launches her pop-up plant shop, Ferny's, with help from her big sister. 
The store is based in a vintage camper, which has been part of Mikey's vision for years. When Ferny's celebrated its opening day in 2021, Mikey wrote, "About 21 years ago when I was in college I started dreaming of having a little shop. Back then I imagined calling it The Yellow Submarine, and I had dreams of traveling around the country in an old camper searching for all sorts of vintage finds to sell at the shop." She explained that her vision of what she would sell evolved, and Ferny's now focuses on plants and vintage plant accessories.
Joanna has been one of Mikey's biggest supporters
Unsurprisingly, Joanna Gaines has been supporting her sister Mikey since Ferny's first opened. One of Ferny's first big stops was at Chip and Joanna's Magnolia Market in their home base of Waco, Texas.
Joanna will take any opportunity to gush over her talented sister. She revealed on Instagram, "A couple things I love so much ... my baby sis and watching someone pursue what makes them come alive." She continued, "Mikey's sense of wonder and heart for adventure mixed with her love of plants and vintage finds have helped her create something truly special. I can't wait to see all that she does with [Ferny's]."
"The Retro PlantShop with Mikey and Jo" will premiere on May 20 exclusively on the Magnolia Network. But for all the fans who can't wait till then, Ferny's Instagram offers a sneak peak of their unique vintage finds.