The Biggest Heroes Of Hurricane Harvey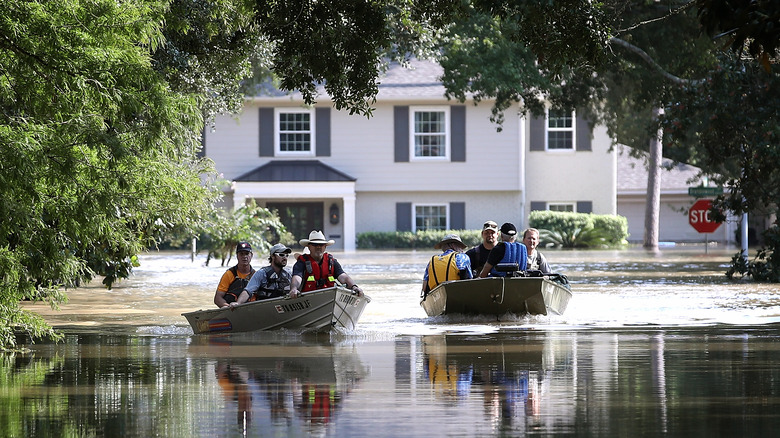 Getty Images
When my parents moved to Houston in 2014, one of the first things they noticed is how friendly everyone is. It's something I was also surprised by when I first started spending time in Texas (I'm a die-hard Coloradan who married a born-and-raised Texan), but as I soon learned, Texas is known for its culture of hospitality. As my parents discovered when they moved, Houston — the most populous city in Texas, and the most diverse city in the United States — is no different.
In the wake of Hurricane Harvey and the devastating flooding that has besieged Houston, the city's spirit of teamwork, compassion, and shared humanity has received national attention alongside the news of Harvey's torrential rain. 
My Facebook feed has been filled with examples of people coming together to help each other: friends of my parents' have been distributing information on how to coordinate rescue efforts, and one of my husband's friends wrote about how she and the other parents in her neighborhood have been standing watch in overnight shifts to keep an eye on nearby water levels — thus allowing other parents and kiddos to get some sleep. Those are just some of the stories, so grab some tissues, and prepare to have your faith in humanity restored.
"Mattress Mack" and his warehouse shelters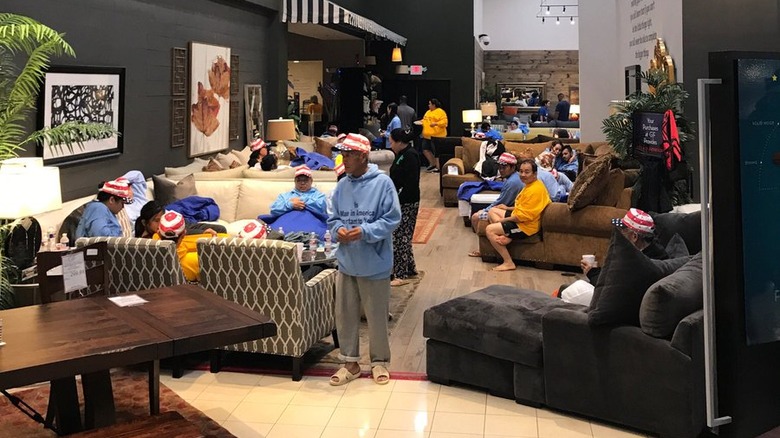 Knowing that so many people were being displaced from their homes, local mattress store owner Jim McIngvale, known locally as "Mattress Mack," opened up his company's two showrooms as makeshift shelters. NPR reported that as the flooding began, McIngvale shared a video online inviting anyone to seek shelter with him. He even provided his personal phone number. "We sell home theater furniture that you watch TV in, they're sleeping on that. They're sleeping on recliners, sleeping on sofas and love seats. We have sleeper sofas, they pulled them out and slept on that," McIngvale said in an interview with NPR's Morning Edition. "They're sleeping on hundreds of mattresses throughout the store. They're sleeping on the couches — wherever they can find a place that's comfortable, and God bless 'em."
As if that weren't enough, McIngvale then sent out his delivery trucks and drivers to help pick up people who were stranded in the flood and hadn't yet been rescued by emergency responders. "We put out a Facebook feed that we were going to rescue people, because there was so much need.... The city and the local authorities did a great job; they just couldn't get to all the 911 calls.'" 
Animal rescues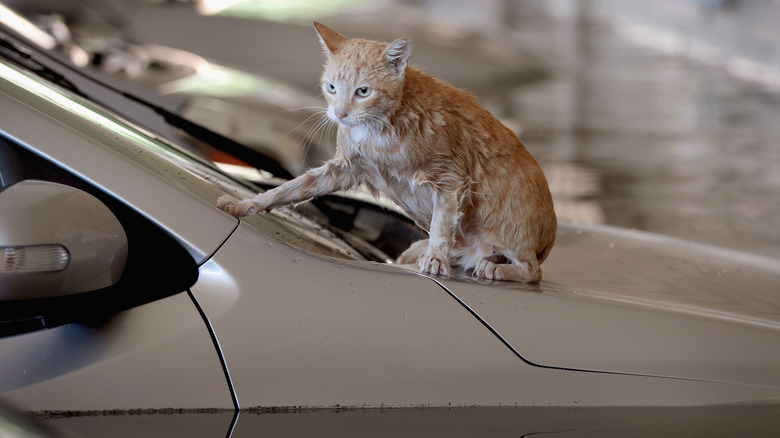 Getty Images
This one got me really verklempt: in many cases, people leave their pets when they evacuate their home due to a natural disaster. In one case, a woman named Betty Walter had rescued many of her neighbors' pets and was waiting in her attic to be rescued — and according to ABC7 News in Houston, she was waiting along with 21 dogs. 
When good Samaritans William Beasley and his wife, who had been traveling around Houston rescuing people trapped in their homes, found Walter, she offered to stay behind so that they could ensure that all the dogs would be safely taken to dry ground. Writing on Facebook, Walter said "I was worried there was too many dogs on the boat and it would tip over. I told them I would stay behind and for them to make two trips. They said no, we are taking all and you." 
Happily, everyone — canine and human alike — were safely rescued in one trip. Others have been rescuing cats, cattle, and other animals, and according to The New York Times, many people have been just as concerned about their four-legged friends as they are about their fellow humans. 
Animal rescue efforts all across Texas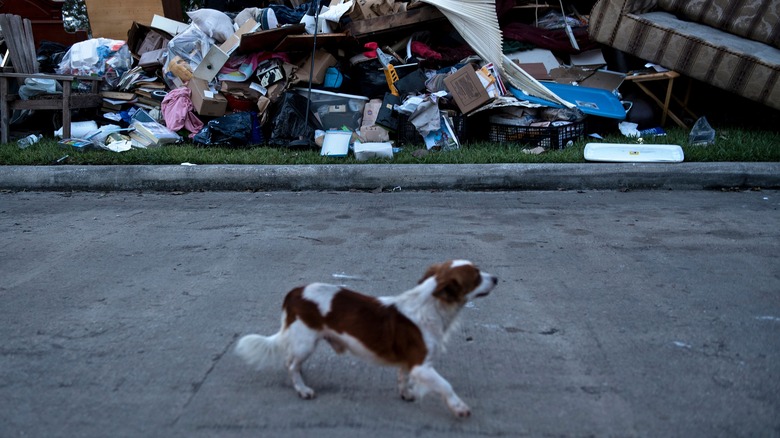 Getty Images
Organizations from outside Houston are also helping with the animal rescue effort: Austin-based shelter Austin Pets Alive (APA) has rescued over 400 animals from the flooding, according to CBS Austin, and has set up a command center to help shelters affected by the floods to evacuate and transport as many pets as possible. 
"As we continue to care for the animals we have already saved, we have to prepare for even more animals who will need us in the coming days. We've been receiving reports from shelter partners in areas hit hardest by the hurricane and areas expecting the most flooding that over the course of the next 24-72 hours, they are anticipating another significant influx of animals that they may not be able to help," APA writes on their website.
Meanwhile, Texas A&M University, located about two hours north of Houston, has sent 12 members of its Emergency Veterinarian Team to Houston so that they can help rescue abandoned, injured, displaced, or surrendered dogs. According to local news station WKRN, "The team has a medical platform, a refrigerated pharmacy truck, food, tents, generators and a trailer with a decontamination unit. The team is equipped and trained to treat all animals, big or small."
DIY rescue crews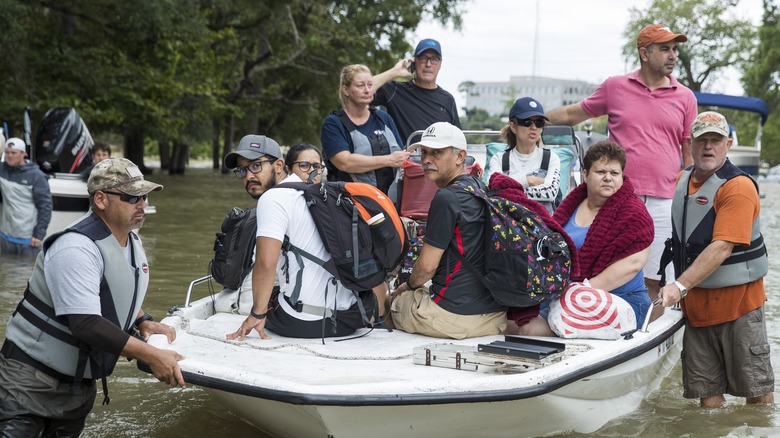 Getty Images
Across Houston, emergency services have been inundated with calls for help, and haven't had the bandwidth to respond to all the requests. Knowing that local first responders were overwhelmed by the need for rescues, ordinary citizens decided to join the effort — and as a result, people with boats, paddleboards, rafts, and canoes have been helping rescue people stranded by the flood waters, and they've rescued untold numbers of people when emergency services weren't able to make it. The New York Times has a gripping video showing the accounts of people using their own personal boats to search, neighborhood by neighborhood, for people in need of rescue. 
Local news station helps rescue truck driver
KHOU, a local Houston news station, was in the middle of a live broadcast when they saw a truck driver stranded in rising flood waters on the highway below. A Houston police department vehicle was passing by while towing a boat, and the news team interrupted their live broadcast to flag down the police and tell them about the stranded trucker. Happily, the police sprang right into action, rescuing the trucker by having him climb through the window of the truck's cab into a boat — and, to say the least, it made for quite an amazing live broadcast. 
Pan dulce for all
Four employees at El Bolillo Bakery were trapped at work for two days after the flooding began. With time on their hands and access to all the necessary baking supplies, they decided to work, day and night, to bake Mexican sweet bread — known as pan dulce — to give to people affected by the flood. According to The Independent, the bakery, "which specializes in Mexican cakes and patisseries, had remained dry and had not been cut off from electricity so the bakers were able to work throughout the night and the following day."
Brian Alvarado, the shop's manager of the shop, said in an interview with The Independent that "'When they realized they were stuck, they decided to keep themselves busy and help the community and made as many loaves of bread as they could. By the time the owner managed to get to them, they had made so much bread that we took the loaves to loads of emergency centers across the city for people affected by the floods. We didn't count exactly how many loaves they made, but they used 4,400 lbs of flour.'" That's a lot of bread, and it was certainly eaten by a lot of grateful people.
A doctor canoed through flood waters to perform surgery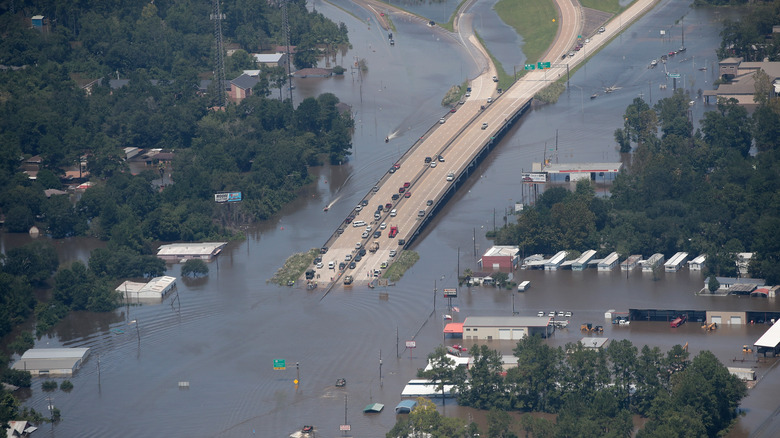 Getty Images
As the flooding was rendering roads impassable, Dr. Stephen Kimmel, a Houston-based surgeon, received word that a teenager suffering from a possibly permanent medical condition needed immediate surgery. Dr. Kimmel left for the hospital as his own home was starting to flood, according to ABC 13 News in Houston — but nonetheless, he jumped in his car and started his drive to the hospital. On his way there, though, he was stopped by rising flood waters and washed-out roads. That's when "two volunteer firefighters with a canoe came to his aid and the three paddled towards the hospital in the dark against heavy currents," ABC 13 notes. He was dropped off about a mile from the hospital, and he walked the rest of the way through waist-deep water, determined to perform the surgery for a patient in immediate need.
"'Sometimes you have to do whatever it takes,' Kimmel said in a press release. 'This young man's life would have been changed for the worse forever if we hadn't been able to perform surgery when we did. In the end, it all turned out very well.'"
A midwife rides an inflatable swan to deliver a baby
Midwife Cathy Rude struggled to get her patient, Andrea Haley, who was approaching active labor. The water was up to her waist, and she knew she'd be unable to transport her birthing supplies without them getting damaged. Haley and her husband tried to pick up Rude in their truck on their way to the birthing center, but when they arrived in her neighborhood, the roads were impassable. 
According to The Today Show, that's when inspiration hit: Haley saw a woman floating down the street with a large inflatable swan, so she flagged her down and asked "'Hey, would you be willing to give my midwife a ride so she can deliver my baby?'" The woman happened to be a neighbor of Rude's, and she was more than happy to help. 
In an interview with The Today Show, Rude said "Andrea called me and said, 'A swan is coming to pick you up.' I laughed and gathered all my stuff and opened the front door and sure enough there was an inflatable swan with my neighbor behind it. So I climbed on and she pushed me down the street to the end of the street and I was able to climb off the swan and into the pick-up truck and off we went to the birth center. She had the baby later that evening."
Gratitude for the Cajun Navy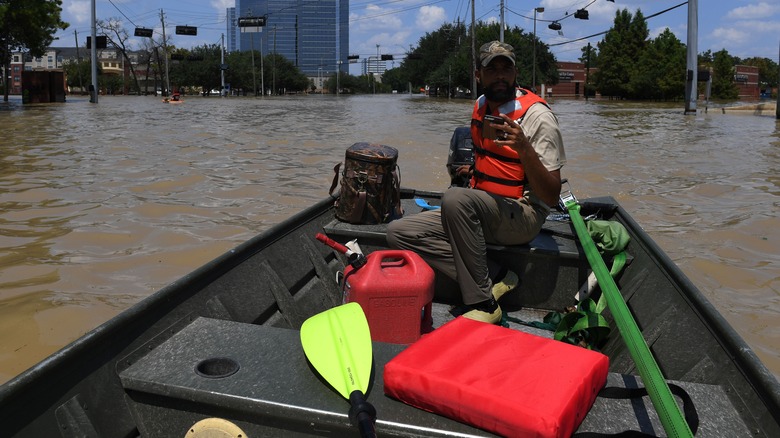 Getty Images
As the flood waters rose, many Houstonians were relieved to hear that the Cajun Navy — described most aptly by NBC as a "ragtag crew of Louisiana natives" who volunteer to help with rescue efforts in the wake of natural disasters — was on its way. Staffed entirely by volunteers, they "flowed into Houston from all over the Pelican State in customized trucks and SUVs to rescue Texans trapped by the rising floodwaters brought by Hurricane Harvey," notes NBC. "They arrived with jon boats, fishing boats, row boats, airboats, even canoes and kayaks." In fact, according to the BBC, they arrived with 20 boats to help rescue stranded flood victims.
Indeed, the Cajun Navy knows how to navigate disastrous floods, and how to support local efforts to rescue stranded citizens: the group was formed by Louisianans living around New Orleans after Hurricane Katrina, and, according to Cajun Navy founder Clyde Cain, "We don't wait for help. We've been there before.... If we weren't out here doing this, then there might not be any other rescue units. I mean, we do it because it's what we're supposed to do — we're supposed to help our neighbors."
Neighbors form a human chain to help a woman in labor
According to Houston's ABC7 News, when a resident of a Houston apartment complex went into labor during the storm, her husband called 911 — but after he wasn't able to reach emergency responders, he sent an email to the apartment building's residents to ask if anyone in the complex was an obstetrician, physician, or nurse. Almost immediately, people began coming to the couple's apartment to see how they could help, and they were there over an hour later when the Houston Fire Department came to rescue the woman. With the flood waters rising, the emergency responders couldn't get a stretcher into the building, so residents formed a human chain to ensure that the woman and her husband got to the truck safely. 
Fundraisers galore, with help from local celebrities
While numerous fundraisers have been in full swing, some local celebrities and sports heroes have gotten in on the action too. JJ Watt, a defensive end for the Houston Texans football team, set up a YouCaring campaign with the goal of raising $200,000 to help with relief efforts. As of this writing, NFL.com reports that the campaign has raised over $12 million, and donations have come in from the Tennessee Titans, New England Patriots, Green Bay Packers, and other NFL teams, as well as celebrities like Ellen DeGeneres, Miley Cyrus, and Drake. 
#HoustonStrong, indeed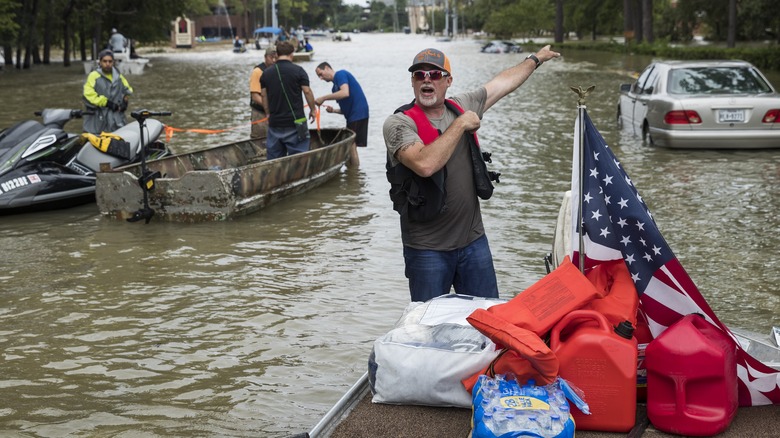 Getty Images
For me — an out-of-state native who has just started getting to know Texas over the past few years — the heroes who have come to light in the wake of Hurricane Harvey are deeply inspiring. The can-do attitude, the acts of bravery, and the massive outpouring of compassion, empathy, and help embodied in these stories seem to illustrate the hospitality that Texans and Houstonians are, rightfully, so proud of. In the aftermath of what has been an awful experience for so many people, stories like these provide hope, reassurance, and comfort. One might even call them a life raft.