Jessica Simpson's Behavior During A Sponsored Ad Has Fans Concerned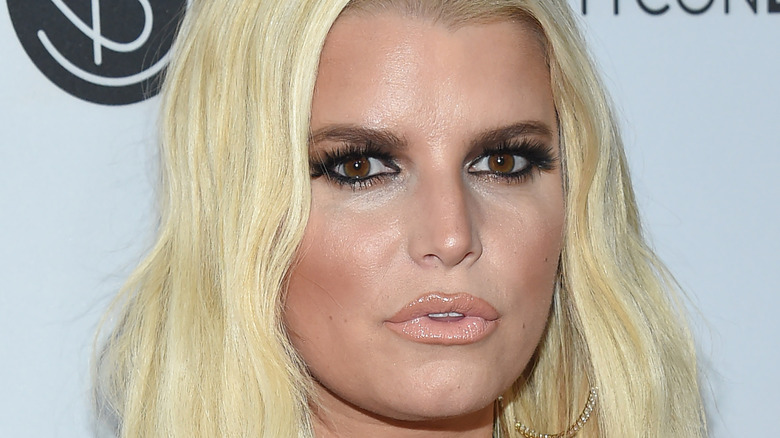 DFree/Shutterstock
Jessica Simpson revealed a lot in her memoir "Open Book" including that she made the decision to get sober after a Halloween that the star couldn't even remember spending with her family. The former reality star also admitted to being drunk on a 2017 appearance on "The Ellen DeGeneres Show" (via Today). "I need to stop," the singer wrote in her book, according to People. "Something's got to stop. And if it's alcohol that's doing this and making things worse, then I quit."
Since getting sober, Simpson has seemingly focused on her health, also confessing to shedding 100 pounds. As the mom of three shared during her recent interview on "The Real," it was "small goals" that helped her achieve a body to be proud of, which the actress showed off on Instagram recently. The comments to that post were largely congratulatory, but it's another Instagram share that has fans concerned.
Fans speculate that Jessica Simpson is inebriated in a new ad
This time, Jessica Simpson posted a video that was a paid partnership with Flonase to her Instagram Story. But as the Daily Mail reports, the clip seemed to show the singer appearing unfocused, and oddly struggling to read cue cards. Sadly, the star acted slightly intoxicated in the video, although this is merely speculation, with fans piling onto Simpson's Instagram expressing both shock and concern.
"Lmao Flonase please hire a professional. That was embarrassing to watch," snarked one commenter, while someone else admitted, "to me it was like she had been day drinking." Commenters called the video a "train wreck" and "cringe." But the criticism didn't end there. Yet another commenter who saw the spot had this to say: "Omg her commercial was awful she slurs her words and she's Soo reading cue cards omg something is up with her. It was so odd."
At time of writing, the star had not said anything about the troubling ad. But here's hoping Simpson is healthy and happy and getting the help she needs if indeed her sobriety is  in jeopardy.
If you, or anyone you know, is struggling with addiction issues, help is available. Visit the Substance Abuse and Mental Health Services Administration (SAMHSA) website or contact SAMHSA's National Helpline at 1-800-662-HELP (4357).