What Does It Mean When Clothing Is Vegan?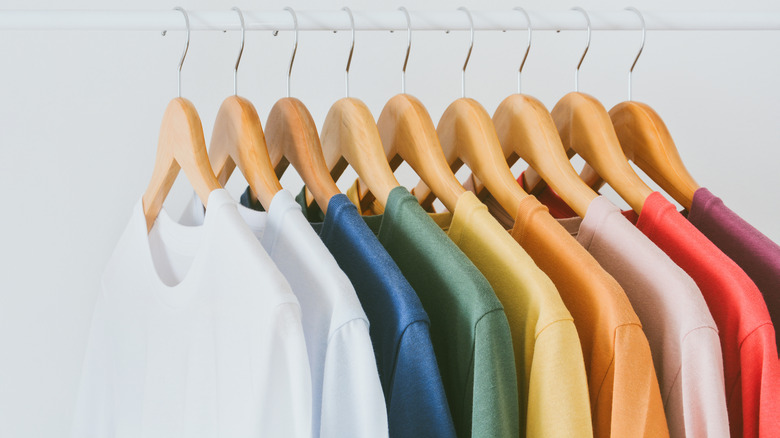 iamtui7/Shutterstock
We all know that veganism has become a popular lifestyle in recent years, as many people believe that great things really happen to your body when you go vegan. According to Vegan.com, vegans are similar to vegetarians because they don't eat meat. Vegans take this healthy lifestyle even more seriously; they don't eat anything involved with animals, such as dairy or even honey. While many people already know how the vegan diet works, you may be surprised to hear that veganism additionally exists in the fashion world. Some people choose to buy strictly vegan clothing or at least invest in a few of these animal-friendly pieces.
So many people have taken a stance against harming animals for fashion that some prominent brands have stopped using fur for their products. Glamour explained that some of the many brands that banned using fur for fashion include Macy's Inc., Coach, Burberry, Chanel, Versace, and Michael Kors. Cruelty-free fashion is rising in popularity, and we don't think this is just another shortsighted trend.
What is vegan clothing?
According to Vegan Fashion Week, clothing is considered vegan if it doesn't feature any animal parts, such as real fur or leather. We know what you're thinking: How can you resist buying a glamorous, statement-making fur coat for elegant winter events or an edgy black bomber jacket to wear every day in the fall? Luckily for you, many brands have started selling faux fur and fake leather, feathers that aren't actually from animals, and silky-looking fabrics that were made without harming animals. By investing in vegan clothing, you'll be protecting wildlife while still looking fabulous. 
If you're thinking about buying some vegan clothing but don't know where to start, Animal Outlook rounded up some of their favorite companies that sell vegan apparel. Some of these animal-friendly companies include Herbivore, The Dharma Store, Plant Faced Clothing, and even Moo Shoes if you're looking for vegan footwear options. So, which animal-loving company are you going to check out first?
Here are some of our favorite vegan pieces
Important to understand is that vegan apparel can also be fashionable, fun, and, yes, flirty. First, anyone who loves bunnies and wants to make a statement will love The Dharma Store's Bunnies Before Beauty Vegan Tank Top. This product is available for just below $30 and not only features an adorable drawing of a bunny but reminds people that no rabbits should be harmed for the sake of beauty. Furthermore, anyone looking for a sleek pair of black vegan sandals that will match a plethora of different outfits should check out Moo Shoes' Have a Seat Sandal from BC Footwear.
If you're looking for a fashionable vegan outerwear piece for an affordable price, you'll enjoy the Chic Attitude Mauve Suede Cropped Double-Breasted Coat. Made from vegan suede, this super stylish piece is available at Lulus, typically retails for around $150, and has a rating of over four stars. On the other hand, if you love the look of leather but don't want to wear real leather and you're willing to splurge on a head-turning piece to wear daily this winter, you should check out Free People's London Vegan Coat, which is selling for a bit below $230 and has a rating of 4 out of 5 stars. 
We can't get enough of these stylish, cruelty-free pieces!