A Stunning Conversation Between Amber Heard And Johnny Depp Was Just Revealed In Court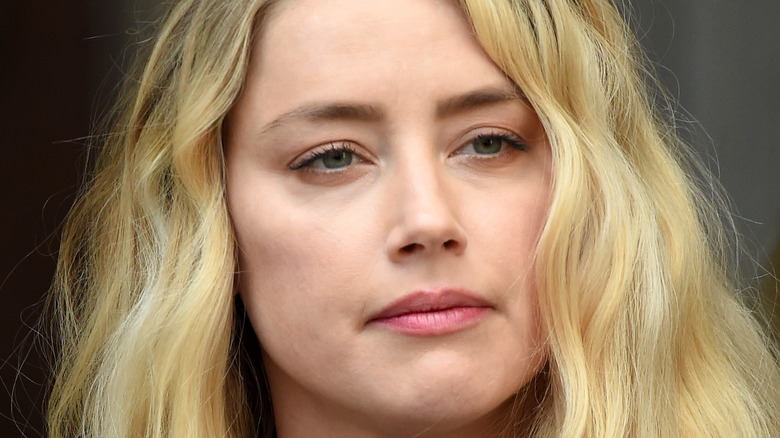 Stuart C. Wilson/Getty Images
For over a week now, the world has watched in complete awe as the Johnny Depp v. Amber Heard defamation trial has continued to unfold. On April 19, 2022, Depp took the stand and began to testify on his reasons for suing Heard, per YouTube. It has been somewhat jarring to watch Depp, whom most people have grown up watching in their favorite movies and have come to respect, have to divulge such intimate details of his life. The heartbreaking story that a judge is set to rule on within a month poses both parties accusing the other of defamation of character where it pertains to the abuse that ensued in their marriage, per The Independent. 
The internet has been closely watching as the televised trial airs every day. Viewers have watched with their jaws dropped as a number of witnesses have been called up to testify on behalf of the "Pirates of the Caribbean" star. Shocking stories were shared such as the couple's counselor revealing how both partners would instigate fights and Heard's ex-assistant berated the "Aquaman" star's poor treatment of her, per The Guardian.
Every day in court has brought with it shocking discoveries, extremely candid statements, and actual text messages. However, the deepest most revealing piece of evidence that sent shockwaves through the internet was the audio recording of their fights shared during Depp's time on the witness stand.
Heard admitted to 'hitting' Depp
Over the past couple of days, viewers have watched Johnny Depp's turn to tell his side of the story. Depp divulged details about everything from his abusive childhood and his drug abuse past to how Depp and Amber Heard met, per The Independent. Things only got darker when he began to broach the topic everyone was here for, and discussed in great detail some of the instances of abuse that took place during the course of their relationship. 
The court then got the chance to hear some audio recording clips that the couple had recorded during some of their fights. As the first clip began, you could hear Depp implying that they were recording for accountability so that Heard could not deny having said what she said, per YouTube. The most jarring portion of the recordings seemingly revealed Heard confessing to physically harming Depp as she mockingly snapped, "I didn't punch you ... I was hitting you, it was not punching you." The actress added, "But you're fine, I did not hurt you ... you're a f****** baby."
The audio recordings revealed many angry outbursts that took place between the couple. As the trial continues to unfold, more and more information comes to light such as Depp's cruel texts about Heard, making it nearly impossible to determine who is the victim here, although it seems to be both. 
If you or someone you know is dealing with domestic abuse, you can call the National Domestic Violence Hotline at 1−800−799−7233. You can also find more information, resources, and support at their website.