The Heartbreaking Death Of Former Today Co-Host Jim Hartz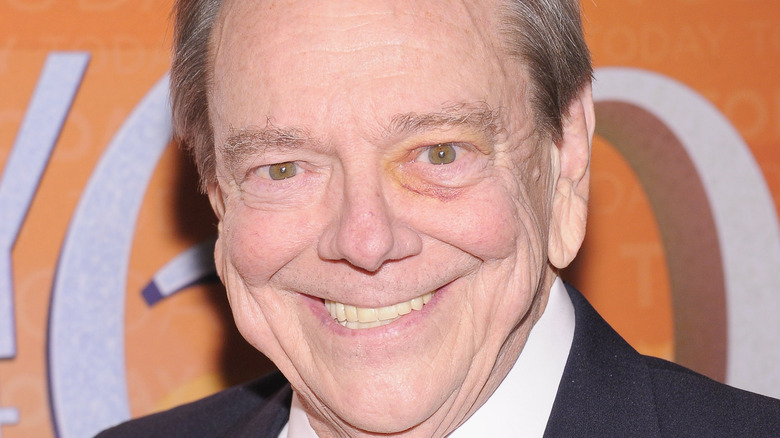 Michael Loccisano/Getty Images
Sad news in the world of journalism. Former "Today" anchor Jim Hartz died earlier this month at the age of 82, according to People. His wife and high school sweetheart, Alexandra, shared that his cause of death was chronic obstructive pulmonary disease.
Longtime "Today" viewers will remember the two years Hartz shared the desk with Barbara Walters, beginning in 1974. But the Tulsa native's extensive career went far beyond "Today." He began his career hosting a local Oklahoma morning show, "Sun's Up." Later, he spent a decade as a radio reporter for prominent New York City radio station WNBC. 
Barbara Walters herself chose Hartz as her co-anchor over big names including Tom Brokaw and Tom Snyder. Walters saw Hartz's gentle charm as a natural compliment to her energetic anchoring style. Hartz was thrilled at the chance to join "Today." Shortly after his hiring, he told The New York Times,  "I remember talking with [previous co-anchor Frank McGee] after he first did the show; he said he knew it would broaden his perspective and give him: chance to do new things. I hope it will do the same for me — it's more than just a news show."
Jim Hartz reported on many decade-defining stories
When Barbara Walters let "Today" in 1976, Jim Hartz spent some time as a correspondent for the morning show before moving on to other projects. Some highlights of his post-"Today" career included hosting a PBS talk show "Over Easy" and the weekly science show "Innovation."
Hartz reported on many of the most important moments of the day, from Robert F. Kennedy's funeral to the end of the Vietnam War to significant space shuttle launches. Seeing off NASA spacecrafts left a particularly strong impression on Hartz; he told The Christian Science Monitor that he was in such awe of the launches that he sometimes couldn't even remember what he'd said on camera, according to People.
One of the "Today" assignments that Hartz remembered most fondly was visiting every American state in advance of the country's bicentennial in 1976, according to the Washington Post. "It's one of those things you don't forget," he said in 2012. "It was a chance to see the country almost like a snapshot."
Hartz is survived by Alexandra and his daughters, Jana Hartz Maher and Nancy Hartz Cole, as well as six grandchildren and six great-grandchildren. His son John died in 2015.