Jane Fonda Gets Real About Aging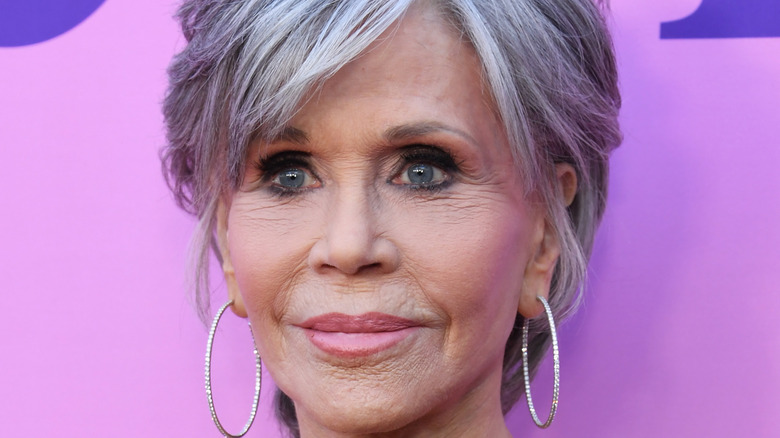 Jon Kopaloff/Getty Images
There was a time when Jane Fonda seemed to defy age. In the 1980s, she introduced a fitness craze to the world with her signature workouts (via JaneFonda.com). She got women moving, and she even inspired an aerobics craze with the leotards and leg warmers to go with it (per CNN). She did this all while remaining active in her acting career, starring in classic hit movies like "9 to 5," "On Golden Pond," and "Agnes of God" during this period (via IMDb).
Nowadays, Fonda stars as a woman who's proud of aging gracefully — with the cosmetics company to prove it — in the Netflix sitcom "Grace and Frankie," co-starring alongside her "9 to 5" comedy partner Lily Tomlin. Season 7 of the hilarious sitcom, which is centered around two divorcees who learned their longtime husbands were in love with each other, is set to debut on April 29 (via TV Insider). Leading up to the season premiere, Fonda has been addressing the issue of aging head on.
Jane Fonda has a new body in her 80s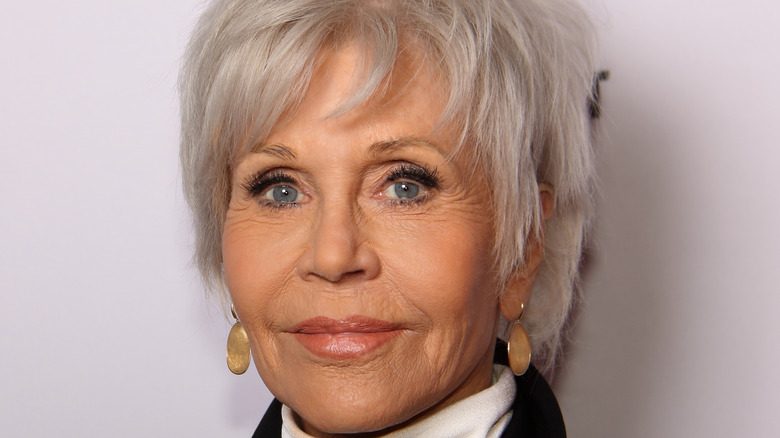 Serge Rocco/Shutterstock
In the 1980s, Jane Fonda led a fitness craze, but now that she's in her 80s, playing a woman in her 80s on "Grace and Frankie," she has a whole new outlook on life — and her body. Fonda — who previously revealed her real feelings about her gray hair — said she is very highly aware of her age and how her body has aged with her. "I'm super-conscious that I'm closer to death. And it doesn't really bother me that much," the 84-year-old said on CBS News Sunday Morning. Fonda spoke about her career and her Netflix sitcom with old friend Lily Tomlin at her side. 
"What bothers me is that my body is, you know basically not mine!" Fonda continued. "My knees are not mine, my hips are not mine, my shoulder's not mine. You're looking at somebody who's only me from here up," she said (via CBS News). Aging is another reason why Fonda stays away from alcohol, something she didn't initially abstain from earlier in her life. However, she acknowledged that things change over time, and she wants to enjoy every day she is given to the fullest.
Explaining this decision, Fonda admitted, "It's because even with one drink, like, if I had a martini tonight, I would be at half-mast tomorrow." She added, "As you get older, I think alcohol affects you differently. And I only have so many tomorrows left. I don't want to be at half-mast for any of them!" (via CBS News).