Donald Trump Reveals What He Would Say To Putin If He Was Still Commander In Chief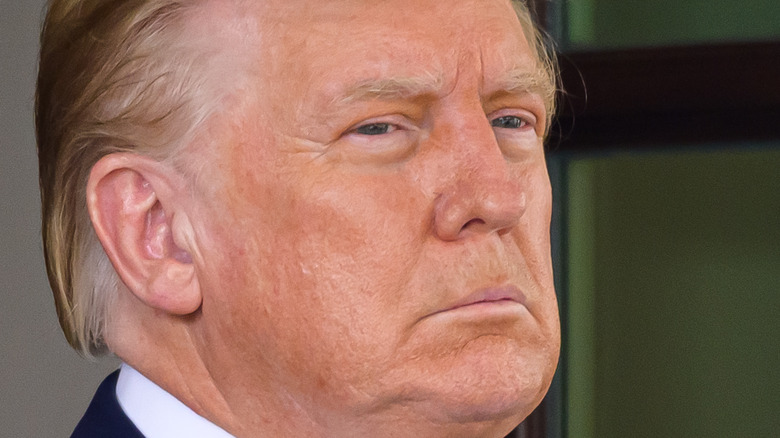 noamgalai/Shutterstock
Even shockingly blunt celebrity politicians have certain lines they won't cross — and former president Donald Trump has made his line clear. Previously, Trump had been both warm towards Russia's president, Vladimir Putin, and cold towards Ukraine's Volodymyr Zelenskyy. However, it seems things have changed as Trump was recorded in a recent phone call walking back his previous statements on Putin. On the March 2022 recorded phone call, Trump referred to the Russian leader, saying, "You know, he was a friend of mine. I got along great with him," as shared on Twitter.
In fact, the former President was well-known for having difficulties with Ukraine and its at-the-time newly elected leader, Volodymyr Zelenskyy. The former president's first impeachment trial was based on Trump reportedly asking Zelenskyy to investigate Joe Biden during the 2020 presidential elections, according to the BBC. This conversation allegedly happened after Trump put a ban on military aid to the Ukraine. 
While the two have a rocky history together, it seems the past will stay in the past as Trump has now weighed in on the current conflict in Eastern Europe. When speaking during an April 25 interview on "Piers Morgan Uncensored," Trump declared that Putin violated a language boundary that he himself won't cross. "Putin uses the 'N-word.' I call it the 'N-word.' He uses the 'N-word,'" Trump said. "That's a no-no, you're not supposed to do that," he confessed. However, the "N-word" Trump is referring to may not be the word you are thinking of. 
Trump's plan for Putin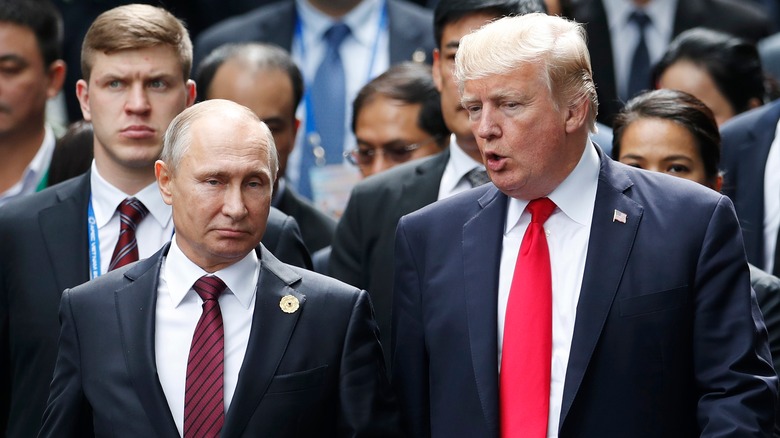 false/Shutterstock
The "N-word" Donald Trump is referring to is nuclear. The New York Post shared that Trump elaborated during his interview on "Piers Morgan Uncensored," explaining why he doesn't appreciate this kind of language to Piers Morgan. Trump shared, "[Vladimir Putin] uses [the N-word] on a daily basis. And everybody's so afraid, so afraid, so afraid. And as they're afraid he uses it more and more. That's why he's doing the kind of things he's doing right now." And Donald Trump has a plan for Putin if he were still our acting Commander in Chief. 
Trump declared, "I would say, we have far more than you do. Far, far more powerful than you. And you can't use that word ever again. You cannot use the nuclear word ever again. And if you do, we're gonna have problems."
When it comes to the threat of nuclear war, Foreign Minister Sergey Lavrov of Russia has stressed that this threat is very real (via CNBC). However, U.S. Secretary of Defense Lloyd Austin expressed that current policies are focused more on balance than escalation, noting that he considers nuclear discussion "unhelpful" and instead just riles people up.