Met Gala Hosts' Looks Ranked Worst To Best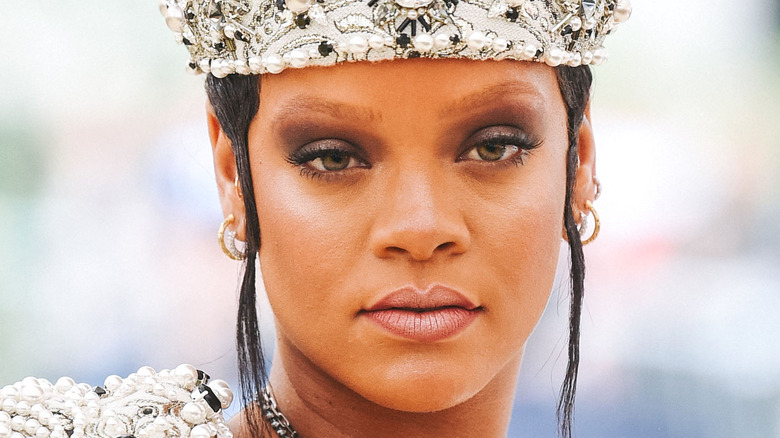 Jason Kempin/Getty Images
The Met Gala is one of the biggest nights in fashion. With every year having a new theme, new co-chairs, and new celebrities, you can't help but wonder who and what you'll see going up those carpeted stairs. Beginning in 1948, the Met Gala was often dubbed the "party of the year" (via Met Museum). It wasn't until 1995 that Vogue's editor-in-chief Anna Wintour took over as co-chair. Since then, Wintour, along with the Met Museum, have made sure to keep the "party of the year" new and exciting each year. 
The 2022 Met Gala is underway with its theme "America: An Anthology of Fashion" (via People). This is somewhat similar to the 2021 theme "America: A Lexicon of Fashion," but we'll let that slide. Featuring co-chairs Blake Lively, Ryan Reynolds, Lin-Manuel Miranda, and Regina King, join us on a journey through time to rank the best and worst outfits worn by Met Gala co-chairs. 
14. Katy Perry (2017)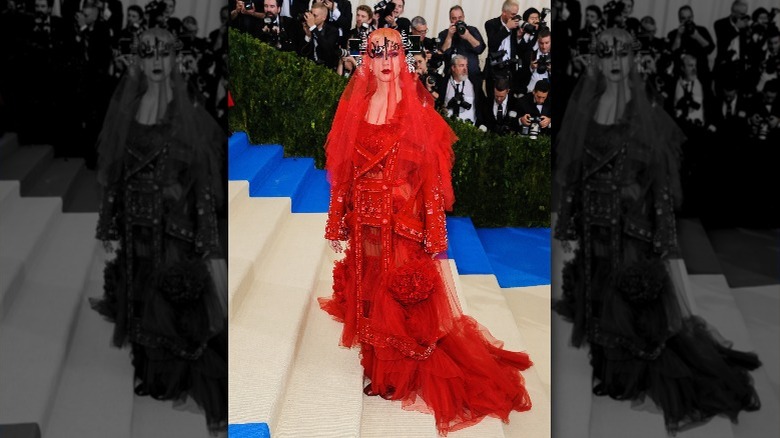 Sky Cinema/Shutterstock
We start our list with none other than Katy Perry at the 2017 Met Gala. There's so much happening, but absolutely none of it is working. The 2017 event's theme was "Rei Kawakubo/Comme des Garçons: Art of the In-Between," honoring designer Rei Kawakubo (via Vogue).
Perry wore a custom piece by British designer John Galliano from the Maison Margiela Artisanal (via Vogue). While the piece had potential, it's the veil that sealed its coffin. The headpiece was unflattering and strange, especially considering the springs attached on either side and the embroidered word "witness" going across her head, which was in reference to Perry's upcoming album that would debut in July (also not one of her best works).
She looks like Lydia Deetz as she's about to marry Beetlejuice in the 1988 cult classic film. Unlike Lydia, Perry willingly chose to wear this outfit, and boy did she choose wrong.
13. Anna Wintour (2004)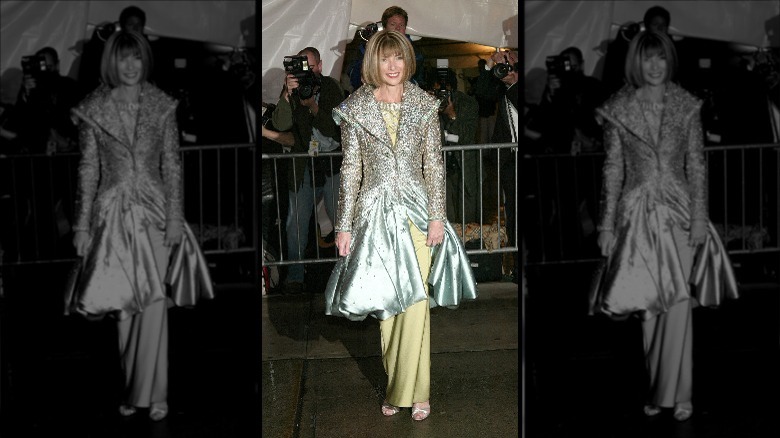 Evan Agostini/Getty Images
Just because she runs the event doesn't mean she can't have poor fashion choices. Anna Wintour's look for the 2004 Met Gala was ... something. The theme was "Dangerous Liaisons: Fashion and Furniture in the 18th Century" and her look was Christian Dior Haute Couture (via Us Weekly). She's serving lampshade realness, so in a sense, she's on theme.
The coat is the epitome of too much going on. Sometimes less is more, and in this case, the less bejeweled, the better. It's as if a disco ball and a Disney princess had an unfortunate love child. The shape does nothing for her, making her look pear-shaped and boxy at the same time. Don't think we forgot about the dress, because that puke green color doesn't do anyone any justice, especially not the co-chair and editor-in-chief of Vogue. If you're able to take your eyes off the coat and the dress, you'll see that the shoes she chose are classic "I'm going to prom" shoes.
Overall, it's not her best look.
12. Carey Mulligan (2012)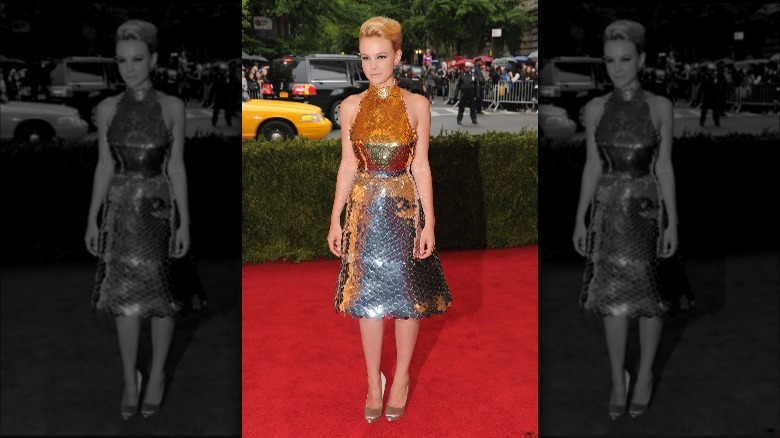 Larry Busacca/Getty Images
Speaking of lampshades and Disney characters, Carey Mulligan's 2012 look is giving Lumiere — you know, the little candle guy from "Beauty and the Beast." Mulligan co-chaired with Anna Wintour and Miuccia Prada for the theme "Schiaparelli and Prada: Impossible Conversations" (via People). 
It's baffling that this is a Prada design. It's an event honoring Prada — is this really what the brand wanted on display? Something about it looks cheap, like a dress you could find at Forever 21 around New Years (because we all know Forever 21 loves a good sequin number for the holidays). Her shoes are rather bland, which makes sense to pair with a statement piece, but the statement it's making screams "fish scales." 
While not the best dress, Mulligan did put the Prada piece up for auction on eBay (via Marie Claire). The proceeds would go to Oxfam America, a charity that helps find solutions to poverty and injustice around the world.
11. Pharrell Williams (2017)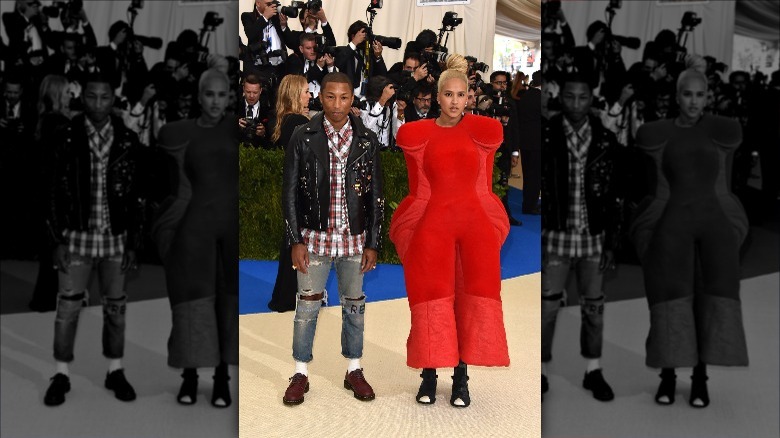 John Shearer/Getty Images
Pharrell, Pharrell, Pharrell. Jeans? For the Met Gala? Pharrell Williams co-chaired with Katy Perry in 2017 (remember, she wore the Lydia Deetz wedding dress). He's decked out in Comme des Garçons, which is fitting since the theme is "Rei Kawakubo/Comme des Garçons: Art of the In-Between." According to Vogue, he's in custom vintage jeans that read "Rei" across one knee. How is it that the jeans are custom made, but they fit him like high-waters? Perhaps that was intentional, but was it also intentional that his leather jacket looks two sizes too small? His posture is awkward and stiff, as if he's uncomfortable.
There's something about the entire outfit that screams 2015 Tumblr and listening to the Arctic Monkeys, smoking a cigarette, and talking about art.
Granted, standing next to his wife Helen Lasichanh, his outfit doesn't seem too bad, but this is something he could wear literally any day of the week.
10. Jennifer Lawrence (2015)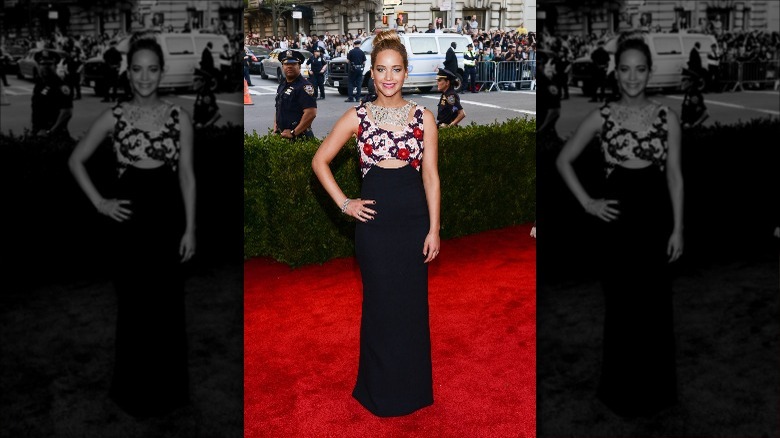 Sky Cinema/Shutterstock
This look can be summed up in one word: bland. Jennifer Lawrence co-chaired the 2015 Met Gala, themed "China: Through the Looking Glass" (via People). She wore a dress from Dior that did absolutely nothing for her figure. The length makes it look frumpy, which in turn makes the "Hunger Games" actress look short and stout. It also cinches too high, giving her more of a pencil shape.
Going beyond her dress, Lawrence's hair and makeup are also rather plain. Her hair is essentially a messy bun — and not in a way that seems planned. Her makeup is simple and understated. The worst of it though is her fake tan, which rivals Selena Gomez's at the 2018 Met Gala. And Gomez called her own tan a "beauty disaster," according to Elle, so that's saying something.
When you've got Sarah Jessica Parker wearing a lavish and memorable headdress and gown (via Allure), J. Law's forgettable ensemble seems like a crime.
9. Beyoncé (2013)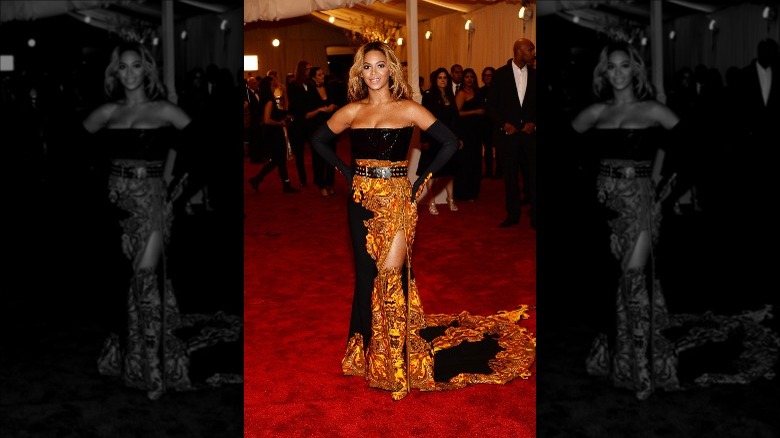 Dimitrios Kambouris/Getty Images
Listen, Beyoncé being on this list shocks us too, but this look just wasn't it. The honorary co-chair joined Rooney Mara, Lauren Santo Domingo, Anna Wintour, and Riccardo Tisci for the 2013 Met Gala (via People). Its theme was "Punk: Chaos to Couture," and her outfit is all chaos and no couture.
She's wearing Givenchy Haute Couture, a designer she's been wearing to the Met Gala since 2012 (via Vogue). This dress is a lot to take in all at once, and looks like several different fabrics tossed together. The bustier features black sequins and looks detached from the rest of the gown. The skirt and train are a train wreck, no pun intended. The fire ember pattern with the high slit is an eyesore. What sends it over the top is the matching over-the-knee boots — patterned over-the-knee boots should be illegal. Finally, the obscenely long gloves and chunky belt are accessories that should've never been.
8. Serena Williams (2019)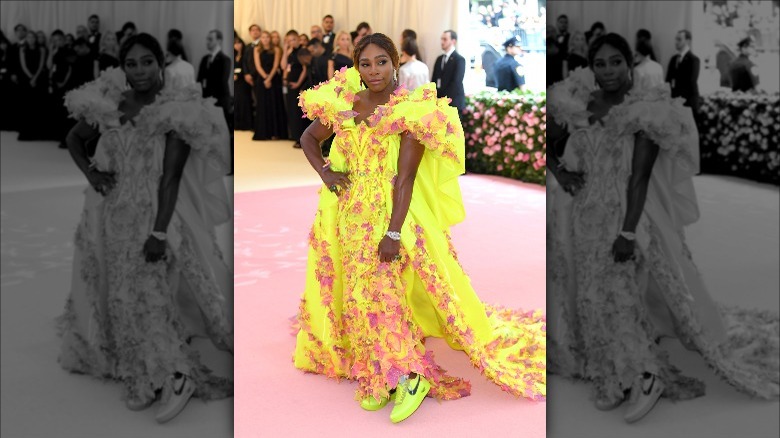 Karwai Tang/Getty Images
Now, we know the theme was camp, but the highlighter yellow Nike x Off-White Air Force Ones take it a step too far. Co-chair Serena Williams wore a yellow Atelier Versace abomination that was embellished with pink leaves (via Vogue). Like most athletes, Williams has a strong, beautiful figure, but this dress does nothing to highlight it, instead adding embellishments in all the wrong places.
The football-esque shoulder pads make her look broad and boxy on the top, and the fact that it goes into a cape is a poor choice. The cape billows and makes her look wider than she is and takes away from the cinching that the dress underneath is attempting to accomplish. If you take away the cape and lose the sneakers and some of the embellished leaves, this could've been a gorgeous piece. Instead, it looks like Big Bird jumped into a pile of fall leaves.
Standing next to fellow co-chairs Lady Gaga and Harry Styles, Williams stands out, but not in the best way.
7. Idris Elba (2016)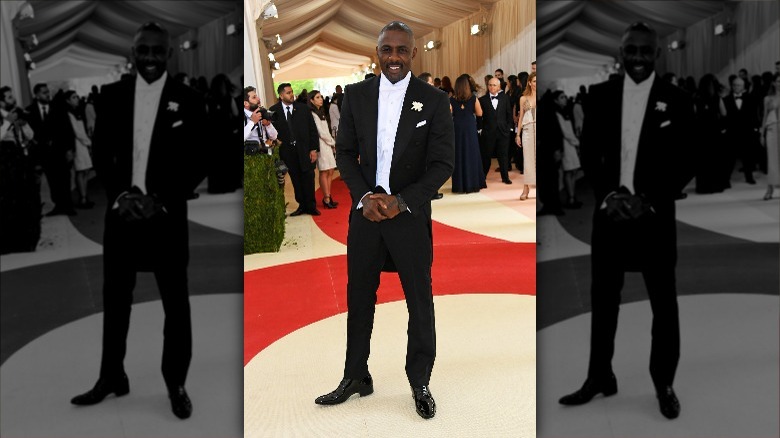 Larry Busacca/Getty Images
Idris Elba is one of the sexiest men alive. In fact, he was named so by People Magazine in 2018. While nothing can beat a classic tuxedo for most events, for the 2016 theme "Manus x Machina: Fashion in an Age of Technology," it simply isn't good enough.
Hot take, but men who just wear tuxedos and bland suits to the Met Gala don't deserve to go. If you're going to wear a tux or suit, at least make it interesting. The theme was about the age of technology. Where were the metallics and futuristic flair, Idris? Zayn Malik wore a metal arm all "Winter Soldier"-style; where's that level of commitment?
Elba stood next to Jonathan Ive (who also wore a boring tux with a tailcoat), Anna Wintour, and Taylor Swift. How could Elba serve butler vibes when T. Swift was giving futuristic extravaganza? Let's just say he left something to be desired.
6. Billie Eilish (2021)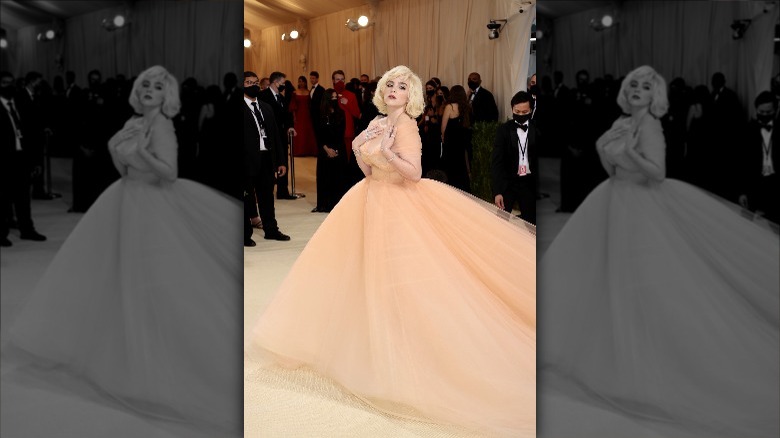 Dimitrios Kambouris/Getty Images
Billie Eilish shocked the world when she debuted her platinum blonde locks on Instagram in 2021. She dropped our jaws with her pinup cover for British Vogue. So when it was announced she'd be a co-chair for the 2021 Met Gala, fans were eager to see what she would cook up.
Now, the 2021 Met as a whole was a hit or miss. The theme "America: A Lexicon of Fashion" proved difficult for some of our favorite stars. For the most part, Ms. Eilish understood the assignment. She sported a nude tulle ball gown from Oscar de la Renta. "She was very interested in surprising everybody with a look she hasn't done before," said creative director Fernando Garcia in an interview with the New York Times.
Eilish envisioned herself as a holiday Barbie, saying, "It was my favorite thing in the world. I would ask for them for Christmas every single year. The dresses, genuinely that was my inspiration" (via People). She definitely hit the mark.
5. Taylor Swift (2016)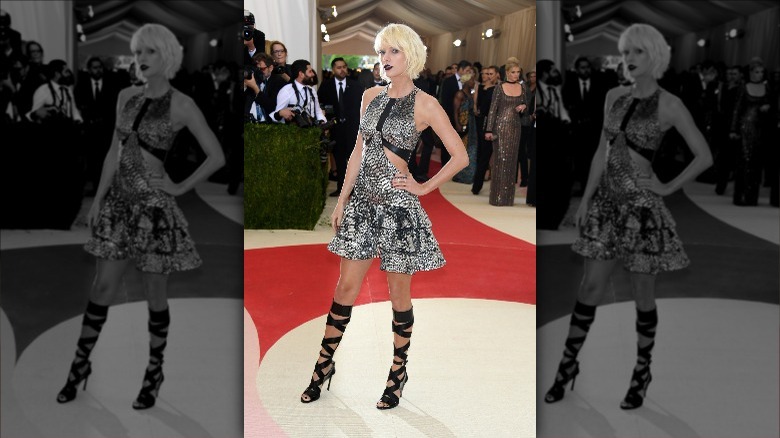 Larry Busacca/Getty Images
Taylor Swift has donned several looks over the years, but none are as iconic as her 2016 Met Gala look. Swift was almost unrecognizable with her jagged cut platinum bob, and dark plum lip. Usually known for softer, all-American girl looks, Swift did a 180 with this metallic number. For the theme, "Manus x Machina: Fashion in an Age of Technology," Swift fully committed and executed it flawlessly.
In a Vogue red carpet interview, Swift described her look as, "Futuristic gladiator robot, that's what I want." That's exactly what she served. She wore a custom Louis Vuitton metallic mini dress with side cutouts and some gorgeous black gladiator heels (via Teen Vogue). Little did we know that this look would foreshadow her infamous "Reputation" era, her sixth studio album that would be released the following year. 
Take notes, Idris, because this right here is how you execute a technology-inspired theme.
4. Harry Styles (2019)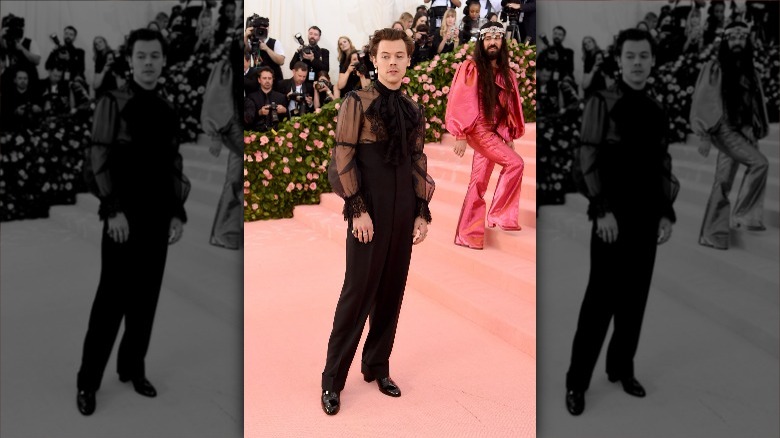 Jamie Mccarthy/Getty Images
Harry Styles proved that men can wear something other than a tux, and we're here for it. The "As It Was" singer rocked head-to-toe Gucci. He looks delicate and masculine all at once. The shirt itself is a statement piece. The ruffles and sheer fabric gave fans a peep show of Harry's tattoos (and he freed the nipple, which is always iconic). 
Though he donned all black, his rings brought a subtle pop of color. If you didn't know, Harry Styles is the king of rings and he can wear as many as he wants without it looking tacky. The singer also painted his nails black and mint green for some extra flair. In true rock star fashion, Styles pierced his ears a few days before the Met Gala because his stylist, Harry Lambert, found a pearl earring to complement the look. A golden star to Harry Styles for this fit! 
3. Nicole Kidman (2003)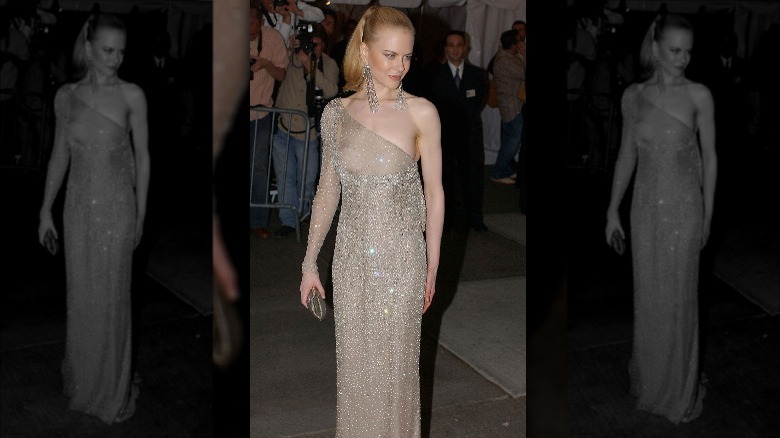 Mark Mainz/Getty Images
Nicole Kidman can do no wrong, and she proved that in her stunning dress for the 2003 Met Gala. Insider called it "one of her most daring outfits," and daring it was. Fox News said it was one of the most eye-catching looks ever served at the Met Gala, and we have to agree. Her dress was Gucci by Tom Ford, and she looked as if she was dripping in diamonds.
The silhouette is iconic. The massive and dramatic diamond earrings are iconic. The one-shoulder semi-sheer top: you guessed it, iconic.
It's simple without feeling bland. It's embellished without looking tacky. The earrings are the perfect statement and don't take away from the dress by any means. She's absolutely glowing in her makeup. For the 2003 theme, "Goddess: The Classical Mode," Kidman looks like an angel that's floated down from above to grace us with her presence. In other words, none of us are worthy.
2. Lady Gaga (2019)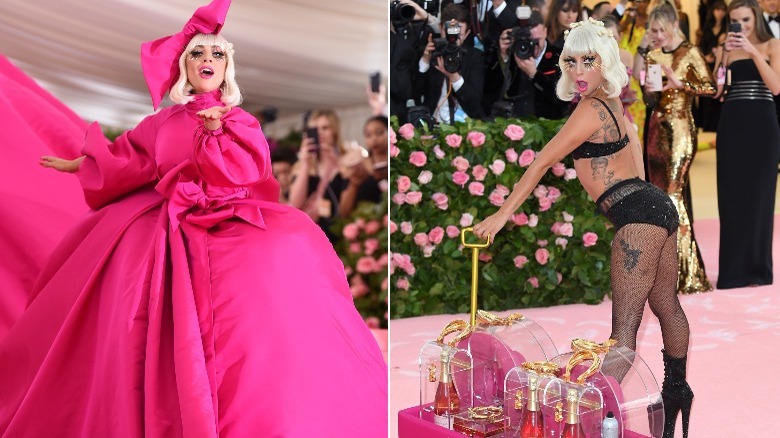 Dimitrios Kambouris, Karwai Tang/Getty Images
The theme: "Camp: Notes on Fashion." The hosts: Serena Williams, Harry Styles, Alessandro Michele, Anna Wintour, and Lady Gaga. While they all served looks, Ms. Gaga was putting on a show. Let's just say, she out-Gaga'd Gaga. 
She made her entrance in an eye-catching fuchsia pink cape gown, designed by her personal friend and frequent collaborator Brandon Maxwell (via Bravo). Knowing the theme was camp, the "Bad Romance" singer took full advantage. With a few pulls and adjustments, Gaga transformed into a Victorian style black gown with a matching umbrella. The fun didn't stop there: Another pull-away revealed a tight floor length gown, the same color as her first. Finally, she bared it all in a bedazzled lingerie set with fishnets, leaving spectators on the steps of the Met speechless. 
In a video with Vogue, you can see Gaga make her red carpet entrance with narration from Liza Koshy, who's fan-girling just as hard as the rest of us. "This is what culture is all about," said Koshy as she watched. 
1. Rihanna (2018)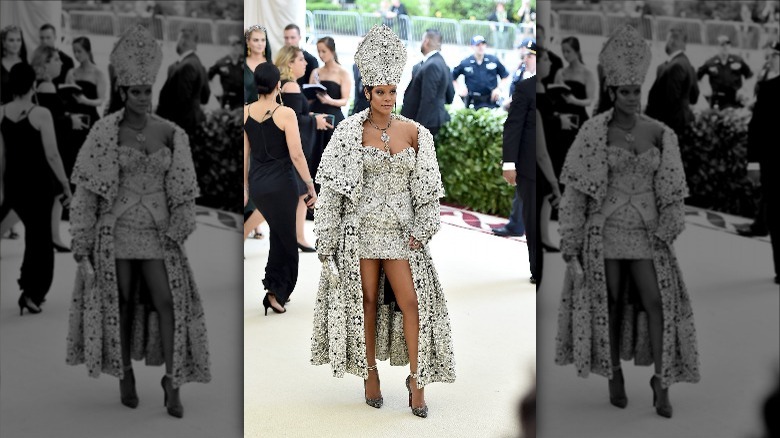 Theo Wargo/Getty Images
Do we really have to explain this one? 
Rihanna has attended the Met Gala since 2014, but 2018 marked her first time serving as a co-chair, alongside Donatella Versace, Amal Clooney, and Anna Wintour. The theme was "Heavenly Bodies: Fashion and the Catholic Imagination," which Rihanna definitely embodied with this look. The "Work" singer took us to church in a bejeweled cream-colored Maison Margiela mini dress and overcoat crafted by British designer John Galliano. Not to mention, she served heavenly realness with her pope-inspired headdress. Rihanna could be the pope, but the pope could never be Rihanna. In a red carpet interview with YouTube personality Liza Koshy for Vogue, Rihanna said, "It feels expensive. ... They beaded this by hand, and I just, it would be a sin not to wear it." Rihanna completed the look with a pair of embellished Christian Louboutin pumps. 
Vogue said it best in a 2018 Instagram post: "Who else but @badgalriri could pair a custom @maisonmargiela by John Galliano mitre and a minidress?"