NBC's Description Of The New Jeopardy! Champion Has Twitter In A Tizzy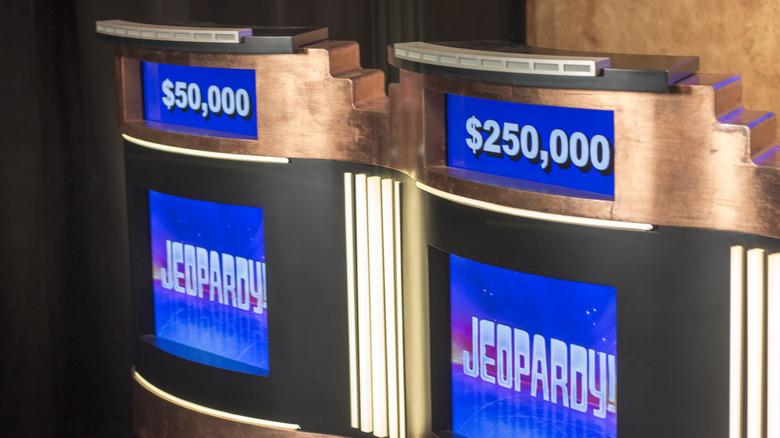 Ryan J. Thompson/Shutterstock
It's not easy to maintain a winning streak on "Jeopardy!," but when it happens, it makes for exciting viewing. Of course, no one may ever beat Ken Jennings' phenomenal 74-game run, but it's fun to watch other players trying. Amy Schneider had her own historic "Jeopardy!" run, logging the second-best consecutive game streak with 39 wins, per Today. Other names in the "Jeopardy!" hall of fame (yes, you can find it on their site) include Brad Rutter, Matt Amodio, and James Holzhauer.
Now all the buzzer, sorry, buzz —  is centering on Mattea Roach. Undefeated at this writing with a total (so far) of 17 games, the 23-year-old Toronto native has racked up more than $350,000 in earnings. Not only does this bring her closer to Schneider's record, but it also makes her the highest-winning Canadian player ever to stand behind the podium, per Good Morning America. In an interview after one recent game, Roach said, "That was not what I expected coming down here. This has been such a crazy season of streaks, and I was fully thinking, well, Amy might still be here. If it's not Amy, it's going to be some other super champion that's just going to knock me out [on] game one."
With every win, Roach is getting more attention in the press. Unfortunately, some of that attention isn't exactly what she would want to see. One description from NBC News is raising both eyebrows and outrage.
Twitter users protested NBC's defining Mattea Roach by her sexuality
After Mattea Roach had notched her 15th straight "Jeopardy!" win, NBC News tweeted about it by saying, "The 23-year-old lesbian tutor from Toronto amassed a total of $320,081, the most by a Canadian contestant in 'Jeopardy!' history." If this was meant as a compliment in any way, it fell flat. 
Twitter users were quick to point out that the adjectives "lesbian tutor" made it sound as though Roach teaches subjects other than math or history. "The grammatical ambiguity of this lede confuses me. Does she teach lesbians part-time? Or does she teach how to be a lesbian part-time? Also, on a related note, for how long has NBC been stuck in the 50s?," tweeted a user.
There were also outcries from "Jeopardy!" fans who wondered why NBC was mentioning Roach's sexuality at all. "Oddly enough, I never once heard NBC News report on 'Totally straight Ken Jennings' in all his time on the show," said a commenter. Another agreed: "NBC: This comment is so off, by almost any standard. I'm a tutor from Vancouver. I'm not 'a straight tutor.' Whomever she chooses to love is not our business and not the point of the story."
Although NBC News hasn't deleted the offending tweet, they did tweak the subhead in their accompanying news story, calling her simply a "tutor." They did, however, still emphasize that she is "the game show's latest LGBTQ sensation." Roach herself has yet to comment.