The Truth About Angeria Paris VanMicheals And Lady Camden's Relationship Today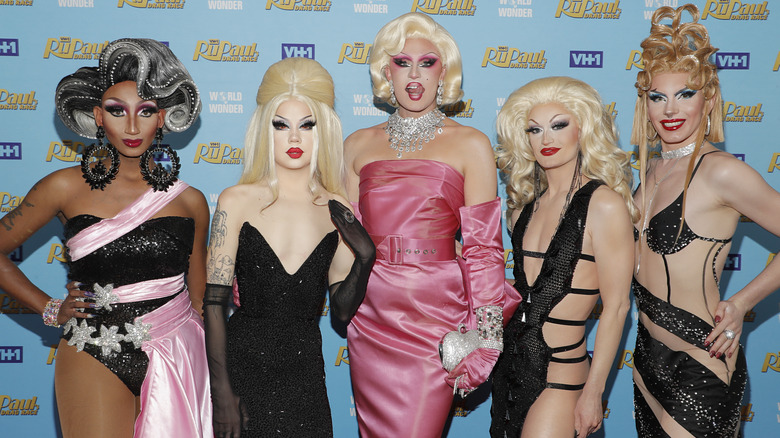 Astrid Stawiarz/Getty Images
The latest season of "RuPaul's Drag Race" was a major headline grabber. Season 14's Snatch Game didn't sit right with fans, despite typically being the highlight, while RuPaul Charles' apparent inability to send anybody home made each episode feel even more inconsequential than the last. 
Thankfully, fan-favorite Willow Pill emerged victorious, surprising even herself. In a post-win interview with PopSugar, Willow admitted, "I think I'm really just in the beginning of starting to compute that [I'm season 14's winner]."
Willow, who's been open about her struggles with her illness, cystinosis, shared, "I'd be lying if I said that this journey hasn't been difficult, especially on my body and mind, just how much you have to work and give to the people." 
As a result, she's taking some time to decompress after finally making it to the top. "I really want to release some of the pressure that I feel and just have the win in a lane that is really fun, wild, but also relaxed, and still enjoyable. I don't want it to feel like torture," she said. 
As for runner-up Lady Camden, who won $50,000 for coming in second, the London native realized early on that she had to break out of her shell and really be herself to advance in the competition, as she told Nylon. 
Fans might be more interested in her rumored relationship with a fellow competitor than Camden's almost-win, however. 
Angeria Paris VanMicheals and Lady Camden teased their relationship at the reunion
The Season 14 edition of "RuPaul's Drag Race" brought us some incredibly jaw-dropping and hilarious talking points. One of the biggest involved the alleged romance between Angeria Paris VanMicheals and Lady Camden, whom fans were gushing over the entire season thanks to their sweet rapport. 
During the reunion (via YouTube), RuPaul Charles laid out the evidence in its entirety, producing compelling footage of how the duo first bonded over liking each other's accents. 
Elsewhere, Angeria admitted during a confessional that Camden was easily the competitor she was "most fond of," while the British queen shared how Angeria helped her feel confident in her abilities when the nerves took over. 
Moreover, when they had to kiss for an acting challenge, neither queen seemed particularly unhappy about it. Angeria also revealed that none other than Ariana Grande shipped the two and had slid into her DMs to tell her as much. Angeria even suggested that the pop star could officiate the couple's wedding. 
All joking aside, though, Angeria confirmed, "I'm not opposed to anything, I'm really not." 
Are Angeria Paris VanMicheals and Lady Camden actually a thing?
During an appearance on EW's "BINGE" podcast, Angeria Paris VanMicheals clarified that she and former co-star Lady Camden were focused solely on the competition while appearing on "Drag Race" together. However, she also shared, "I think I can proudly say that both of us would be open to future possibilities when [we] have a little more of a handle on things."
In a follow-up interview with E! News, Angeria confirmed that she finds Camden "very attractive and very charming," noting, "I'm not opposed to spending more time with her." However, the Season 14 star isn't convinced that their relationship will turn romantic. But, if they're just friends forever, that's totally fine with her. 
Camden, for her part, admitted, "I genuinely don't know what's going to happen. I just love her as a person. Regardless what happens, she's just the most adorable person." To be fair, while speaking to Billboard, Angeria acknowledged that the two are complete opposites, so their connection really shouldn't make sense. And, yet, it does.