Amal Clooney Doesn't Mince Words When Describing The War In Ukraine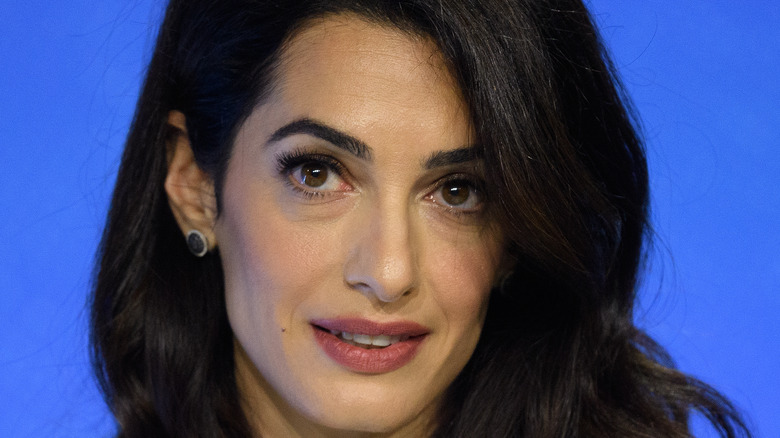 Leon Neal/Getty Images
In April 2014, when longtime bachelor George Clooney announced he was getting married, the world was stunned. Who was this woman who so easily snatched up Hollywood's most eligible bachelor? 
And, when we learned more about her, it all made sense. Then named Amal Alamuddin, the Lebanese-British woman was beautiful, graceful, modest, and intelligent. She had a successful career in law, specializing in human rights and international law, and her interest in social justice causes surely endeared her further to activist George.
"I got down on my knee and I said, 'I couldn't imagine spending the rest of my life without you,'" he recalled of the proposal on "The Ellen DeGeneres Show."
After getting married in Italy in September 2014, Amal and George went on to found the Clooney Foundation for Justice in 2016 — and then embarked on an even bigger project in 2017, when they welcomed twins Alexander and Ella into the world.
Despite having her hands full with raising two kids, Amal continues her work in human rights and isn't afraid to speak out against injustices in the world, which she proved recently when she didn't mince words in describing the war in Ukraine.
Amal Clooney says the Russian invasion of Ukraine is a 'slaughterhouse'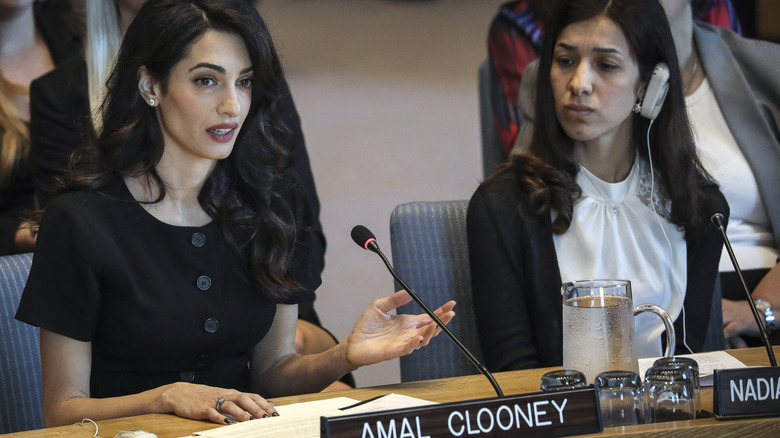 Drew Angerer/Getty Images
On April 27, 2022, during a United Nations Security Council meeting, Amal Clooney didn't hold back in decrying the Russian invasion of Ukraine, per Hollywood Life.
"Ukraine is, today, a slaughterhouse," she said. "Right in the heart of Europe. Putin's aggressive war is so outrageous that even after warnings from the US, and Russia's long criminal record, Ukrainians could not believe this could happen."
During her powerful speech in New York City, Clooney went on to detail the suffering of the Ukrainian people, including children being deported to Russia, teenage girls being raped, and civilians being starved and tortured. "I still read news headlines not knowing how to process them," she said.
And the 44-year-old doesn't just talk the talk — she walks the walk. Clooney has been actively aiding Ukraine during the conflict, both through an international legal task force focusing on Russian war crimes as well as the Clooney Foundation for Justice, her nonprofit with husband George Clooney, per Hollywood Life.