Why Ellie Zeiler Was Excited To Be Part Of Crown Lake - Exclusive
​​Ellie Zeiler's 10.6 million TikTok followers know her for posting short and viral videos on the app, mostly related to fashion, beauty, or lifestyle. But recently, Zeiler took on a new challenge by joining the cast of Brat TV's "Crown Lake." The teen mystery series takes place at an elite boarding school, and Season 3 returned with a whole new group of characters, including Ari, played by Zeiler; Molly, played by Symonne Harrison; and Danny, played by Nick Bencivengo.
Acting was a big change for Zeiler and something she's excited for her followers to see. She explained, "I am myself on social media," so playing a character isn't something people are used to seeing. In an exclusive interview with The List, the TikTok star shared why she was excited to be part of the show and what the experience was like for her. She also discussed future acting roles and her other goals going forward.
She's always wanted to pursue acting
Playing Ari in "Crown Lake" was Ellie Zeiler's first time acting in a show. But as she told The List, she's always had the desire to act. "I grew up doing theater and always wanted to be an actress in the back of my mind," Zeiler said. And "Crown Lake" seemed like an excellent project to start pursuing that goal. "In this scenario, Brat TV is so open to new creators and new actors and actresses," she said. "I felt like this was the perfect opportunity to go into a really safe space and feel very comfortable, but also get to have a very professional experience as well."
Although she was excited to give acting a real shot, Zeiler also said she was very anxious about trying something so new. "I was so nervous, so scared. The first week of filming, I was so nervous every single day going into it," she said. However, she got a lot more comfortable on set by the end of the shoot, and the cast and crew "became a family." Overall she said, "The whole experience was amazing. Getting to be a different person and be a different character was super fun, and getting to explore someone else's side and character as well."
Would Ellie pursue acting in the future?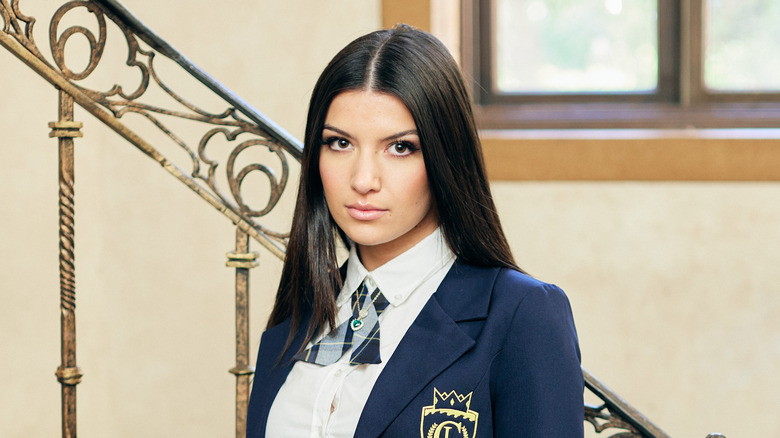 Brat TV
After having such an amazing experience making "Crown Lake," Ellie Zeiler said she is excited to see where she can go with acting. Her next dream is to be in a film rather than a TV show. "Because that's one thing that you get to watch. I feel like every single week, I'm so excited for a new episode to come out, but I want all of them to come out at once. Hopefully, a movie is in my future. I'm manifesting it now," Zeiler said.
But she's also happy to take things as they come. She has already amassed a massive social following and is living a life that she never imagined because of that. Moving forward, she's taking things one day at a time with the hope of "staying on track" with both social media and possibly more acting roles. "Every single day, I'm so grateful that this is my life and that I get to do this," Zeiler said.
Season 3 of "Crown Lake" is available to stream now on Brat TV. New episodes premiere every Tuesday.