The Surprising Connection Between RPDR Winners Yvie Oddly And Willow Pill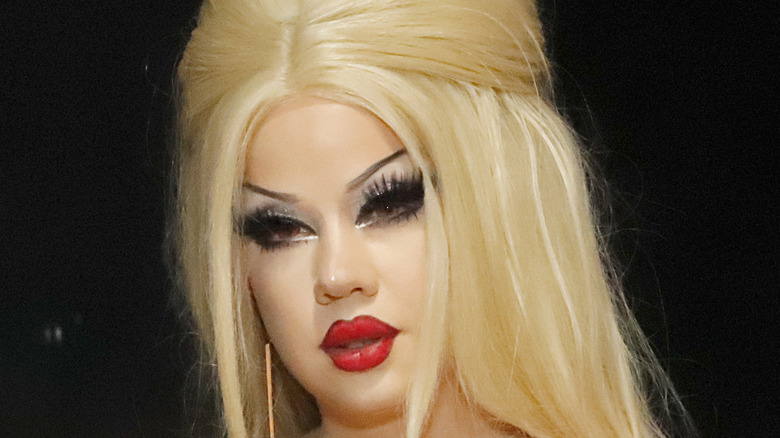 Astrid Stawiarz/Getty Images
Season 14 might have left a lot to be desired, but the entire "RuPaul's Drag Race" fandom was united in their love of the winning queen. Willow Pill started out the competition as a dark horse, but she quickly emerged as a frontrunner thanks to her surprising technical proficiency with dance, strong comedic skills, and general likeability factor. Willow was open about her illness, which further endeared fans to the kooky star, and when Willow won despite the obvious physical setbacks, it was clearly a huge shock to her too.  
In a post-win interview with Billboard, Willow acknowledged how strong the Season 14 lineup was, reasoning everybody had a shot at the crown, "but I think what sets me apart from the other girls is that I have a really special drive and story to me that has pushed me through this season." Likewise, the "Drag Race" star argued she has more to show as a winner than many of the other contestants would have. Mostly, Willow is looking "to present to the world in all of its disgustingness and darkness and hilarity."
The Season 14 winner's darkness might be surprising to some. Indeed, on what her future looks like, Willow proudly told EW, "I kind of want my art to get more disgusting and dirty and more fun." Her attitude might have something to do with the drag queen's surprising connection to resident weirdo winner supreme, Yvie Oddly.
Yvie Oddly and Willow Pill come from the same drag family
As The Denver Post notes, Willow Pill hails from the same Denver-based drag family as Season 11 winner Yvie Oddly, making the two drag mother and daughter, or drag sisters, depending on how you look at it. In a tweet posted ahead of Willow's victory, Yvie quipped, "If u don't win then ur disowned and I'll find a new sister/daughter/sandwich artist." Once it was official, Yvie proudly celebrated her hometown buddy while simultaneously welcoming Willow "to your new hell." 
In an interview on CityCast, Willow shared, "What makes the Denver drag scene so special, or at least at the time I was kind of coming up, is that there wasn't a whole lot of structure or rules." She added that, when it comes to herself and Yvie, they both notably broke major boundaries on their respective "Drag Race" seasons. And, although Willow is now based out of Chicago, the two remain close, even appearing on a catchy song entitled "Sick B****" together (via YouTube).  
Likewise, Yvie crashed the Season 14 cast interviews with EW after Willow gushed about how much their relationship meant to her. In particular, the Season 11 winner taught her sister to be a fully-fledged weirdo while competing on the hit reality show, and most importantly advised Willow to have fun along the way too. 
The Denver Drag Race winners go way back
When Willow Pill debuted on "Drag Race," her Denver compatriot Yvie Oddly took to Instagram to celebrate. Describing Willow as "the best drag artist I know," Yvie noted, "You've been like a daughter to me, except I never wanted you — so actually like a sister whose pocket sized drag I could never steal." Regardless, the Season 11 winner couldn't wait to see what kind of carnage Willow brought to the "Drag Race" stage. Willow told Nylon she hadn't had a chance to mark her win with Yvie just yet, but confirmed her drag sister was incredibly proud of her. 
While chatting to Outfront magazine about their close relationship, Willow shared, "We've helped each other a lot in the process of digesting what drag truly means for us." She recalled meeting the "Drag Race" star at a student drag show, with the two crossing paths repeatedly in the intervening time, during which Willow also did some backup dancing for Yvie. The duo got closer after appearing in a college documentary together, but Willow still had to prove herself until finally Yvie adopted her into her circle. 
Funnily enough, although Willow has learned a lot from Yvie, "She's not a very motherly person." Still, Willow can count on Yvie as her drag mother/sister/sandwich eater regardless. And Willow is guaranteed to be rooting for her Denver sister in the upcoming "Drag Race All Stars" Season 7, which notably features all winners, too.