Kim Kardashian Has People Upset Over Her Extreme Weight Loss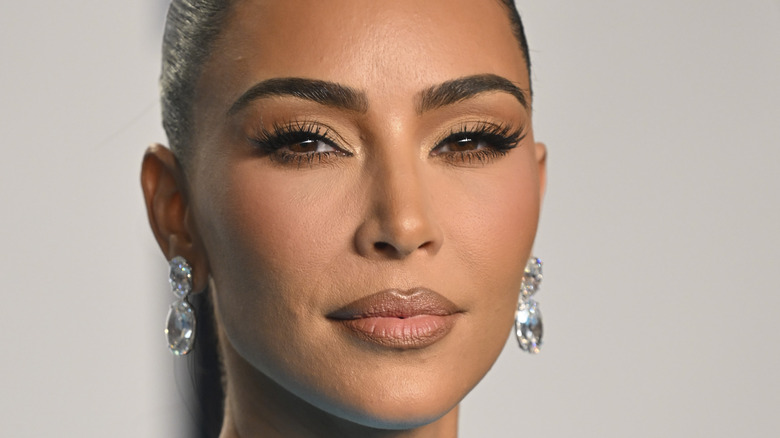 Karwai Tang/Getty Images
Kim Kardashian was easily among the best-dressed stars at the 2022 Met Gala. The reality star and businesswoman donned the iconic dress previously worn by Marilyn Monroe for her infamous "Happy Birthday" performance for President John F. Kennedy in 1962. As Kardashian explained to Vogue, "The idea really came to me after the gala in September last year. I thought to myself, what would I have done for the American theme if it had not been the Balenciaga look? What's the most American thing you can think of? And that's Marilyn Monroe." 
The gown in question — a figure-skimming, glittering Bob Mackie concoction — was an undeniable showstopper. "Nowadays everyone wears sheer dresses, but back then that was not the case," Kardashian pointed out. "In a sense, it's the original naked dress. That's why it was so shocking." While sharing photos from the night on Instagram, the SKIMS founder acknowledged she was "honored" to be given the opportunity to wear the dress, having borrowed it from the Ripley's Believe It or Not Museum. In fact, this is the first time it has been worn since Monroe herself wore the dress in the '60s.
Kardashian committed completely to the look too, spending a whopping 14 hours dying her hair platinum blonde for the occasion, as she told Vogue. However, it's the manner in which the reality star got her body ready for the Met Gala that has rubbed fans the wrong way. 
Kim Kardashian lost a significant amount of weight to fit into her Met Gala dress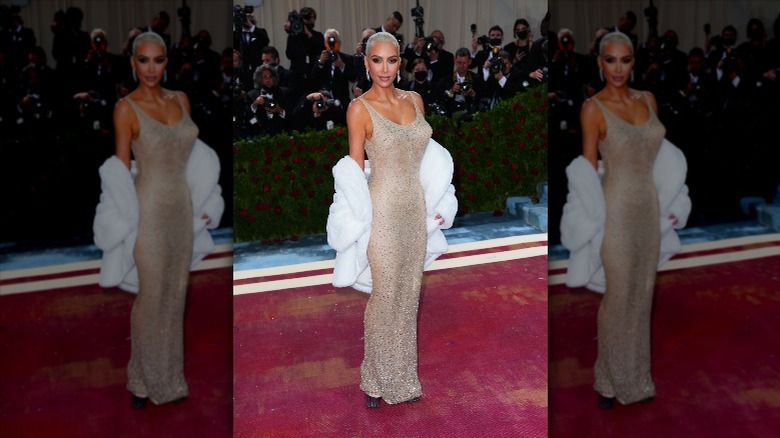 Gotham/Getty Images
Kim Kardashian proved herself to be the Met Gala's Marilyn Monroe by choosing an iconic look previously worn by the screen siren for the 2022 event. However, despite the fact the "Keeping Up with the Kardashians" star looked undeniably stunning, fans aren't happy with how she approached fitting into Monroe's dress. Page Six reports that Kardashian revealed during a chat with BFF and Vogue guest host La La Anthony, that she had to drop 16 pounds in just three weeks to get into the form-fitting gown. 
"It was like preparing for a role," Kardashian explained, admitting that the Ripley's team thought it was impossible for her to fit into the dress, but she relished the challenge. Aside from giving up sugar and carbs for the better part of a month, the reality star worked out twice a day, including running on the treadmill while wearing a sauna suit. As Kardashian emphatically informed Vogue, there was no backup option, so she had to get it done. The beauty mogul clarified, though, that she wasn't starving herself. Rather, Kardashian stuck to "the cleanest veggies and protein" only.
Unsurprisingly, after achieving her lofty goal, the determined star planned to have a "pizza and donut party back at the hotel" following the event, per People. 
Fans online believe she acted irresponsibly by openly discussing her weight loss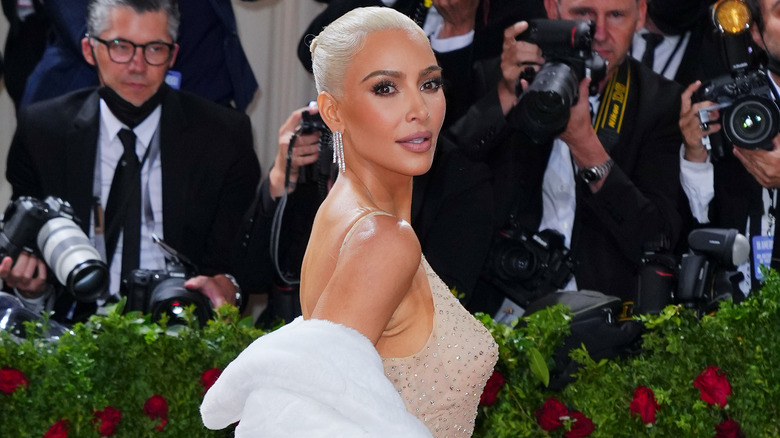 Gotham/Getty Images
As the Daily Mail notes, online commentators are up in arms about what they see as the dangerous promotion of "unhealthy body standards," indirectly incited by Kim Kardashian, with fans pointing out, "restricting yourself for dramatic weight loss to basically binge afterward isn't healthy or worth it." As one commenter put it, talking about an extreme diet "on national television where the youth will find it and bring it to therapy to defend their eating disorders" isn't acceptable. Another stated simply, "We are all enough as we are."
Kardashian and her famous sisters have been criticized for promoting unhealthy beauty standards for years, and this is being seen as just the latest example. As many commenters argued, especially as a mother herself, the reality star should've known better. Nichola Ludlam-Raine, a dietician, agreed, telling Insider that Kardashian's comments are potentially "dangerous to vulnerable people." 
She generally recommends slow, sustainable weight loss, noting what Kardashian did doesn't even seem feasible on paper, emphasizing how extreme her diet was. "It's not sustainable to cut out all carbs (and sugar) long term, as they're what our body and brain uses as fuel," Ludlam-Raine explained. Moreover, it's about balance rather than restriction, particularly if long-term weight loss is the end goal.
If you are struggling with an eating disorder, or know someone who is, help is available. Visit the National Eating Disorders Association website or contact NEDA's Live Helpline at 1-800-931-2237. You can also receive 24/7 Crisis Support via text (send NEDA to 741-741).