Celebrities React To The Leaked SCOTUS News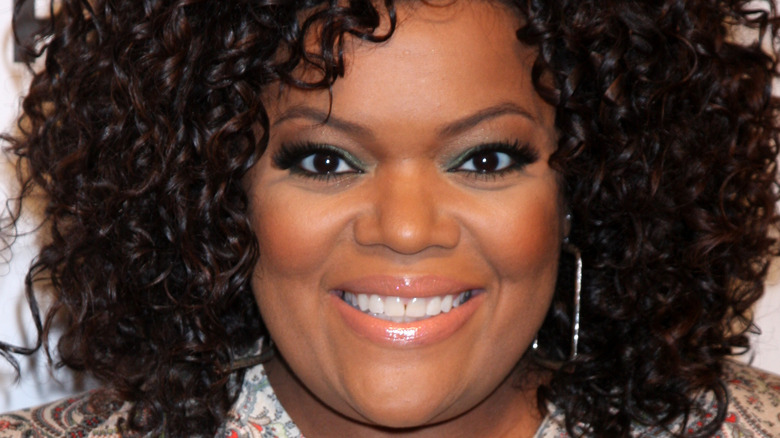 Kathy Hutchins/Shutterstock
People across the world were stopped in their tracks on the evening of Monday, May 2, 2022, when Politico published a leak of a draft of the Supreme Court decision on whether or not to overturn Roe v. Wade. If this draft holds true, a pregnant person's right to choose what to do with their body and pregnancy will be no more in many U.S. states by June when the decision is expected to officially be handed down.
According to CNN, there are 13 states that have what are called trigger laws that would effectively outlaw abortion in the state as soon as SCOTUS hands down its decision on Dobbs v. Jackson Women's Health Organization, a restrictive Mississippi case that would overturn Roe, with no exceptions for incest or rape.
With Justice Samuel Alito reportedly writing in the leaked draft, "We hold that Roe and Casey [a 1992 abortion case] must be overruled. It is time to heed the Constitution and return the issue of abortion to the people's elected representatives," it looks as if that is exactly what is coming. As soon as the Politico story published, there was a collective roar on social media, as polling in 2021 showed that a whopping 80% of Americans comprising both political parties support the right to choose (via Forbes). Celebrities with loud megaphones on Twitter were no exception.
Celebrities voice their rage at the potential loss of Roe v. Wade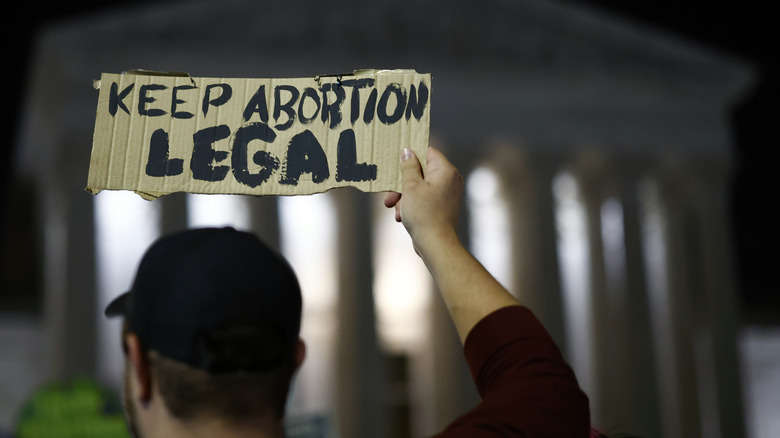 Bloomberg/Getty Images
Celebrities often have the largest voices on social media because of their vast reach and when something world-changing happens, they take advantage of that reach by letting their voices be heard and amplifying the issue. On the night of May 2, some of America's biggest stars expressed their outrage over the idea of SCOTUS erasing a woman's right to choose.
"If you are upset that #RoeVWade is about to be overturned by the Supreme Court but you didn't vote in 2016 or you voted for Trump because you didn't like the smart lady, YOU did this w/your apathy or your decision to choose an imp for President," actress Yvette Nicole Brown tweeted. "YOU gave him THREE SCOTUS seats."
Singer and actress Bette Midler wondered what Constitutional rights would be on the chopping block next. #RoeVWade has been settled law, guaranteed by the Constitution for 50 years; the 14th Amendment to the document that is the foundation of our country's laws," the "Hocus Pocus" star wrote. "If they strike down this amendment, what is to stop them striking down others that conservatives don't agree with?"
Other celebrities like "The Sisterhood of the Traveling Pants" actress Amber Tamblyn felt the attack on abortion rights is akin to violence and called it unacceptable, vowing to fight."The overturning of Roe V Wade is a political act of violence against us and we will not accept it. We will fight and we will not stop. EVER."
Celebrities urge Americans to vote and not give up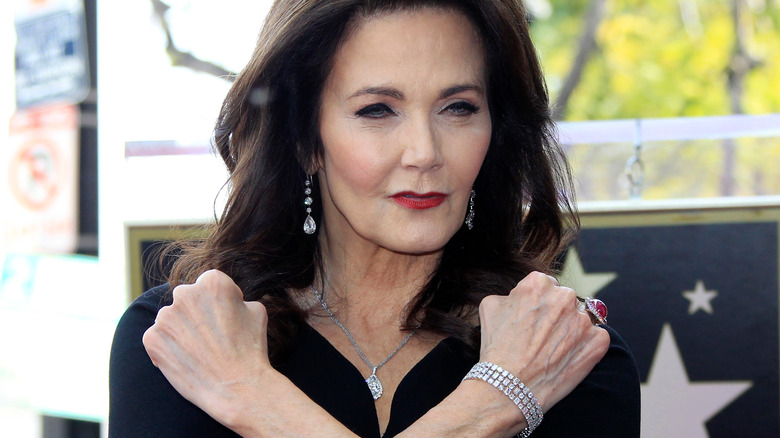 Kathy Hutchins/Shutterstock
The importance of voting in the mid-term elections has never seemed so important in 2022 as a Democratic Congress with a true majority in the Senate allows the chance for the legislative branch to codify abortion rights into law. In fact, President Joe Biden is urging Congress to do that now (via Axios), despite not having the numbers to get it done in the Senate. Celebrities are aware of what the stakes are and are using their Twitter pulpit to get people to fully understand the importance of their vote.
"Votes matter. Voting in EVERY election matters," actress Yvette Nicole Brown said. "The people we elect — or those who are elected when people can't be bothered to #vote — make decisions every day that affect our lives & livelihoods."
Actor and TV writer Seth McFarlane likened the leaked draft to turning the United States to "The Handmaid's Tale," the dystopian novel and TV series in which the patriarchy rules. "As the staggeringly partisan, right wing-dominated SCOTUS nudges America closer to Handmaids Tale status, the importance of voting in EVERY election becomes even more obvious," he tweeted.
Singer and actor Josh Gad could already feel the rage and vowed to take action. "And to all scared women tonight, I will fight for you & with you," he wrote. "I will fight like hell. We all must."
Lynda Carter, Wonder Woman herself, offered the best and most simple message of hope: "Never give up!"