Jenna Clause, Shannon Berry, And Sophia Ali On The Wilds Season 2 - Exclusive Interview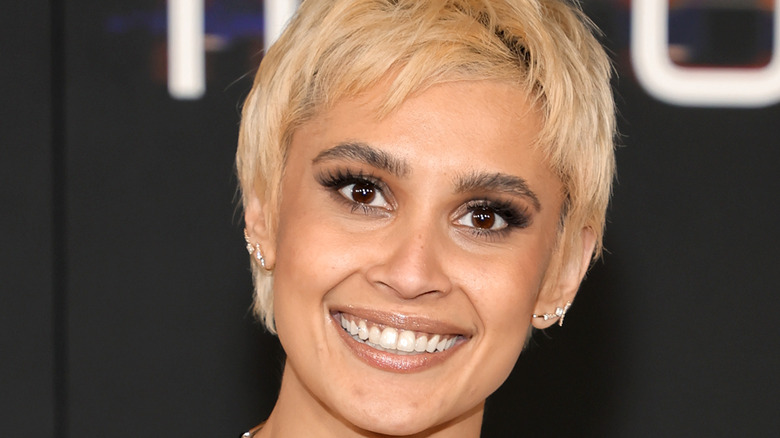 Amy Sussman/Getty Images
Prime Video's "The Wilds" is a hit drama series revolving around a group of teenage girls trying to survive after their plane crashes on a deserted island. Season 1 was packed with mystery, plot twists, and high stakes, and things are only getting more intense in Season 2, which is set to be released on May 6.
Three of the show's stars sat down for an exclusive interview with The List to discuss what to expect from the new season and their experience behind the scenes. Sophia Ali plays Fatin Jadmani, Shannon Berry plays Dot Campbell, and Jenna Clause plays Martha Blackburn. All their characters overcame extreme odds and went through a lot in the first season. Coming into Season 2, they've all grown from who they were at the show's start. During their interview, the actresses shared what it was like to portray this more evolved version of their characters and how they helped each other through difficult filming conditions.
The biggest changes you'll see in their characters this season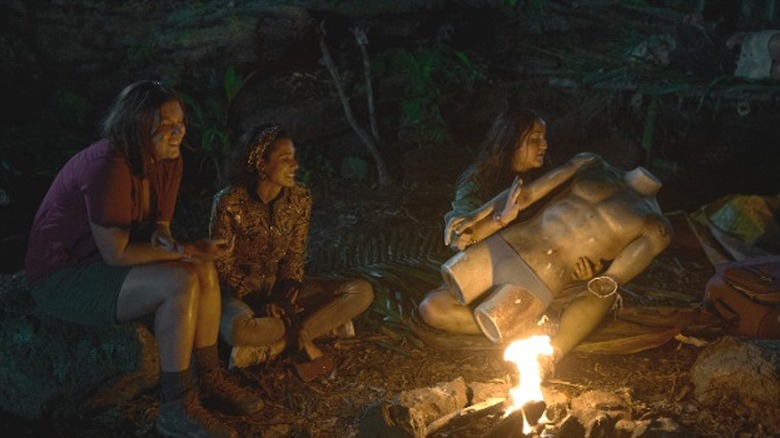 Prime Video
What do you feel were the biggest changes with your character from where they started in Season 1 to then Season 2?
Jenna Clause: Martha definitely started off as a weak character. Her personality ... In real life, you could take someone who is sensitive or talks a certain way or acts a certain way. A lot of people overlook that as, "She's weird, she's this or that." It's very easy to categorize what Martha is. The biggest change with her is that she takes a 180. She finally starts to defy everything that she's starting to unlearn and really becomes a stronger person for the [group] dynamic. You'll see how it helps for other people in the meantime, but ultimately, it's taxing for Martha.
Shannon Berry: With Dot, the biggest challenge that happens to her in Season 2 is her accepting help and care from other people and accepting the support system around her. She struggled to accept her dad as a support system for her because she felt like she didn't deserve it. She wasn't the one in the terrible situation; it was him. Finally, that's the greatest ... it seems like it's a double-edged sword. It's the greatest gift her dad's ever given her, this trip to the island, because now she's found a support system. She's found a family, and she's learning how to accept that and how to bow out and say that sometimes it's all too much, and sometimes I can't take it all on.
What about for you, Sophia?
Sophia Ali: Fatin already knows all of the things that seem hard: taking care of yourself and being okay. She knows she can take care of herself, and that's something I've had to prove to myself. It's interesting to watch her start to care about people other than herself and learn not to feel weird about it, and learn how to do it well. I'm the opposite in that aspect. I feel like, trying to be an adult, I'm learning what I need rather than fixating so much on what everyone else needs. I wish I was Fatin and did it the other way around because that seems easier, to be honest.
What challenged them acting in Season 2?
What would you guys say was the biggest challenge in filming this season?
Clause: If we did it once, we could do it again, so really, the only biggest challenge was the emotional part of Martha's character. I feel like that was it. It wasn't something that I already thought, "Well, if I'd done it once, no big deal."
Berry: Definitely, the scenes where we really get in amongst the elements. Every single time, that cold water is insane to deal with, and it's always a challenge –
Clause: Actually, yeah.
Berry: You got to pretend it's not. You're swimming.
Ali: I don't believe you, Shannon. It's a challenge for me, but you're like ... Swimming through the water,  frolicking like it's nothing. She's [having] a day at the park.
Clause: You [Shannon] were helping me into the water because I couldn't stand it.
Berry: Oh yeah, true.
Clause: You're reaching [for me] and I'm like dying.
Berry: "Come on, Jenna, let's go. Let's go, Jenna, and action. Stop shivering."
Ali: Oh, the question was the challenges, right?
Yeah, what do you think was the biggest challenge this season?
Ali: Making the non-actor-ey parts important. The first season is so dramatic, and so much happens that is dramatic and out there, but I feel like I had so many scenes, especially with Dot. With Martha, it was more important. Martha goes through a lot in this season, but for Fatin and Dot ... there's a lot of growth, but it also feels like a day in the life, and making that interesting is so much more challenging than making something that's important and dramatic interesting. As an actor in acting class and stuff, that's our scenes. We find the hardest ones to do, the things that are going to challenge us and stretch our ability. You don't think about the throwaway things and the challenges they are.
"The Wilds" Season 2 premieres on Prime Video on May 6, 2022.