Alexandria Ocasio-Cortez And The Squad React To The SCOTUS Draft Opinion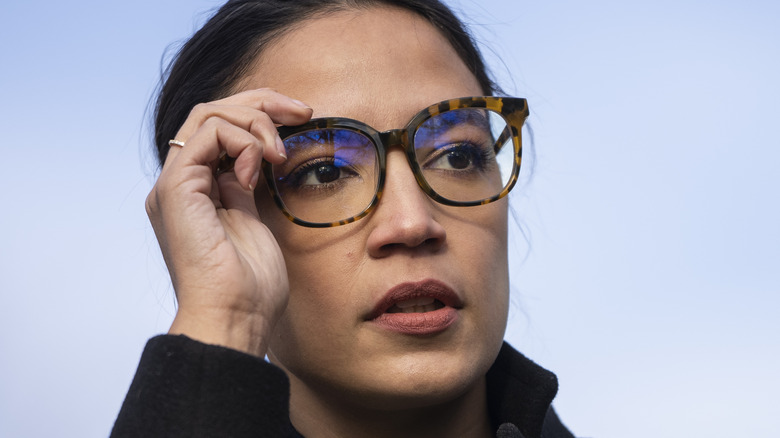 Drew Angerer/Getty Images
The first Monday in May is traditionally the day for the Met Gala, and celebrities were out in force with elaborate outfits. But while the glitz and glamor was unfolding on the red carpet, Politico dropped the bombshell that they had obtained a draft opinion that would overturn Roe v. Wade, which in 1973 made abortion protected under the constitution. The very basics of the 98-page first draft, authored by conservative Justice Samuel Alito, are that Roe v Wade should be overturned and states should determine the legality of abortion.
The decision to overturn Roe v. Wade is shocking to many, but what is also noteworthy is that the opinion was leaked. Chief Justice Roberts confirmed that the draft opinion was indeed genuine, but stated that it wasn't a final decision; he said an investigation into the leak would be forthcoming, per NPR. The leak itself, as compared to the content of the opinion, is what has seemed to make up much of the talking points by conservative media, per The Hill. 
This is in contrast to the take by, among others, New York representative Alexandria Ocasio-Cortez, Minnesota representative Ilhan Omar, Michigan representative Rashida Tlaib, and Massachusetts representative Ayanna Pressley — aka the Squad. Each took to Twitter to voice their disappointment and highlighted action that needs to be taken to help keep abortion legal.
The Squad wants abortion to remain legal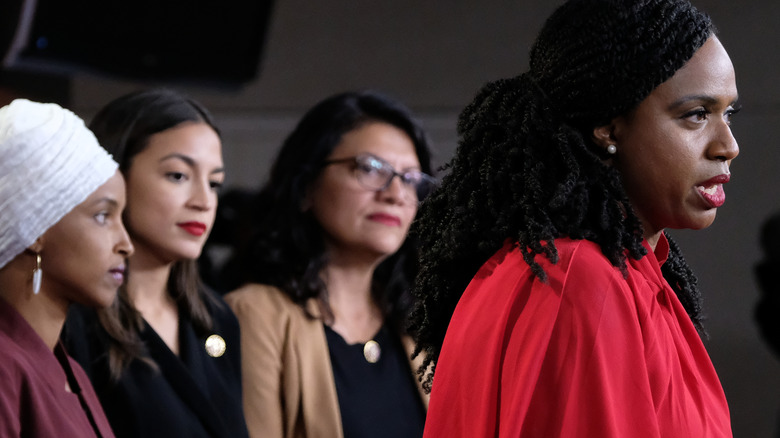 Alex Wroblewski/Getty Images
Alexandria Ocasio-Cortez saw this potential decision as having additional ramifications; she tweeted, in part, "As we've warned, SCOTUS isn't just coming for abortion – they're coming for the right to privacy Roe rests on, which includes gay marriage + civil rights. Manchin is blocking Congress codifying Roe."
The reference to Manchin relates to the Women's Health Protection Act. The bill, in a nutshell, would make Roe v. Wade into federal law. It passed the House; however, it didn't make it past the Senate, with Senator Joe Manchin as the only Democrat to side with Republicans against the bill.
Ayanna Pressley also seems to advocate for the passing of the bill, tweeting "Abortion care is a fundamental human right and we must legislate like it."
Ilhan Omar brought up another potential solution, expressing support for expanding the court — which means adding more justices to the Supreme Court — a solution has been touted by some Democrats as a way to balance out the very conservative current Supreme Court, per the Boston Globe. "Overturning Roe would put the lives of women across the country at risk," she wrote. "It would fly in the face of decades of precedent and the overwhelming majority of public opinion. And they will not stop here. Expand the court."
Rashida Tlaib also brought up both court expansion and passing the Women's Health Protection Act. She tweeted, "This will endanger the very people who need access to legal abortion. [...] Safe abortions are still legal and we must keep it that way."