The Illustrious History Of The Marilyn Monroe Dress Donned By Kim Kardashian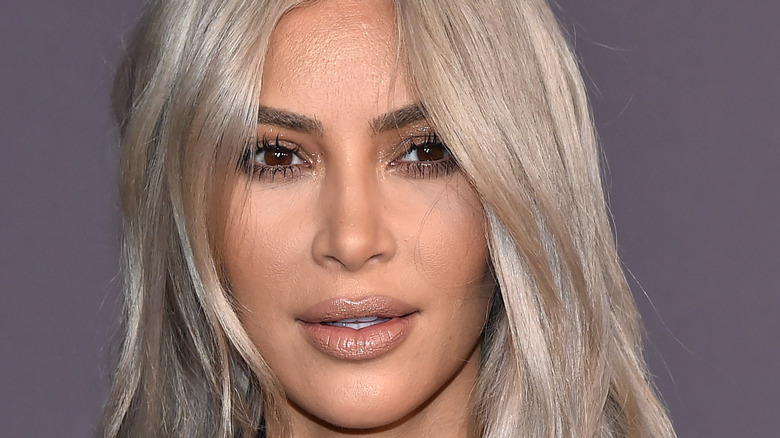 DFree/Shutterstock
The Met Gala is one of the biggest events for fashion fans. The event is a fundraiser for New York's Metropolitan Museum of Art and has a fun theme each year for the attendees to take into consideration when planning their big looks (per Vogue). The theme for the gala this year was "In America: An Anthology of Fashion," and served as a tribute to the museum's exhibit of the same name. Attendees received specifications for the theme signifying that they should aim for a "Gilded Glamour" look when organizing their outfits (via Vanity Fair). While there were several amazing looks during the event, one stood out in particular.
The Kardashian family is often spoken about following big events like the Met Gala, but this year, one of the sisters stole the show. Kim Kardashian wore a gorgeous gown and maintained her hold on fashion, but the history behind the dress is what really captured fans' interest. Kim wasn't just wearing any old gown — the dress in question once belonged to one of the greatest pop culture icons of all time, Marilyn Monroe (via the New York Post).
Marilyn Monroe wore the gown during one of the most infamous moments in history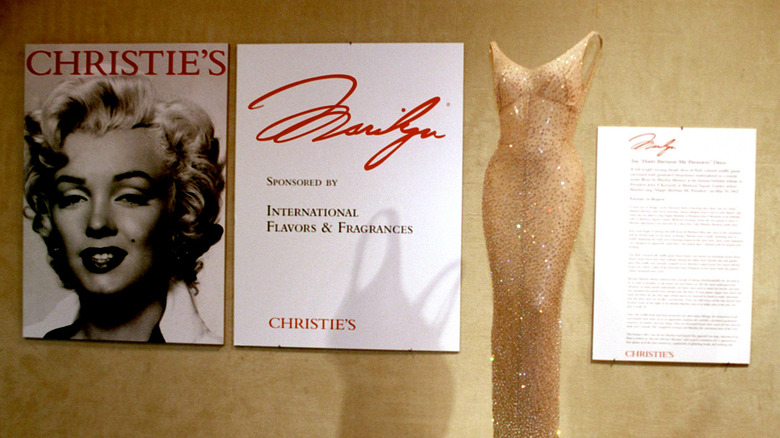 Dan Callister/Getty Images
Before the gorgeous gown was in Kim Kardashian's possession, it was purchased by Ripley's Believe It or Not! Museum. According to Ripley's, they won the dress at an auction for an impressive price tag of $4.8 million. Once the sale was wrapped, the final payment amounted to $5 million, making it the "most expensive dress" in the world.
While the cost of the dress is stunning, there's a good reason for its prestige. The illustrious actress Marilyn Monroe wore this gown during one of the most infamous moments in American history: When she notoriously sang "Happy Birthday" to former President John F. Kennedy (via YouTube). Ripley's revealed to the New York Post that Monroe reportedly told costume designer Jean Louis, "I want you to design a truly historical dress, a dazzling dress that's one-of-a-kind, a dress that only Marilyn Monroe could wear." 
The dress ended up being the first sketch created by designer Bob Mackie, who would go on to have an amazing career in costuming (via Vogue). However, scandal followed the performance, with many in attendance believing there was an affair going on between the actress and the president. The dress was also at the center of debate as the audience was overwhelmed by the revealing look, claiming Monroe "deceived organizers and said she was going to wear a high-necked demure gown" (per the New York Post).
Kardashian is the first person to don the dress since Monroe's controversial performance in 1962.