Jinger Duggar Vuolo's Husband Jeremy Is Raising Eyebrows After Attending An LA Party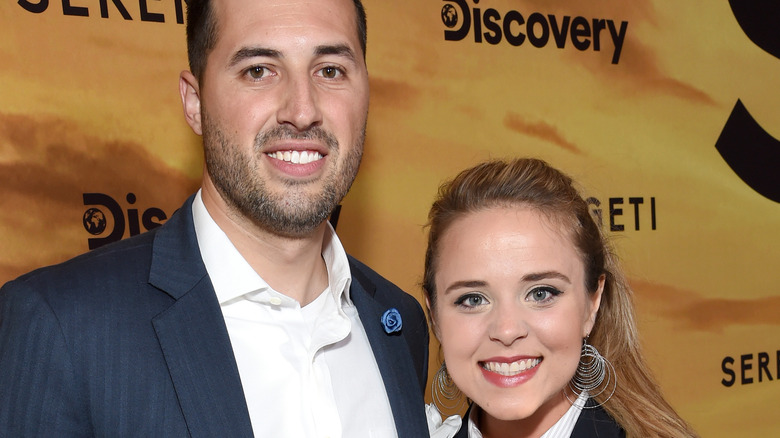 Michael Kovac/Getty Images
To be a part of the infamous Duggar family, there are strict rules and guidelines. Some of the family's most infamous rules include forcing their daughters to wear only dresses and skirts, monitoring all of their text messages, and making them attend dates with chaperones up until they tie the knot (via The Things).
While the list of rules goes on, those are just a few of the most enforced guidelines to follow. If you want to date a Duggar daughter, you have to be prepared to follow these rules yourself. Patriarch Jim Bob Duggar even has the men interested in his daughters fill out a 423-question form.
According to The Hollywood Gossip, Jill Duggar's husband, Derrick Dillard, opened up about the questionnaire he was forced to fill out in order to court his now-wife. It seems all of the Duggars' husbands had to fill out the same document, including Jinger Duggar's husband, Jeremy Vuolo.
What happens when one of the Duggar spouses breaks the strict rules of the family? Well, Vuolo might find out after he shocked fans with his attendance at a weekend party.
Vuolo was seen at a party his father-in-law wouldn't approve of
Jinger Duggar tied the knot with Jeremy Vuolo and began straying away from her parents' rules. She was the first of the Duggar kids to wear pants instead of being limited to skirts and dresses (via People). In the couple's book, "The Hope We Hold," Duggar wrote that her husband helped her embrace her freedom to dress. "Since Jeremy and I had begun studying Scripture together, I had become more aware of the different beliefs and doctrines Christians held," adding, I realized that not everyone interpreted different passages of Scripture the way I always had, and I wanted to find out why."
It seems Vuolo's rule-breaking didn't stop there. According to The U.S. Sun, Duggar's husband was seen at a boozy event celebrating the launch of The Shoe Surgeon. There was an open bar and G-Eazy performed. Certainly not the average Duggar party!
An insider told the outlet, "It was a shock to see him there as it was full of young influencers, YouTubers, and those in the fashion circles in LA, it's certainly a very different scene than he's used to." They continued, "He was dressed casually and wearing sneakers, he didn't appear out of place and seemed to be enjoying himself as he made the most of the event.
Vuolo, who is a preacher at a Los Angeles church, seemed to blend in with the crowd his father-in-law wouldn't be in favor of. The next day, however, he was back at church with his wife.