The Other Netflix Role Bridgerton Star Nicola Coughlan Was Turned Down For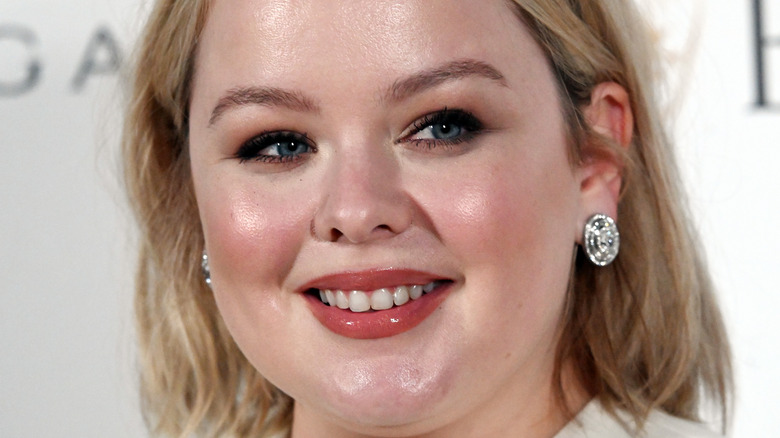 Dave J Hogan/Getty Images
It feels impossible to imagine the Netflix smash "Bridgerton" with anyone other than Nicola Coughlan playing Penelope Featherington, the wallflower debutante who (spoiler alert!) lives a double life as gossip writing queen Lady Whistledown. With the recently released second season breaking streaming records, Coughlan's face is more recognizable than ever before. Despite the fame, the 35-year-old actress has remained humble. "I'm in constant disbelief at the good fortune I've had, the people I worked with, and the people I'm about it work with," she wrote in a recent post looking back on the years of work she put into her career before hitting it big.
Coughlan first won fans' hearts for her role as Clare Devlin, the easily ruffled "wee lesbian" from "Derry Girls." The Irish comedy was released for the American market over Netflix, which means Coughlan has a role in two extremely popular shows on the streamer. But, in another world, there's a third Netflix hit on her resume. The Galway native once auditioned for another huge Netflix show.
Nicola Coughlan could have played a teen in Stranger Things instead of Bridgerton
The gorgeous gowns and sparkling ballrooms of "Bridgerton" might make the world of the London ton seem magical, but Nicola Coughlan could have appeared in a much darker fantasy world. In an interview with Buzzfeed, Coughlan revealed that she auditioned for the role of Robin in Season 3 of "Stranger Things." In case your memory is fuzzy, Robin worked alongside Joe Keery's Steve in a mall ice cream shop, Scoops Ahoy! Naturally, she ends up helping break Russian codes and battling Mind Flayers.
The role went to Maya Hawke instead, which, in hindsight, Coughlan is happy about. "I auditioned to play Robin, Maya Hawke got it ... She was far better than I ever would have been." Coughlan went on, "It's a good lesson to actors: Watch the stuff you didn't get, because you'll totally understand how it's not personal. You're just right for some things, and you're not right for other things."
Nicola Coughlan may have been too busy for Stranger Things
It's tempting to imagine how Coughlan would approach the role of feisty ice cream scooper Robin. But fans of "Derry Girls" and "Bridgerton" should be glad there wasn't another item to add to Coughlan's already busy schedule. Filming two television shows meant having to deal with scheduling conflicts. Coughlan told press that as filming dates for "Derry Girls" were pushed back, they conflicted with "Bridgerton" dates, which were non-negotiable under her contract. That meant that "Derry Girls" would have less Clare than they liked. "It was devastating to me because I wanted to be in all of this," she said.
Coughlan said that unfortunately, scripts were changed to include less of her character. "Compromises had to be made. And you know, they had to cut down my role somewhat, which was hard. Really, really hard. But I think, you know, the fans of the show are going to be happy." The third final season of "Derry Girls" is currently airing in the U.K., while the American Netflix release dates have yet to be announced.