What Is The Mother's Day Strike?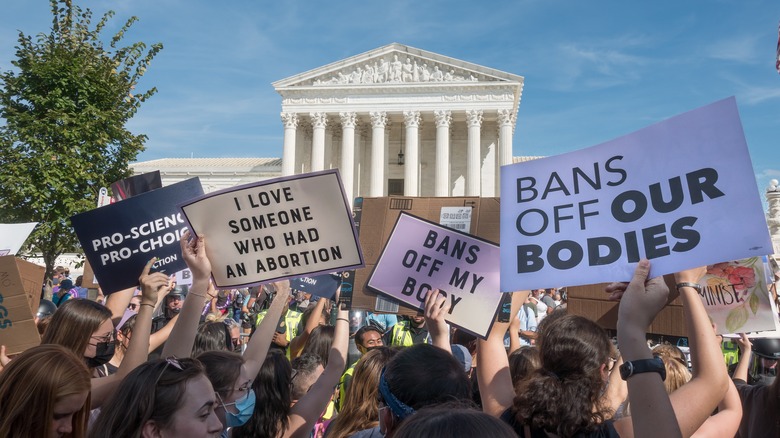 Bob Korn/Shutterstock
The SCOTUS Leak — as it's now famously known — is a significant moment for many American women. On May 2, 2022, Politico obtained a draft of a recent Supreme Court majority decision over a case in Mississippi that, if handed down, would overturn Roe v. Wade. This, in turn, would end women's right to safe abortion and allow individual states to determine whether or not to permit the procedure. 
The ruling isn't scheduled until summer, and the decision could change between now and then. However, if the ruling stands, it's thought that some 26 states would quickly move to make abortion illegal, according to the Guttmacher Institute. Justice Samuel Alito wrote in the draft opinion, "Roe was egregiously wrong from the start. Its reasoning was exceptionally weak, and the decision has had damaging consequences."
The discovery prompted protests nationwide, including one in New York City on May 3 that drew hundreds of marchers (via NBC 4 New York). Social media lit up with angry reactions, including one from President Joe Biden. "I believe that a woman's right to choose is fundamental," he wrote on social media. "Roe has been the law of the land for almost fifty years, and basic fairness and the stability of our law demand that it not be overturned. We will be ready when any ruling is issued."
But some feel that women need to do more than tweet and march. They're calling for stronger measures, beginning on a day historically devoted to women with children.
Women are being asked to protest with their purses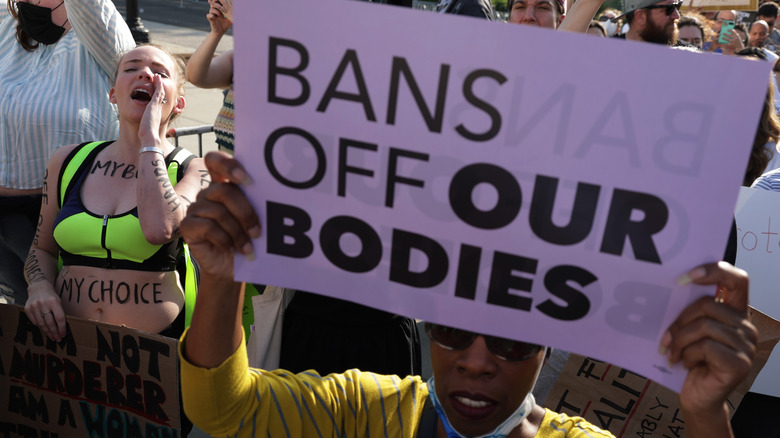 Alex Wong/Getty Images
A grassroots movement called the Mother's Day Strike declares that protesting the potential overturn of Roe v. Wade will take more drastic measures than joining a march or signing an online petition. Instead, the organizers are calling on women everywhere to stop working — both on the job and at home — and not spend any money from May 8 through to May 14. 
"The mission is simple," they say. "Break the economy over the course of one week by abstaining from work, shopping, entertaining; and on the home front, running a household that would fall apart without your care." The hope is that if enough workplaces go unstaffed, supermarket shelves fill with rotting food, and restaurants lose all their Mother's Day business, the country will know that women refuse to let their bodies be regulated.
The Mother's Day Strike founders acknowledge that many women can't afford to take a week off work without risking a pay cut or firing. In those cases, they suggest helping by posting the strike message on social media, refusing to shop, donating to Planned Parenthood or another women's cause, or offering some help to a neighbor or friend who is planning to abide by the strike.
The movement is gaining support on Twitter. Among the messages on the topic is this one: "As mothers, daughters, sisters and women, the government cannot govern our bodies! Let's stand together and stay strong!"