How Franco Baldwin Went From Serial Killer To Family Man On General Hospital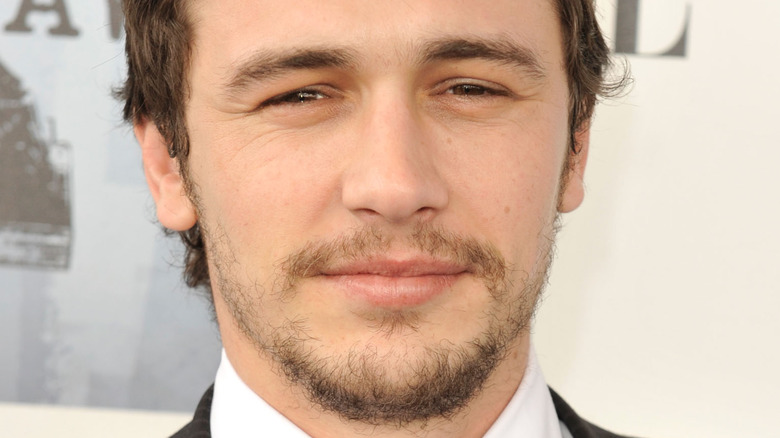 Kevin Winter/Getty Images
Longtime "General Hospital" fans will remember when the psychotic artist Franco Baldwin — portrayed by Hollywood actor James Franco at his own request – came onto the scene in 2009. Franco (the character, not the actor), with a mysterious history as a serial killer, came to Port Charles due to his obsession with mob hitman Jason Morgan (Steve Burton), who he believed at the time was his long lost twin. The violent tendencies the two shared, and Franco's resentment over being the twin that was given away, led to an extreme cat-and-mouse game over the next several years.
Franco tortured the residents of Port Charles from 2009 to 2012, including kidnapping Sam McCall (Kelly Monaco), Carly Corinthos (Laura Wright), and Lulu Spencer (Julie Berman), strapping a bomb to Maxie Jones (Kirsten Storms), digging up Claudia Zacchara's (Sarah Joy Brown) dead body to use in an art installation, and making everyone believe he had raped Sam on her honeymoon with Jason (via SoapHub). After the alleged rape, Jason shot Franco and he was presumed dead.
Franco reappeared in 2013 attempting to make amends with the citizens of Port Charles, and it wasn't long after that the reason behind his sinister acts was finally revealed.
Franco's surprise brain tumor and failed romances
Franco Baldwin returned to "General Hospital" after a short hiatus, recast as Roger Howarth (formerly Todd Manning on "One Life to Live"). It wasn't long after Franco returned to Port Charles that doctors discovered that he suffered from a brain tumor which influenced his decision-making abilities and had caused his violent acts. Franco also discovered who his true parents were — Heather Webber (Robin Mattson) and Scott Baldwin (Kin Shriner) — which helped him let go of his obsession with Jason Morgan (via Soap Dirt). He underwent a procedure to remove the tumor and was legally deemed not responsible for his past crimes.
Taking advantage of a new start, Franco had a short-lived romance with Carly Corinthos, which protected him from the wrath of mobster Sonny Corinthos (Maurice Benard) and his right-hand, Jason. Franco's relationship with Carly ended at their wedding ceremony when he revealed to the guests that Carly had cheated on him with her ex-husband Sonny.
Franco then became close with an old friend Nina Reeves (Michelle Stafford), who had recently woken up from a 23-year coma. That ill-fated romance ended when Nina stole the newborn baby of Sonny and Ava Jerome (Maura West) and tried to pass it off as her own. At first, Franco had agreed to help her with the abduction and planned to raise the baby alongside her. However, he quickly realized that Nina was unstable and soon after the two were caught by police.
Franco and Elizabeth fall in love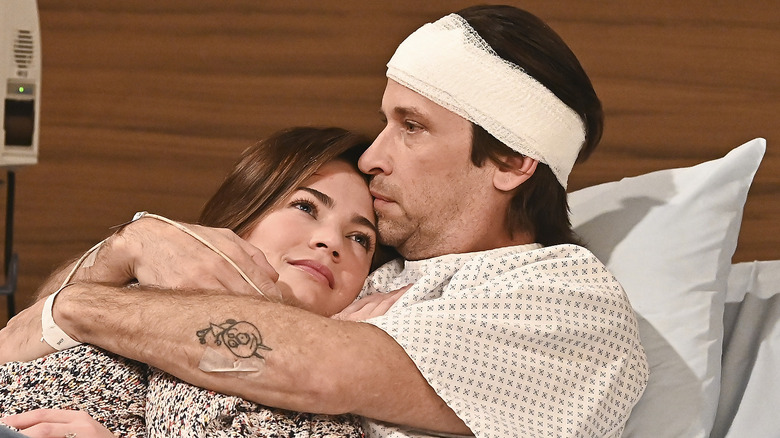 Craig Sjodin/ABC
Franco Baldwin was working as an art therapist at General Hospital when he befriended nurse Elizabeth Webber (Rebecca Herbst), who had just been publicly exposed for lying about the true identity of "Jake Doe" (Billy Miller). Franco and Elizabeth commiserated about being the "town pariahs" and their friendship eventually bloomed into romance. The two were able to help each other through traumas of their past and eventually married. Franco officially became the step-father to Liz's three sons and since none of the boys had a stable father figure in their lives, they all bonded quickly.
It seemed all was well in Franco's life as he settled in as a regular ol' husband and father. Unfortunately, in 2021 it was revealed that his tumor had reappeared and was seemingly inoperable. Franco, desperately afraid that he would return to his violent ways, begged Jason to kill him if he started exhibiting any dangerous behavior (via Soap Dirt). However, before any action had to be taken, Franco was murdered by super-villain Peter August (Wes Ramsey).
Elizabeth, her sons, and Franco's parents were devastated by his loss — and so were "GH" fans, who had come to love the reformed bad boy. Luckily, there was solace in the fact that by the time Franco's life ended, he had transformed his image and became the good man he had always hoped to be — due in large part to the deep and unconditional love between him and Elizabeth.