14 Period Pieces To Watch After Catching Up On Bridgerton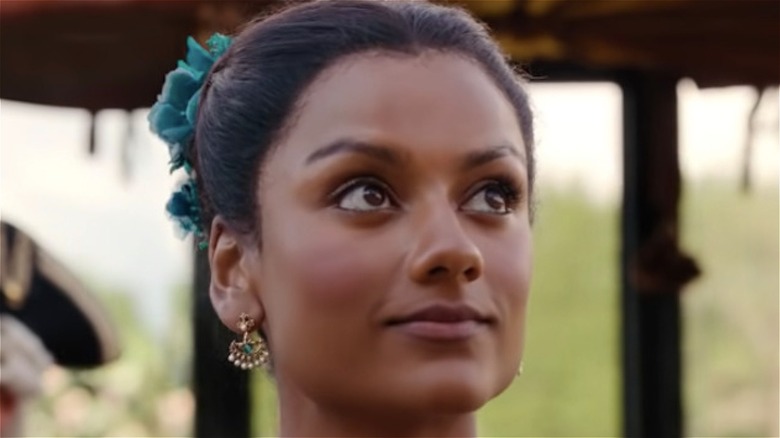 Netflix/YouTube
Everyone seems to love "Bridgerton" — and that's not an overstatement. In April 2022, Season 2 of the show officially surpassed the first season in viewing figures to become the most watched English-language Netflix show of all time.
The hit show, based on the romance novels of Julia Quinn, follows the love lives of the Bridgertons, a well-off family living in Regency-era London. There's a lot to love about "Bridgerton" — the period drama has beautiful costumes, slow burn romance, gorgeous sets, a few racy scenes, plenty of scandal and even a "Gossip Girl"-esque society columnist, aka Lady Whistledown.
If you gobbled up all of "Bridgerton," you may be wondering where you can get your next period drama fix. Luckily, we've got you covered. Here are a few shows and films that either inspired "Bridgerton" directly or have a whole lot in common with the show — if you liked "Bridgerton," then you will absolutely love these 14 other period dramas.
Pride and Prejudice (1995)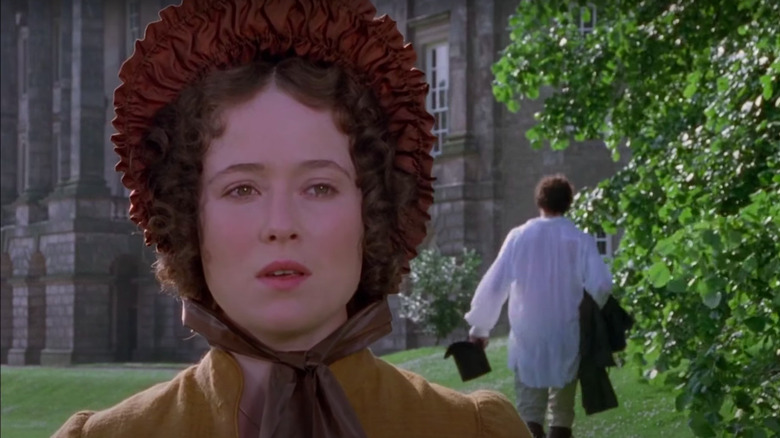 BBC/YouTube
"Pride and Prejudice" is one of Jane Austen's most beloved novels. In fact, many people would probably say that it provides the blueprint for many of the period drama romances we see on our screens today — including "Bridgerton." The story follows Elizabeth Bennet, a young woman of feeble means living in the Regency period, and Mr. Darcy, a mega-rich bachelor who, at first, appears to be a huge snob. It's the ultimate enemies-to-lovers story that will leave you reaching for your fan — in fact, it's got a lot in common with Season 2 of "Bridgerton."
The 1995 miniseries stars Colin Firth and Jennifer Ehle. While there are other versions of "Pride and Prejudice," this iconic miniseries should be your first port of call, because Anthony Bridgerton is largely based on Firth's Darcy. For one thing, there's that wet shirt scene. "I've definitely talked about my love for that 1995 BBC adaptation with Colin Firth emerging from the lake in his white shirt," show creator Chris Van Dusen told Entertainment Weekly. "That scene of Anthony going in relates to that. It's an Easter egg for fans of the genre."
Pride and Prejudice (2005)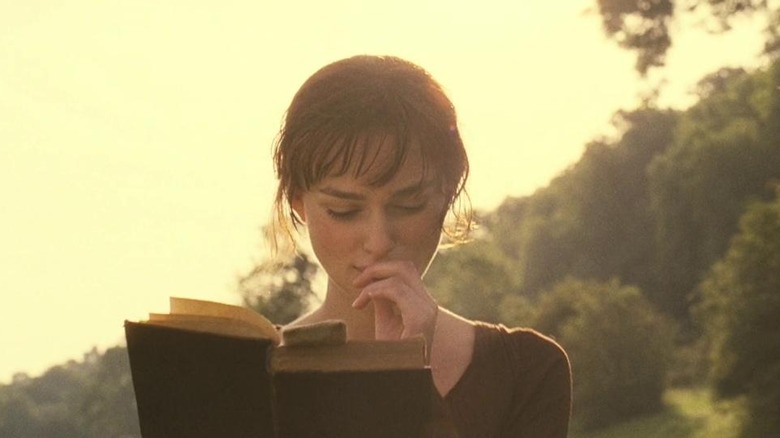 Universal Pictures
The 1995 version of "Pride and Prejudice" is great, but if you loved "Bridgerton," chances are, you'll also love the 2005 film adaption, which stars Keira Knightley and Matthew Macfadyen in the lead roles. While there is no wet shirt scene in this version, the film does a wonderful job of building sexual tension and giving us those long yearning looks that "Bridgerton" has become so famous for.
"Bridgerton" creator Chris Van Dusen has even revealed that this film was also a key inspiration for the relationship between Anthony and Kate. Speaking of both versions of "Pride and Prejudice," he said to Entertainment Weekly, "They're so beautiful, and those images — Colin Firth in his white shirt, Darcy with the hand clench — have been seared onto my brain for as long as I can remember. It's why I fell in love with the genre in the first place." That hand clench occurs pretty early on in the 2005 film after Darcy touches Elizabeth's hand for the very first time — and it's a moment that is repeated in closeups of hands in the seasons of "Bridgerton"
Sense and Sensibility (1995)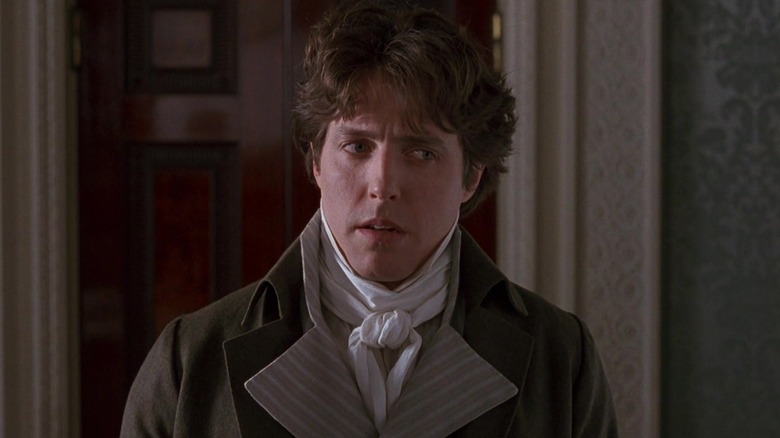 Getty Images/Getty Images
"Pride and Prejudice" isn't the only Jane Austen novel that will appeal to "Bridgerton" fans — "Sense and Sensibility" also has a lot in common. This novel follows three sisters who, after getting nothing from their father in his will, are forced to move to a cottage when their half-brother and his snobbish wife kick them out of their home. Like "Bridgerton," this novel focuses on two very different sisters — Elinor and Marianne. While Elinor is practical, Marianne is determined to find love — sound familiar? In the end, they both find love and, naturally, live happily ever after.
The 1995 version of the book, starring Emma Thompson, Kate Winslet, Hugh Grant and Alan Rickman, is sure to become a new favorite of "Bridgerton" fans — and you'll probably notice a few familiar scenes, too. When Winslet gets sick in the rain and is carried to safety by Rickman, you'll be reminded of Kate's accident in the field. There's even a strikingly similar scene between the two sisters when Winslet is lying in bed after her illness.
Emma (2020)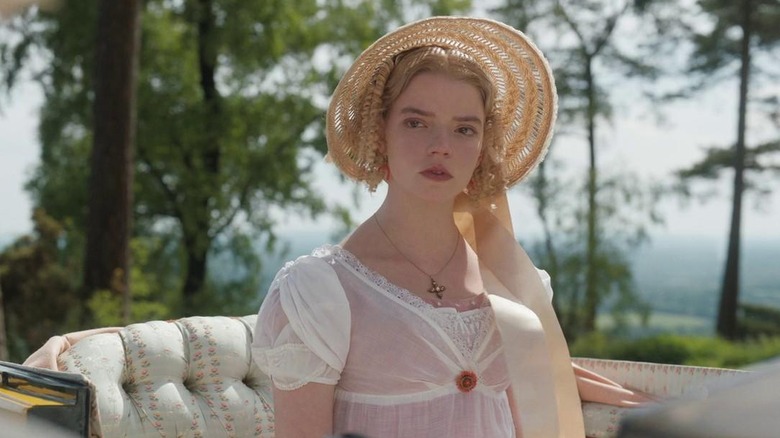 Focus Features
Yes, this is yet another Jane Austen adaptation — but once again, Austen proves to be the perfect source material for a fun, romantic period drama! In the 2020 version of "Emma," Anya Taylor-Joy stars as the precocious titular character who is so obsessed with matchmaking that she doesn't see the potential for romance sitting right in front of her.
This adaptation has everything you love about "Bridgerton." Not only does it have stunning costumes covered in frills, lace and ribbons, it also has a distinctly modern feel (via The Guardian). Like "Bridgerton," this adaptation doesn't try to be too careful about historical accuracy. Instead, it is brighter, bolder, and more colorful. It features a bouncy, modernized soundtrack, over-the-top design and even — gasp — a few racier moments, to remind viewers that this story, like "Bridgerton," can be incredibly modern, even if it is set over a hundred years in the past.
Sanditon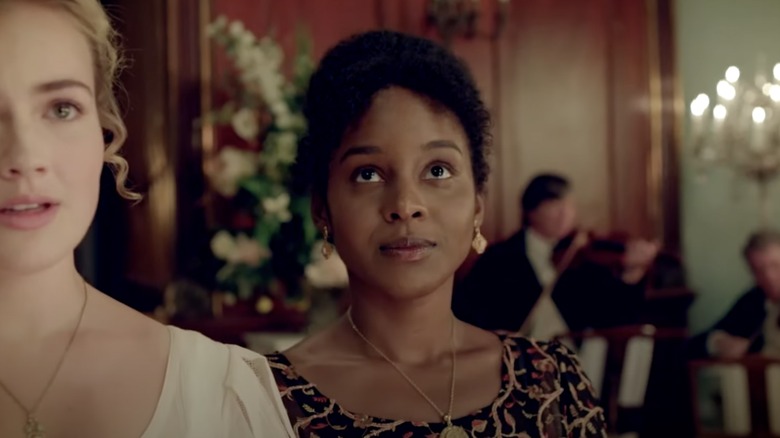 BBC
Like "Bridgerton," "Sanditon is a Regency-era show that focuses on romance and society. Based on an unfinished novel by Jane Austen, "Sanditon" follows a young woman named Charlotte who moves to a small village and discovers the residents have plenty of secrets. Because this show is based on an unfinished novel, much of the show's plot is newly created — this means that, like "Bridgerton," "Sanditon" can add some modern twists and even a few racy scenes that weren't in the original Austen novel.
According to Metro, "Sanditon" even has a few elements that are better than "Bridgerton." Apparently, it features the better rascal, better euphemisms, the best feminist, and the best sport scenes out of the two. The show also features inclusive "color-blind" casting, something which "Bridgerton" has been widely praised for embracing. Basically, if you love scandal and romance set in the Regency-era with a modern twist, "Sanditon" will not disappoint!
Mr. Malcolm's List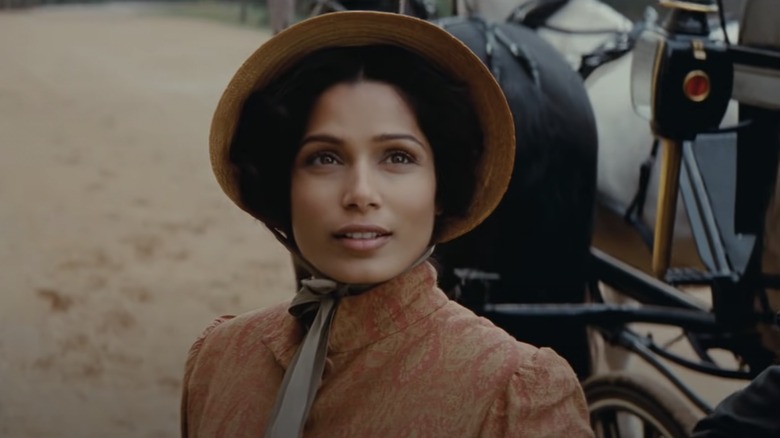 Rebelle Media
"Mr. Malcolm's List" is another modern show set in a fictionalized version of Regency England. Like "Bridgerton" and "Sanditon," the show has a diverse cast that includes Zawe Ashton and Freida Pinto. The show is based on a novel by Suzanne Allain about an eligible bachelor who is looking for a wife who ticks every box on his list of criteria — sounds an awful lot like Anthony Bridgerton if you ask us! When Julia (Ashton) doesn't fit the bill, she creates a plot to take revenge with her friend Selina (Pinto), per Cosmopolitan.
As of this writing, the film is set to be released in the summer of 2022 and if the first look photos are anything to go by, "Bridgerton" fans will not be disappointed. And if you can't wait that long, you can even watch an 11-minute-long version of the film created by Refinery29 starring many of the same cast members and made by the same director!
North and South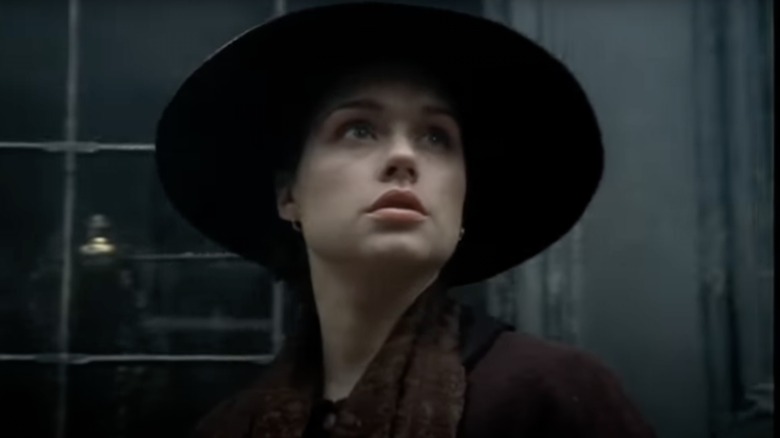 BBC
If you loved the slow burn romance between Anthony and Kate in Season 2 of "Bridgerton" and you've already watched every version of "Pride and Prejudice" out there, then "North and South" should definitely be next on your list. This BBC miniseries is based on the novel by Elizabeth Gaskell and follows a young woman named Margaret who moves from the south of England to a factory town in the north where she meets the gruff, business-oriented Mr. John Thornton. At first, Margaret hates Mr. Thornton just as much as she hates her new town — but over time, she learns to see the beauty in both.
Like "Bridgerton," "North and South" does repressed emotion and slow burn romance very, very well — you'll probably find yourself screaming at your screen to just "kiss already!" In other words, this is the perfect show for fans of "Bridgerton."
Wuthering Heights (2009)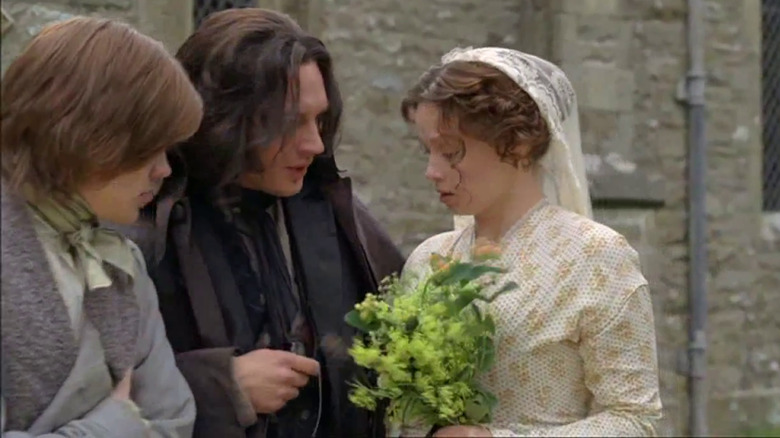 ITV
"Wuthering Heights" isn't exactly a light-hearted romance in the vein of "Bridgerton," but it certainly features the burning passion of the show's second season. "Wuthering Heights," based on the novel by Emily Bronte, tells the doomed love story of Catherine and Heathcliff as it plays out on the wild moors of England. We recommend starting with the 2009 version starring Tom Hardy and Charlotte Riley.
According to Jonathan Bailey, who plays Anthony Bridgerton, his character was largely based on the romantic lead in "Wuthering Heights" — and not always in a good way. "It's interesting to get behind these Heathcliff and Darcy characters and explore why romantic male figures are so harsh and toxic towards women," the actor told Radio Times. So, if you're in the mood for a tragic love story with a brooding romantic lead that reminds you a little of Anthony, look no further than "Wuthering Heights."
The Age of Innocence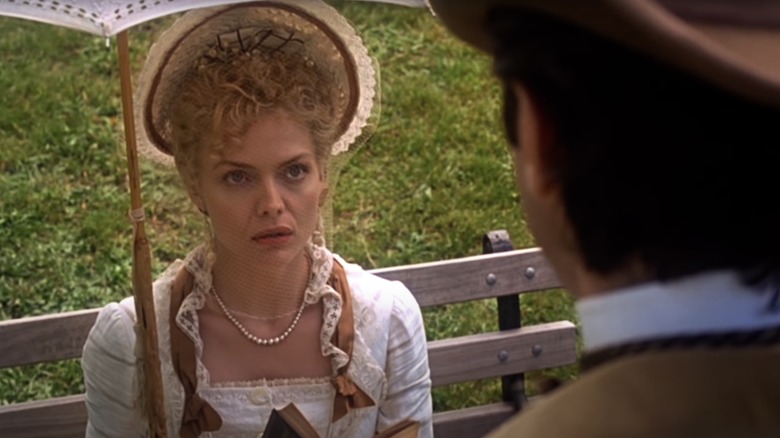 Columbia Pictures
The problem with a lot of Jane Austen adaptations is that they are a little — well — buttoned up. For fans of "Bridgerton" who miss the raunchiness of the show's first season, a film like "The Age of Innocence" might be better suited to your tastes. This Edith Wharton adaption doesn't shy away from the sex and the scandal. This 1993 film, starring Michelle Pfeiffer, Daniel Day-Lewis and Winona Ryder, follows Countess Ellen Olenska as her marriage falls apart and she falls for Day-Lewis's Newland Archer.
As "Bridgerton" creator Chris Van Dusen told Entertainment Weekly, this film was a huge inspiration. "That movie is just so sensual and sexy without ever showing too much," he said. "It really set the bar, as far as all those longing looks you feel and see between two people from across the room. You can feel the yearning happening there." He went on to explain that the film also uses a voiceover to narrate the action from society's perspective — sounds an awful lot like "Bridgerton" to us!
Dangerous Liaisons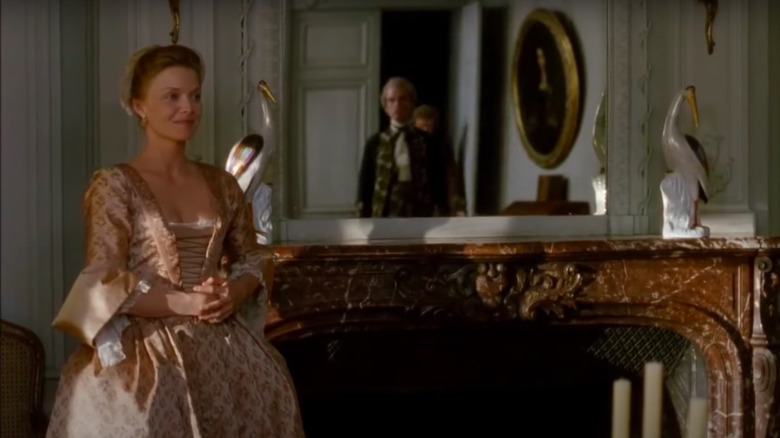 Warner Bros. Pictures
"Dangerous Liaisons" is a classic period drama based on the play by Christopher Hampton. Starring the likes of Michelle Pfeiffer, Uma Thurman, Keanu Reeves, John Malcovich and Glenn Close, the movie is all about romance and society — just like "Bridgerton." Unlike some period dramas, "Dangerous Liaisons" is light-hearted and silly. It's hardly a great surprise that creator Chris Van Dusen was inspired by the film when it came time to write "Bridgerton."
"I fell in love with that movie because it was so fun," he told Entertainment Weekly. "The tone is humorous, and it didn't take itself too seriously." Van Dusen also noted that "Dangerous Liaisons" has the same lavish, larger-than-life feel. "There's so much decadence in that movie; it's over the top," he said. "You can definitely feel that in 'Bridgerton.'" You certainly can — and if you love looking at sets and costumes that are just a little too over-the-top, this movie has you covered.
Downton Abbey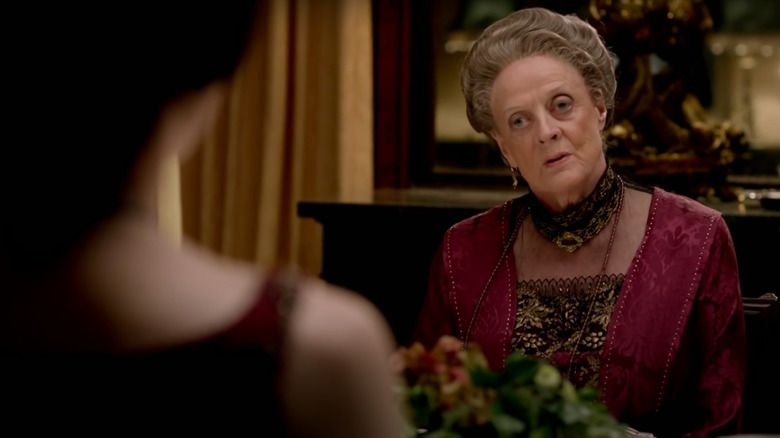 Focus Features/YouTube
Before "Bridgerton," there was "Downton Abbey." "Downton Abbey" was a huge success when it aired and really set the bar for modern sprawling period dramas. Set in the early 1900s, "Downton Abbey" follows the Grantham family and they struggle to keep their estate amidst a changing, modernizing world. With plenty of romance, family intrigue, witty remarks and, of course, breathtaking costumes, this series is perfect if you feel like there's a "Bridgerton"-shaped hole in your life right now. One review in GQ of "Bridgerton" even called the show a mixture of "Downton Abbey" and "Gossip Girl."
It turns out, there's a closer connection between the two shows than you may have realized. Bessie Carter, who plays Prudence Featherington in "Bridgerton," is the real-life daughter of Jim Carter, who plays Carson the butler in "Downton Abbey." And before Bessie got her role in "Bridgerton," she actually appeared alongside her father as a maid in "Downton Abbey" — so, "Bridgerton" fans, keep your eyes peeled if you choose this period drama as your next watch.
Little Women (2019)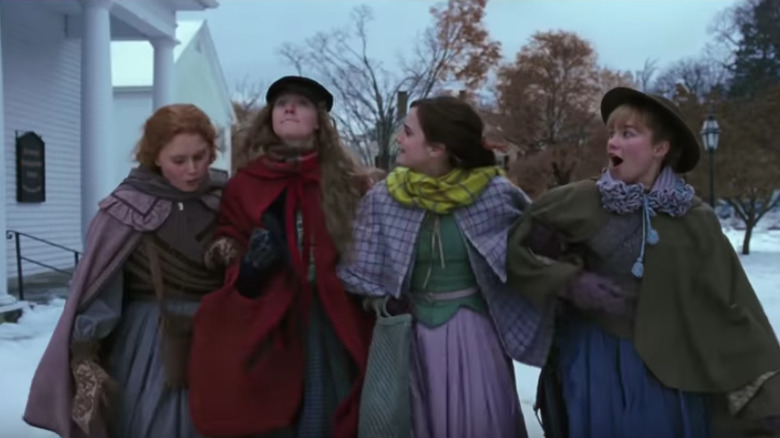 Sony Pictures
At first glance, "Little Women" may not have too much in common with "Bridgerton" aside from being a period drama. However, this adaptation of the Louisa May Alcott novel actually has plenty of similarities to the hit Netflix show.
As DSTV pointed out, both are female-led modern adaptations of works that are also originally by women. Plus, if you loved the touching sister relationship in Season 2 of "Bridgerton," you'll love the focus on sisterhood in "Little Women." In "Bridgerton," both Kate and Edwina learn to let the other follow their own passions and dreams — in "Little Women," the four sisters must also learn that eventually, every woman must go her own way.
The 2019 Greta Gerwig version of "Little Women" also has a fantastic cast, which should be enough to tempt you. The film features Saoirse Ronan, Emma Watson, Florence Pugh, Timothée Chalamet, Laura Dern and Meryl Streep — talk about an all-star cast!
Persuasion (1995)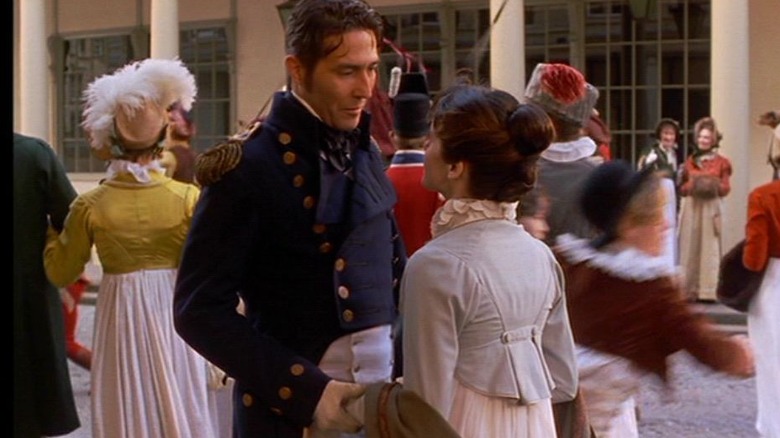 BBC
Remember how in "Bridgerton" Season 2 Kate is called an "old maid" — at the ripe old age of 26? Well, this may have been a reference to the classic Jane Austen novel "Persuasion" which tells the story of Anne, also 26, who is widely thought to be past her prime and no longer suitable wife-material.
In the beautiful 1995 miniseries adaptation starring Ciaran Hinds and Amanda Root, you'll see a touching love story play out between Anne and her one-time fiance, Captain Wentworth. It's got all of the will-they-won't-they drama and long pining looks that you came to love in "Bridgerton." Plus, it's also got a plot device that "Bridgerton" uses, too. In "Persuasion," a character called Louisa falls and hurts her head. The concussion leads to a long recovery period — just like in the final episodes of "Bridgerton" (via Popsugar)!
Bright Star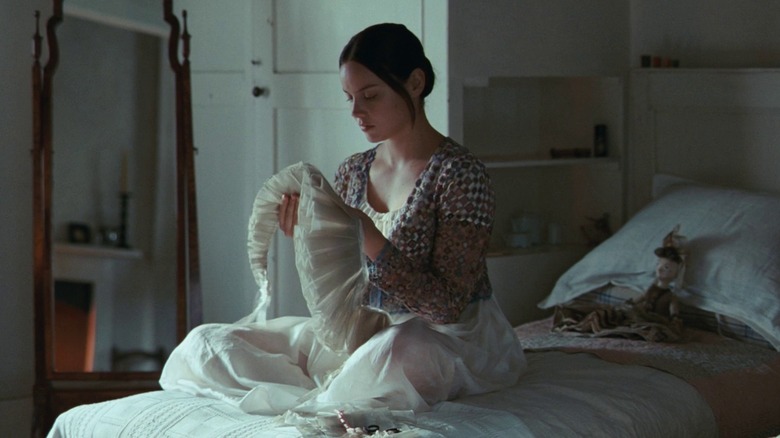 BBC Films
"Bright Star" is a gorgeous period drama set in the 19th-century. It focuses on the real-life relationship between Fanny Brawne and the poet John Keats. Starring Abbie Cornish and Ben Whishaw, the heartbreaking film follows them as they fall in love before tragedy strikes by way of an illness. Without giving too much away, this film is not exactly one to watch if you're looking for a happy ending.
While "Bright Star" may not be as light, frothy, and fun as "Bridgerton," it has a lot of other similarities to the show. For one thing, it's super romantic. The love story between Brawne and Keats is a slow burn full of repressed passion, yearning and stolen glances. So, if you fell in love with the romance between Simon and Daphne or Kate and Anthony, you're bound to love these two as well. It also has some gorgeous shots and costumes that are just as likely to leave you swooning as the love story. For "Bridgerton" fans (in need of a good cry), "Bright Star" is a total must-watch.