The Mother Of Former Miss USA Cheslie Kryst Shares Her Long And Emotional Last Text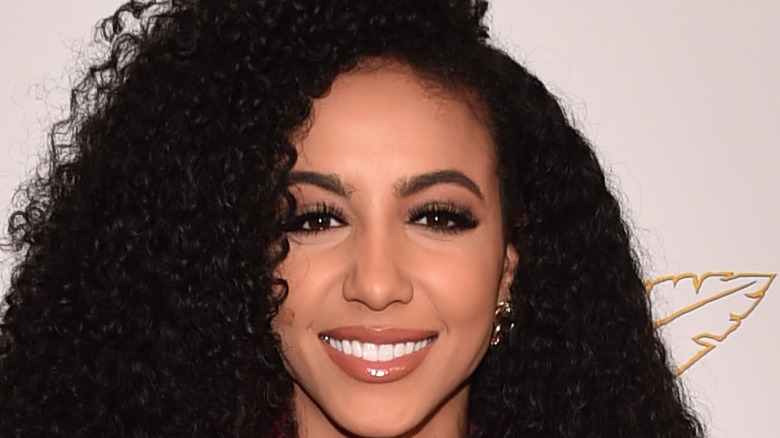 Alberto E. Rodriguez/Getty Images
Family and friends were shocked by the heartbreaking death of former Miss USA Cheslie Kryst, who committed suicide in January 2022. The 30-year-old jumped to her death from a high-rise building in Midtown Manhattan, leaving behind a post on her Instagram page that read, "May this day bring you rest and peace."
"Her great light was one that inspired others around the world with her beauty and strength. She cared, she loved, she laughed and she shined," her family shared in a statement after her passing, per New York Post. "Cheslie embodied love and served others, whether through her work as an attorney fighting for social justice, as Miss USA and as a host on EXTRA. But most importantly as a daughter, sister, friend, mentor and colleague — we know her impact will live on."
Kryst, who was crowned Miss USA in 2019, had been struggling with depression, and in honor of World Mental Health Day in October 2019, she shared on Facebook that she was seeing a counselor. "She's really easy to talk to," Kryst explained. "She gives me great strategies especially if I'm sad or happy or have a busy month ahead of me."
At the time of her death, police only revealed that she had left a note leaving her estate to her mother, April Simpkins, who was Mrs. North Carolina in 2002. And now Simpkins is giving more details about the day her daughter died — and the message she left behind.
If you or anyone you know is having suicidal thoughts, please call the National Suicide Prevention Lifeline​ at​ 1-800-273-TALK (8255)​.
Cheslie Krystie wanted her mom to share her last message with others
April Simpkins is sharing devastating details about the last message she received from her daughter, Cheslie Kryst, before the former Miss USA committed suicide. During an interview on "Red Table Talk," Simpkins told Jada Pinkett Smith, Willow Smith, and Adrienne Banfield-Norris that Kryst sent her a text message while Simpkins was in a workout class.
"First, I'm sorry, by the time you get this, I won't be alive anymore. And it makes me even more sad to write this because I know it will hurt you the most," Kryst wrote. "I love you mom, and you are my best friend, and the person I've lived for for years. I wish I could stay with you, but I cannot bear the crushing weight of persistent sadness, hopelessness, and loneliness any longer," (via New York Post).
Kryst — the second of six children —  also shared her constant feelings of sadness, admitting that she was crying daily. "I wished for death for years," Kryst wrote. "And I know you would want to know and want to help, but I haven't wanted to share this weight with anyone."
Simpkins chose not to reveal her daughter's final wishes, which were included in the text. But Kryst did encourage her mother to share her message with others. "People should know that you are the best mom in the world and that you were the best mom to me that I ever could have hoped for," she wrote.