Drake Just Got Revenge On A Critic In The Most Savage Way Possible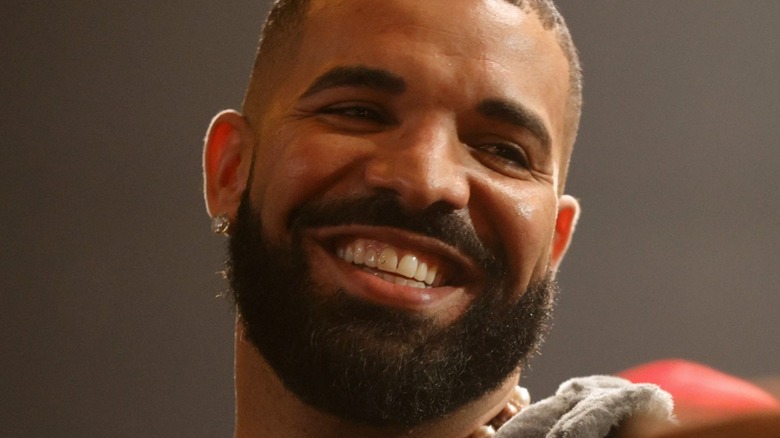 Amy Sussman/Getty Images
Most celebrities are accustomed to ignoring online trolls. Drake isn't your ordinary celebrity. The four-time Grammy-winning rapper knows how to roll with the punches. Drake's love of basketball is well documented. Over the years, Drake has gone through a stunning transformation, but his interest in the sport has remained the same.
He's regularly seen court-side cheering on his favorite players and teams. Despite his deep investment in the sport, some fans have called out the rapper for having loyalties to different teams and labeled him a "bandwagon fan", per Bleacher Report. Drake, who was tapped to host the 2014 ESPY Awards, shut down those rumors in a call with Complex. 
After naming the Toronto Raptors and Kentucky Wildcats as his top teams,( via Hoops Habit) he told the entertainment outlet that he prioritizes the players and not the team they play for. He clarified that many of his friends play for the teams he roots for, including legend LeBron James. As further proof of his basketball love, NBA reports that Drake's record label OVO has partnered with the Raptors in the past and helped the Canadian team revamp their jersey/merchandise's aesthetics.
Drake has a history of clapping back at petty comments online. The "God's Plan" rapper recently fought back against critics in a big way at a basketball game.
Drake defended supportive sports parents everywhere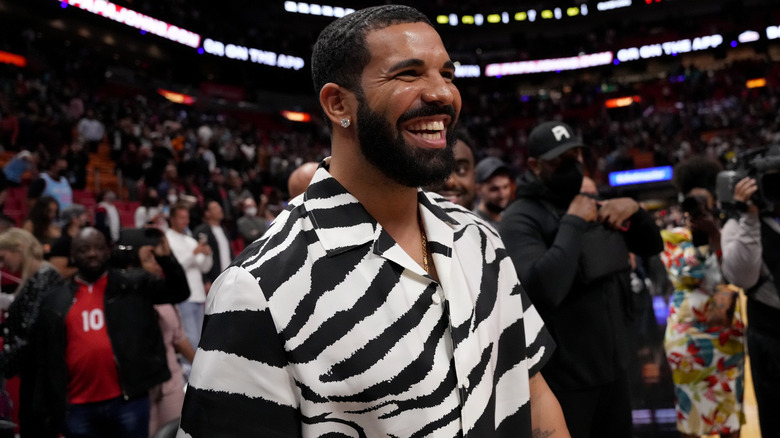 Mark Brown/Getty Images
Fans trolling sports players isn't anything new. While a majority of players are able to brush off criticism from the sidelines and keep playing, letting it go isn't always easy.  Whether it's because they're caught up in the game or are looking to elicit a response, spectators often know how to push the players' buttons. Yahoo Sports reports that in 2017, two All-Star players were fined for cursing at trolls.
On May 3, Drake defended Memphis Grizzlies' player Ja Morant's dad — and supportive dads everywhere — after a critic tweeted a negative comment about his engagement in his son's game, as reported by People. After the meme was reposted on Instagram, the "Nice for What" rapper hit the comments section and argued that this kind of support should be normalized, writing "Imagine your son makes the league and he's Ja or [LaMelo Ball or Lonzo Ball] all you can do is be elated and competitive and over supportive and it's a right [sic] of passage to that the OG's talk s**t." 
In the rest of his comment, Drake made it clear that he would show the same level of energy and pride in his son Adonis' future competitions no matter the subject.
Drake shut down a hater who trolled him and his 4 year old son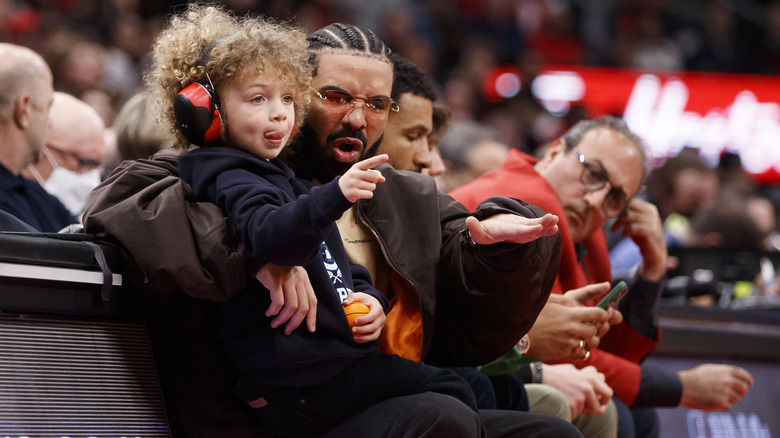 Cole Burston/Getty Images
Everyone's a critic. Per TMZ, another user responded to Drake's May 3 Instagram comment and drudged up old rumors that the rapper uses ghostwriters — rumors that NME pointed out have plagued him for years. In his reply, the user brought Drake's son Adonis into the argument and insinuated that he "plays with ghostwriters".
Drake's response was two-fold. According to New York Post, he swiftly responded by following the troll's wife on Instagram, writing "I just followed your girl cause she's prob miserable and needs some excitement in her life." Then, he DM'd her and told her that he was here for her. The Instagram user's wife confirmed the follow from Drake. The outlet reports that instead of getting upset, the critic laughed Drake's comments off and told his followers that he is very secure in his relationship and wasn't worried about anything stemming from this.