How New White House Press Secretary Karine Jean-Pierre Is Making History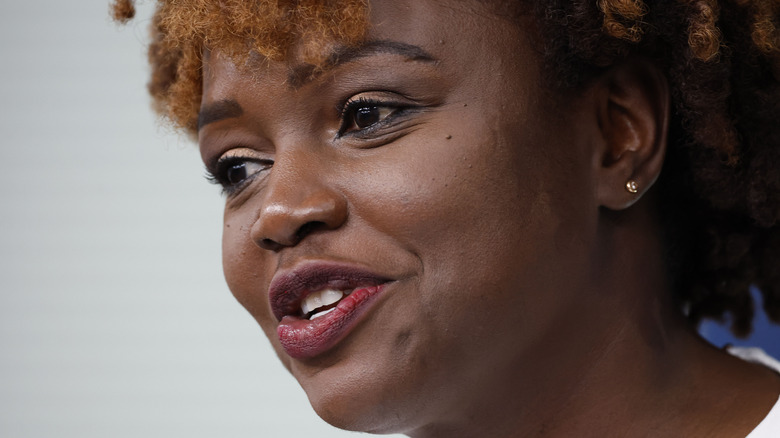 Bloomberg/Getty Images
When Jen Psaki took the job of Joe Biden's White House Press Secretary when he began his term, some compared her to another red-haired female press secretary, the fictional Abbey Whelan from ABC's "Scandal," per ET Canada. Darby Stanchfield, who played Whelan, even tweeted at Jen Psaki with some "advice" like "Don't get power hungry" and "No such thing as too much hairspray." However — and this is definitely a good thing — Psaki's time as press secretary has been much less fraught than her fictional counterpart. Psaki has been praised for staying focused and calm during press briefings and respectful to the press in contrast to the more contentious relationship that former President Donald Trump's press secretaries often took with members of the media, according to Forbes.
Psaki's time as press secretary is coming to an end, though. She is reportedly going to be a host of her own show on MSNBC as well as working as a political commentator on TV, per The Guardian. Psaki's replacement has been announced: Deputy White House Press Secretary Karine Jean-Pierre, and with Jean-Pierre's promotion, she's breaking the glass ceiling in a lot of ways.
Karine Jean-Pierre will be the first Black and openly gay White House Press Secretary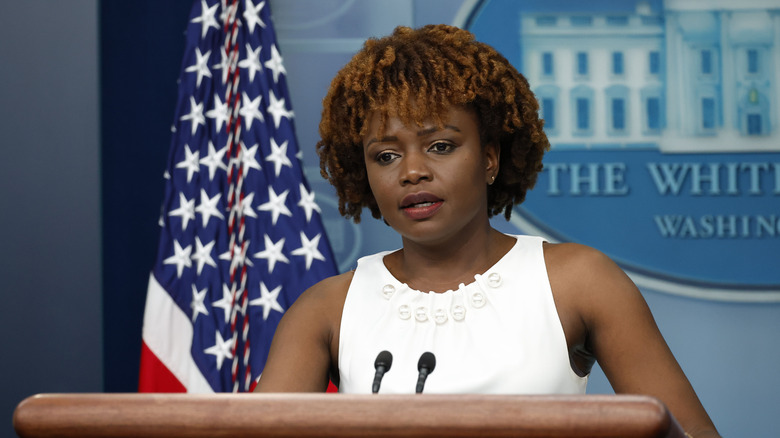 Bloomberg/Getty Images
After Jen Psaki leaves the post of White House Press Secretary on May 13, Karine Jean-Pierre will become the nation's first Black press secretary. Not just that, she will also be the first openly gay press secretary, via NPR. In a White House press briefing, Jean-Pierre acknowledged she was a part of a history-making moment, and she noted the value of Black kids being able to see her as press secretary, according to The New York Times. President Joe Biden released a statement, saying in part that Jean-Pierre will be "a strong voice speaking for me and this administration."
Jean-Pierre previously worked with the Obama White House; she has also worked as a senior adviser for MoveOn.org and a political analyst for NBC News and MSNBC, according to The Hill. She worked with the Biden campaign in 2020, and she was Vice President Kamala Harris' chief of staff. She broke barriers there too; she was the first VP Chief of Staff to be Black, per NBC News.
It's a tough job to speak for the president in briefings that are watched around the world. Here's wishing Jean-Pierre the best in her new job.