Who Did Donna Mills Play On General Hospital?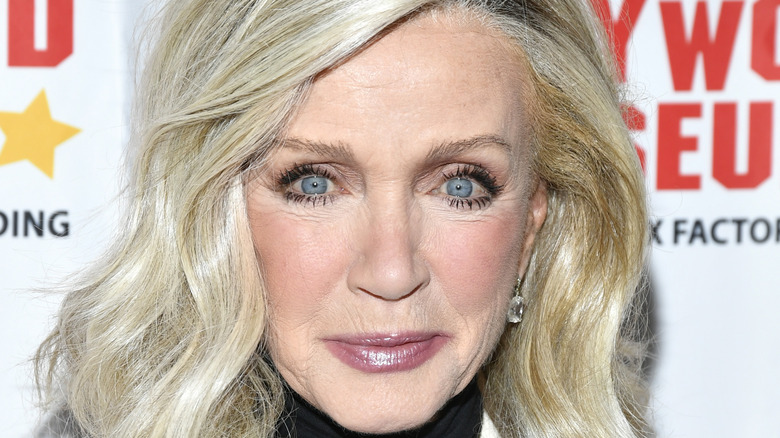 Michael Tullberg/Getty Images
In the 1980s, Donna Mills played Abby Ewing, one of the original desperate housewives on the "Dallas" spin-off "Knots Landing." She's perhaps best known as the woman who broke up popular pair Gary and Valene Ewing.
Before becoming a household name with her primetime soap run, she spent six years on the daytime soap "Love is a Many Splendored Thing" as Laura Donnelly from 1967 to 1973 (via IMDb). After years of episodic television appearances and TV movies, in 2014, she made her daytime comeback on "General Hospital," playing a very memorable character, although she only appeared for a total of 31 episodes.
What Donna Mills' character did before she arrived in Port Charles changed the lives of the Corinthos family forever, and she is still spoken of on a regular basis. She did the unthinkable to her daughter — and then her daughter's two daughters — and, as of this writing, the ramifications drive the biggest "General Hospital" plot today.
Donna Mills played the infamous Madeline Reeves
Donna Mills played a "General Hospital" character who was so greedy that she couldn't allow her pregnant daughter and her offspring to inherit her late husband's money rather than her. So, she tried to induce a miscarriage in her daughter, Nina Reeves (Cynthia Watros), by giving her an overdose of antidepressants. 
Instead, those pills put the daughter into a 20-year coma, but it didn't end her pregnancy. Yes, Mills played Madeline Reeves, the woman who gave fans the eight-year-long "Who is Nina's daughter?" story that started with Kiki Jerome (first played by Kristen Alderson, then Hayley Erin) as an early suspect (via Soaps In Depth).
Madeline kept comatose Nina in a long-term care facility for two decades. When Nina woke, she even helped her steal a baby and then killed Nina's estranged husband, Silas Clay (Michael Easton), before trying to drive Nina crazy and send her back to a mental institution. 
Instead, Nina reclaimed her life, and Madeline ended up behind bars, dying of a heart attack in prison in 2018 (via Soaps In Depth).
She dropped a big secret before her death
It was Madeline Reeves who confirmed to Nina's new husband, Valentin Cassadine (James Patrick Stuart), that Nina's pregnancy survived and she gave birth while comatose. 
Madeline even left a half-heart necklace in her belongings for Nina to find after her death that could lead her to her daughter, who had the other half. Eventually, Nina learned that her daughter was presumed-dead sociopath Nelle Benson (Chloe Lanier), who seemed to take after her maternal grandmother (via Soaps In Depth).
Recently, Madeline's name came up again when the audience learned that she also knew Harmony Miller (Inga Cadranel) because she worked in the same facility where Nina was in a coma (via Soap Opera Spy). And she apparently handed Harmony Nina's other baby because it turned out that Nina had twins. 
Whether Harmony was supposed to bring that baby to adoptive parents or not has yet to be revealed, but Harmony kept the child, who turned out to be Willow Tait (Katelyn MacMullen), according to Soap Central.