Here's What Pokimane Looks Like Going Makeup-Free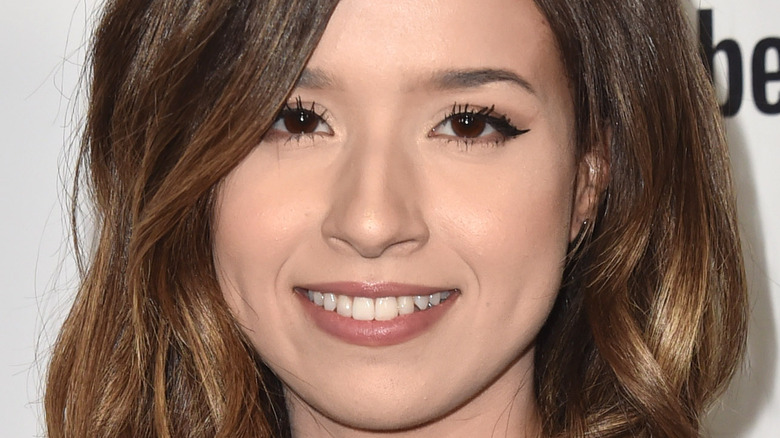 Alberto E. Rodriguez/Getty Images
As one of the most-watched Twitch streamers in 2021, according to Esports News UK, Imane Anys has seen her fair share of drama and controversy over the years. Anys, who goes by Pokimane on Twitch and other online platforms, started her career as a streamer in 2013 (via The Loadout). Since then, she has amassed over eight million followers and has an estimated net worth of between $2 and $3 million.
Despite her overwhelming success, Pokimane has been the subject of a hate campaign over recent years. In October 2018, she started a stream without any makeup on to film a tutorial. Pokimane's natural face caused an unnecessary controversy, with some of her viewership claiming that she'd deceived them about her perceived beauty (via Sportskeeda).
Female streamers have an unfair amount of pressure to look a certain way while streaming, and Pokimane saw the effect of this firsthand. Despite her image without any makeup quickly becoming a viral meme, the streamer took this in her stride and used it to educate those who criticized her about the ideals of beauty.
Pokimane responded to the drama with more makeup free selfies
Addressing the drama a day after it occurred, Pokimane took to Twitter to share three beautiful makeup-free selfies demonstrating women shouldn't have to be trolled and ridiculed for how they naturally look. "To conclude yesterday's drama, here are some no make-up selfies but from regular/cute angles and natural lighting," the streamer wrote. "No one looks good 24/7, and a lot of different things can affect someone's appearance! We're all only human, so let's be kind to one another."
Despite the positive message and optimism from Pokimane, some of her viewers continued to troll and harass the streamer, as did her critics. In January 2022, YouTuber JiDion encouraged his fanbase to spam Pokimane while she was streaming, which resulted in her having to cut it short (via Sportskeeda). JiDion was subsequently banned for the raid. In retaliation, he changed his Twitter profile pic to Pokimane without any make-up, which had become a meme (via Know Your Meme).
Pokimane received disgusting comments as a result of JiDion's fans
A week after what happened, Pokimane expressed how tired she was "of people minimizing the harassment" she received due to spam on her stream (via Twitter). As a result, Pokimane shared just some of the vulgar and explicit sexual comments directed at her and threats for other creators to "go to war" with JiDion.
At the same time, JiDion uploaded an apology for his actions on YouTube. In a video titled 'Dear Pokie', he recounted conversations he'd had with former streamer Ludwig about how he acted and why he was being labeled as a misogynist due to his actions. In response, Pokimane tweeted that she was "glad he apologized and told his viewers to chill" and hoped that "he does better in the future".
Pokimane and JiDion would later collaborate in a video where they discussed the drama (via YouTube), in which JiDion dared Pokimane to post the no-makeup photo of herself with the caption: "This face makes more money than you'll ever see (via Twitter).