Ross Mathews Shares Happy Relationship News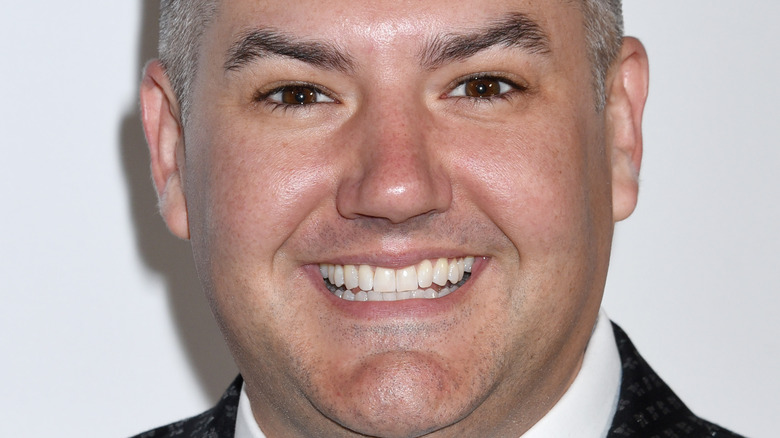 Ga Fullner/Shutterstock
Ross Mathews has been making the sides of audiences ache from laughter since his TV debut as a popular character on "The Tonight Show with Jay Leno" (via TV Over Mind). He became a fixture on the show as Ross the Intern, but he was actually an intern at the time. His hilarious moments with Leno led to him quickly launching off into television success.
From there, Mathews went on to hit up celebrity red carpet events, sit on Chelsea Handler's hilarious panel on her show, "Chelsea Lately," and even nab his own talk show, "Hello Ross" (via NewNowNext). He's even written his own book, sharing all of his interesting celebrity encounters.
Now, Mathews is best known as a judge on the hit reality show, "RuPaul's Drag Race," where he joins RuPaul, Michelle Visage, and Carson Kressley in giving the contestants advice and critiques during their weekly performances. However, there has been a lot going on behind the scenes for Mathews, who recently shared some exciting and non-career-related news!
Mathews is officially off the market!
The hilarious television personality, Ross Mathews, recently dropped some exciting personal news on his fans. He is officially off the market! Mathews tied the knot with his partner, Dr. Wellinthon García at a gorgeous LGBTQ+ resort in Puerto Vallarta, Mexico over the weekend (via Page Six).
Mathews took to Instagram to share the exciting news with his fans. He wrote, "Happiest day of our lives!" with a sneak peek of photos from the wedding. Of course, a slew of celebrities gave their congratulations to the happy couple, including his former boss, Chelsea Handler.
The beautiful ceremony had a lot of celebrity invitees and special members of the wedding party. None other than Drew Barrymore was the flower girl. Mathews shared the hilarious story of how she got the role with People.
"I was on the "The Drew Barrymore Show," Mathews gushed. "One day we were doing a story about weddings and she asked me, 'Are you going to have a flower girl at my wedding?' And I'm like, 'Why? You want the gig?'"
The adorable story continued, "And she was like, 'Oh! Are you asking me to be your flower girl?' "I was like, 'Do you want to be?' She goes, 'Are you serious?' I'm like, 'Are you serious?' And she's like, 'I'm so serious.' So she's our flower girl!" Barrymore was one of the 110 guests at the intimate ceremony, arguably playing one of the biggest roles!