Ariana Grande's Outfit For Her Brother's Wedding Is Seriously Raising Eyebrows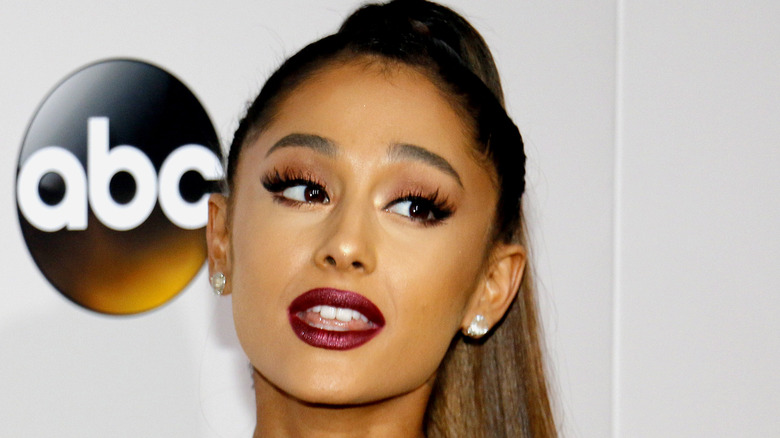 Tinseltown/Shutterstock
It happens when you invite one of the biggest pop stars in the world to your wedding. Ariana Grande may have stolen the show at her brother Frankie's nuptials to Hale Leon, which took place last week (via People). To be fair, the affair was Star Wars themed, so it seems the bridesmaid was just having a little fun with her look. But the revealing, Vera Wang bra-style top and skirt featuring a high slit have some people on Twitter doing a double take. After all, Grande was not the bride.
Makeup artist Ash K Holm chronicled the singer's ensemble on her Instagram, where fans largely admired Grande's appearance, calling their idol "flawless" and "perfect." And judging from the dancer's social media, he was not at all offended by his sister's jaw-dropping look, instead sharing photos from the big day and also paying tribute to his new husband. 
In part, the star sibling wrote on Instagram, "‼️Introducing Mr. & Mr. Grande‼️ Yup! We're MARRIED! Surprise! Hale and I were married at a small intimate galactic ceremony in my family home in Florida on May the 4th be with you, cause we really are both that nerdy."
Ariana Grande's look for her brother's wedding divides fans
But just because the grooms weren't upset about Grande's dress for the wedding doesn't mean Twitter didn't share strong opinions to the contrary.
Designer Vera Wang proudly showed off Ariana Grande's "custom" look for her brother Frankie's wedding, tweeting photos of the singer and writing in part about the dress that it was a "black lamé sculpted bra top and skirt with a high slit accent worn over a black lamé mini skirt."
"Way to make your brother's wedding all about you," one critic blasted Grande, while someone else demanded, "where's the class??" Another person who wasn't a fan of the look tweeted, "girl doing too much. reminder its not ur wedding." Finally, someone else called the outfit "tacky" for a wedding.
But as many fans pointed out on Twitter, the affair was Star Wars-themed and the pop star's attire seemed to be a play on Princess Leia's famous gold bikini. Other supporters noted Grande looked amazing despite the rampant criticism.