Fans Can't Stop Talking About Goop's Latest Product For All The Wrong Reasons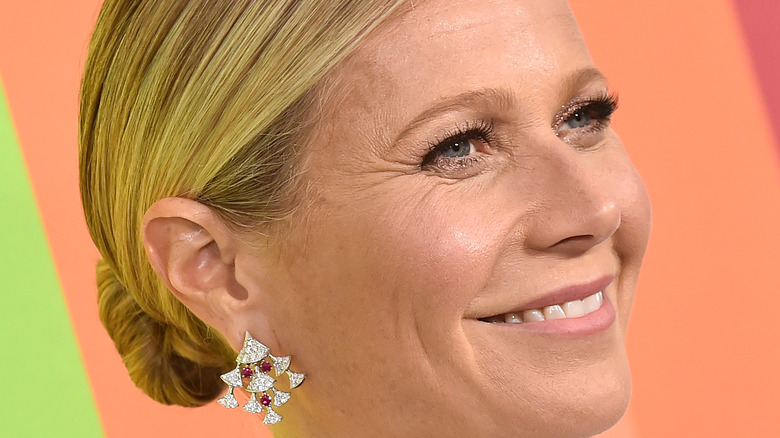 DFree/Shutterstock
Considering how much bad press Gwyneth Paltrow's company Goop gets, it's a miracle that they've remained above water. At this point, Goop has become synonymous with an eye roll for many who view it as an overpriced, gimmicky lifestyle brand.
It's hard to keep track of quite how many products the brand has advocated and released that have gone viral for all the wrong reasons. Of course, the "this smells like my vagina candle" stands out far above the rest, per Healthing. That's not to mention the advice that the Goop brand gives its followers whether through their Netflix series "The Goop Lab" or their online blog, most of which sends medical professionals into a frenzy, according to The Cut.
At this point, it's safe to assume that if Paltrow's Goop is in the news, it has a lot to do with fan backlash. After recommending everything from bee venom therapy to a $15,000 adult toy, the only way that Goop shocks people at this point is by continuing to manage to outdo themselves and leave the public dumbfounded, per Good Housekeeping.
Considering their unique take on self-care, it can be pretty difficult to decipher the code on whether they're being serious or pulling our leg — or telling us that pulling our legs can help our gut health. So, when Goop tried to have a little fun to raise awareness about a serious topic, it's no wonder it went down badly.
Goop actually was joking for once
Scrolling through social media and coming across a crazy Goop product launch has become par for the course. And yet, they still managed to induce a few double takes when they took to Instagram to announce their brand new luxury diaper. The G. branded diaper was aesthetically photographed surrounded by flowers a la Goop and described as a "new disposable diaper lined with virgin alpaca wool and fastened with amber gemstones, known for their ancient emotional-cleansing properties." 
Naturally, the internet was up in flames. No one could believe their eyes, or that price point of $120 for a pack of 12 diapers. However, this is Goop we're talking about. Well, it turns out that for once the answer to that "are they kidding" Goop-induced question was: yes. 
Vice revealed a day in advance that the product was indeed a stunt. Its purpose? To raise awareness and "expose the ridiculousness of taxing diapers like a luxury product" according to the press release. Shortly after Vice broke the story, Gwyneth Paltrow shared a video on the Goop Instagram account explaining how the stunt was meant to incite fury while urging followers to donate to @baby2baby, an organization that helps provide essential baby supplies to the underprivileged. 
Considering how outrageous most Goop product releases have been, the joke didn't quite land. At the end of the day, it was a great message and undeniably raised awareness about the unacceptable taxing on such an essential item as diapers. Perhaps this would've worked more smoothly, though, coming from a brand considered less problematic than Goop.