Funniest Rebel Wilson Dance Moments From Pitch Perfect To Senior Year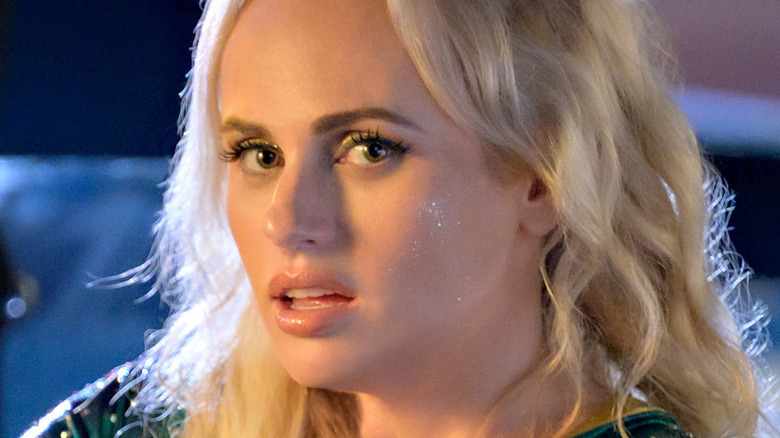 Boris Martin/Netflix
This content was paid for by Netflix and created by The List.
Rebel Wilson gets a second chance at her perfect life in "Senior Year." The hilarious new comedy features the actress as Stephanie Conway, a woman who wakes up from a coma after 20 years in a 37-year-old body but still feels like the 17-year-old cheer captain she was before the terrible accident that took her youth.
Though everything around her has changed, from fashion to technology to the very way people interact with one another, Stephanie's goals are still the same — become the prom queen and marry the man of her dreams. As she returns to her high school to finish her senior year, though, Stephanie faces more than just culture shock. She also comes face to face with the people of her past and has to learn what it really means to be a grown-up.
As Stephanie, Wilson is hysterical, radiating with the energy of a girl who's truly stuck in the '90s but learns to hold her own in a modern world of social media and new norms with her sunny disposition. The actress also gets the chance to show off a lot of her quirky dance skills throughout the pic, so to celebrate this fun new screen turn for the beloved Aussie actress, here's a look back at the funniest Rebel Wilson dance moments ever.
Bachelorette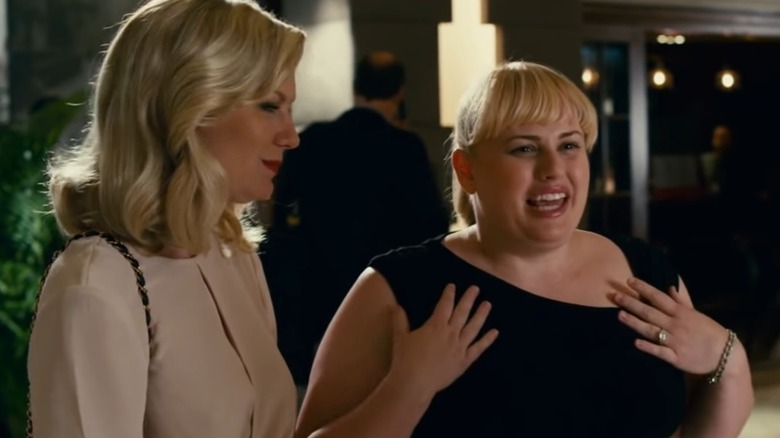 RADiUS-TWC
After enjoying some memorable supporting roles in a pair of other wedding-centric films — namely, "Bridesmaids" and "A Few Best Men" — Wilson became the star of the show in the dark 2012 comedy "Bachelorette." In the Leslye Headland pic, Wilson stars as Becky, a cheery bride-to-be who invites her trio of rowdy childhood friends (Kirsten Dunst, Isla Fisher, and Lizzy Caplan) to become bridesmaids in her wedding.
All three of her pals have experienced some bitter romantic setbacks in their own lives, caused mostly by their refusal to move on from their hard-partying past, so they're not exactly the ideal sidekicks for such an occasion. And what results is a series of increasingly messy mishaps that threaten to disrupt Becky's big day. But Becky manages to keep her head up throughout the entire ordeal, and we watch her bust a move on many, many occasions throughout the film. 
Some of the best boogying moments come right before the wedding, when she whips out a random dance to celebrate her excitement, including her eagerness to put on her dress and a self-love sashay over her love of ice cream. And she really gets into the groove alongside the guests at her reception, where she can finally relax and enjoy her newly married status in style.
What to Expect When You're Expecting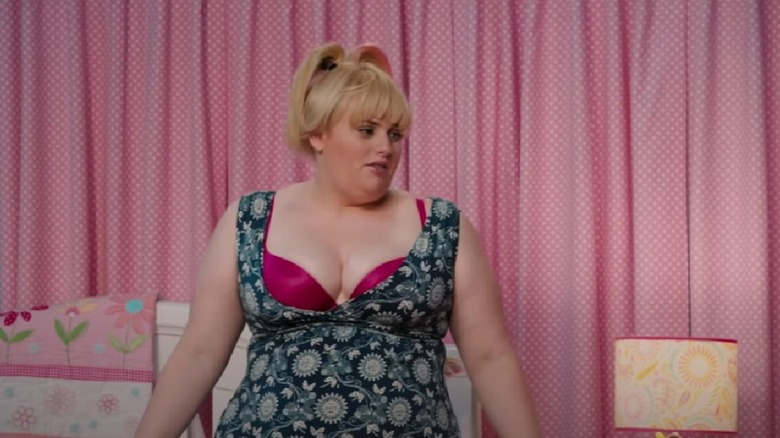 Lionsgate
First comes marriage, then comes — you got it — baby! After Wilson proved to be a spotlight-stealer on the cinematic nuptial scene, she then appeared in the 2012 romantic comedy adaptation of "What to Expect When You're Expecting." Wilson stars in the film as Janice, an enthusiastic employee at a prestigious breastfeeding supplies boutique and trusty assistant to its owner, Wendy Cooper (Elizabeth Banks), who's currently enduring a difficult pregnancy.
As Janice, Wilson is characteristically zany, but her antics always come from a good place of trying to help her boss succeed in both her professional life and personal efforts. So when she finds out that Wendy is going to be a keynote speaker at a motherhood expo, she does a very spirited stomping dance that's made even funnier by the breastfeeding-centric lyrics she belts out to accompany it. It's not the only moment in the film that shows Wilson at peak hilarity — fans also get to watch her being desperately summoned to the stage to pretend she's pregnant and experiencing the pitfalls of incontinence — but it sure is a screen dance for the ages all the same.
Pitch Perfect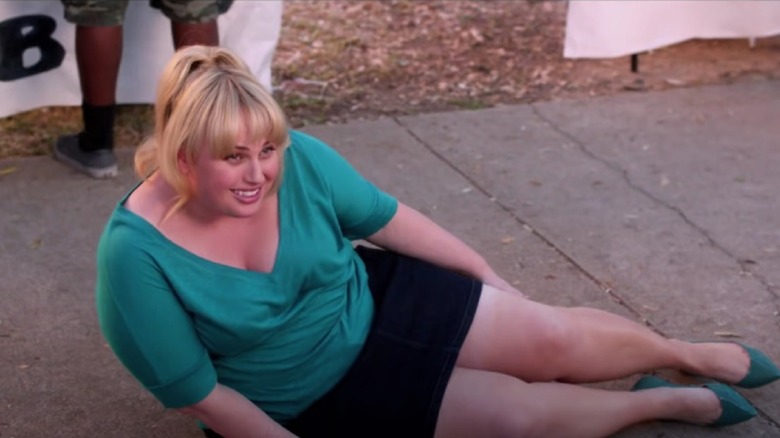 Universal Pictures
Released in 2012, "Pitch Perfect" made Rebel Wilson a household name, thanks to her take-notice turn as Amy. The musical rom-com features her as a new college student who decides to join an a cappella group in hopes of making new friends, and she learns that she's a natural at finding the right notes.
As Amy, Wilson is both acerbic and adorable, coupling her sharp humor and self-deprecation with a soft side that makes her impossible not to love. At a major climax in the movie, she finally gets her chance to take center stage for a much-deserved solo, and to borrow a phrase from her, she "crushes it." And she more than holds her own in her brigade's many group dances throughout the story. 
One of Amy's most unique quirks, though, is her preference to do physical tasks on a horizontal plane rather than vertical ... including dancing. In her unforgettable introduction in the film, she dazzles her fellow Bellas with her signature move — the mermaid dance, which features her flailing her legs on the ground without an ounce of grace and somehow making it work for her. Audiences may not have heard of this particular dance move before the film's debut, but they'll never forget it after seeing Wilson put on a master class of the mermaid.
Super Fun Night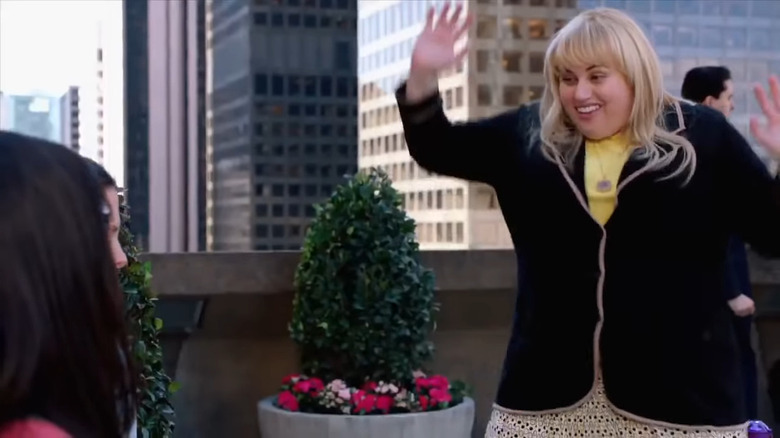 ABC
After becoming a Hollywood all-star thanks to her song and dance skills, Wilson returned to her television roots by creating and starring in the ABC comedy series "Super Fun Night," which ran from 2013-2014. Wilson's character in the show is Kimberley "Kimmie" Boubier, an attorney with a youthful demeanor, who spends every Friday evening with her two best friends (Lauren Ash and Liza Lapira) for, as the title indicates, their own "Super Fun Nights."
This usually entails them prancing around the living room together in their pajamas, but Kimmie decides they ought to step up their game a bit and hit the town together to show off their moves to other human beings. The results are raucous, and the show is filled with fun musical moments that allow all three gals to show off their rhythm, including some faux music videos that let Wilson punch out her many signature moves, like her whipping head twist and boisterous bunny hop routine.
Night at the Museum: Secret of the Tomb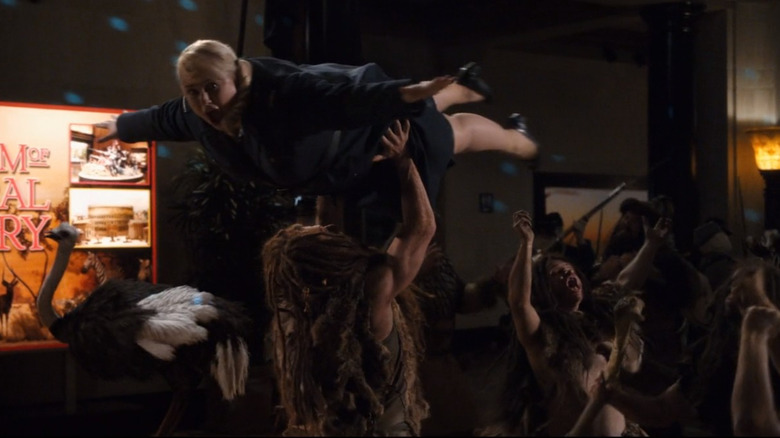 20th Century Fox
In 2014, Wilson joined the all-star cast of the "Night at the Museum" franchise for its third installment, "Secret of the Tomb," where the action moves to the British Museum in London. Wilson stars in the film as Tilly, the chatty night guard who's on duty when Larry Daley (Ben Stiller) shows up and kicks off an all-new adventure.
Throughout the film, fans are treated to a bounty of Wilson's signature humor, including her flirty one-liners and gift for deadpan, and she also gets the chance to shake it in a key scene. When Larry's boss, Dr. McPhee (Ricky Gervais), is entrusted with the magical Tablet of Ahkmenrah, which brings all of the museum's creatures and historical figures back to life, Tilly is delighted to get the party started right away, using her outstretched arms and hip wiggles to properly get into the spirit of the supernatural evening ahead. She really begins to move to the music, though, when she spots the hunky caveman who's taken her breath away and, in sync with "(I've Had) the Time of My Life," leaps into his arms for a "Dirty Dancing" homage like we've never seen before.
Pitch Perfect 2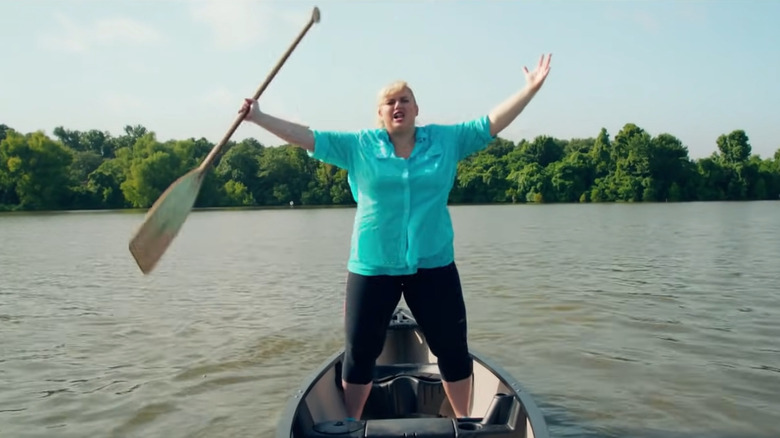 Universal Pictures
Amy returned for some more a cappella action in 2015's "Pitch Perfect 2." This time, the Barden Bellas are on top of the world ... until it all comes crashing down in spectacular fashion. The film opens with the Bellas performing live for then-President Barack Obama's birthday, and everything is smooth sailing until Amy makes her grand entrance in a Cirque du Soleil-style delivery of "Wrecking Ball."
Unfortunately for everyone involved, she has a bit of prop malfunction that turns into a wardrobe malfunction that turns into an international scandal, considering who the guest of honor is and what Amy has accidentally displayed in front of the globe. From there, the Bellas have to work hard to reclaim their former glory by taking on their biggest competition yet — Germany's incredibly competitive Das Sound Machine at the world competition. 
Of course, before they can get to that stage, there's a lot of regrouping that must happen between the gals, and Amy also has to come to terms with her darkest secret: She's in love with the group's former arch nemesis, Bumper (Adam DeVine). And after initially scorning him, she decides to try and win him back with a serenade that somehow manages to be funnier than the POTUS birthday bonanza. As she regales him from a canoe with a breathtaking rendition of "We Belong to the Night," she faces an increasingly ridiculous series of obstacles, including an unexpectedly large lake and a car that can't decide whether to yield to her as the pedestrian or not. All's well that ends well, of course, especially when we get so much to laugh along with.
How to Be Single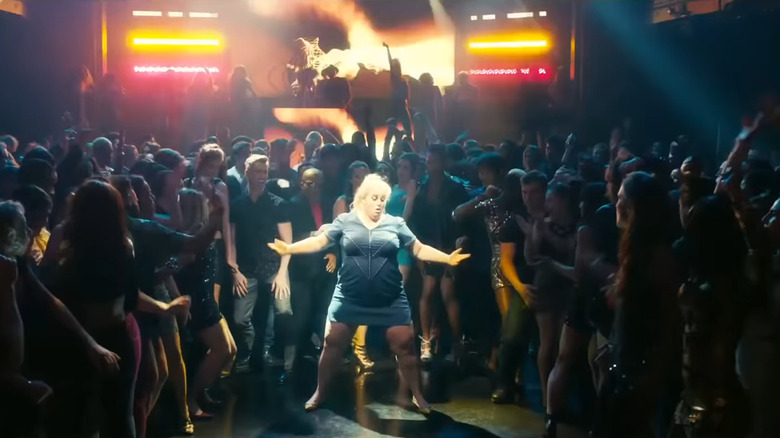 Warner Bros. Pictures
Some people like to dance like nobody's watching, but Rebel Wilson's character of Robin in "How to Be Single" prefers to shimmy like everyone is. Robin is a fearlessly flirty and unapologetically anti-relationship spitfire, which makes her the constant life of the party, and she gives into her goofiest side at every possible occasion. She befriends a newly-single co-worker named Alice (Dakota Johnson) and vows to show her how to live up the solo life in New York City — mostly by example.
Whether it's a stiff company holiday function with a ballroom full of her bosses or a massive New Year's bash where she doesn't know a soul, Robin does not hesitate to always make the most of any opportunity to have fun. So, naturally, this role gives Wilson a lot of chances to move to the music — whether there's actually music or not — and she seizes on every single one of them.
Isn't It Romantic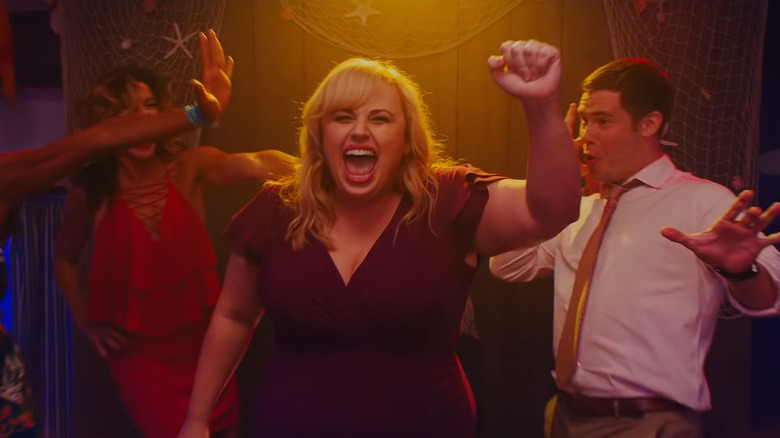 Warner Bros. Pictures
There are a lot of time-honored traditions when it comes to classic romantic comedies, and "Isn't It Romantic" leans right into every single one. The film features Wilson as Natalie, an up-and-coming architect who desperately wants to stand out but forgets to notice those who truly see her. She's grown up to deeply distrust the concept of sweeping romances that can be seen on-screen in so many films — until she's accidentally swept up in a living rom-com of her own, that is.
Yep, after friend-zoning the guy who actually has a sweet spot for her, Josh (Adam Devine), crushing on her superior, Blake (Liam Hemsworth), and taking her best friend, Whitney (Betty Gilpin), for granted while she mourns her own invisibility, Natalie suffers a head bump that lands her in an alternate dimension wherein she's the object of everyone's affection — except her BFF Whitney, who's suddenly her archenemy. There are some perks to this bold new world, of course, including finally getting Blake's attention. 
However, she also has to watch as Josh falls in love with the famous supermodel Isabella (Priyanka Chopra Jonas), and as one last-ditch effort to turn the tide of this strange place, Natalie takes the stage to perform a stellar (and hilarious) number at karaoke, which is matched with a dance routine that somehow starts with a face-plant and ends up being a full-on flash mob. If that isn't impressive enough, the film also ends with a riveting street dance that features the full cast joining Wilson in a leg-shaking celebration.
Senior Year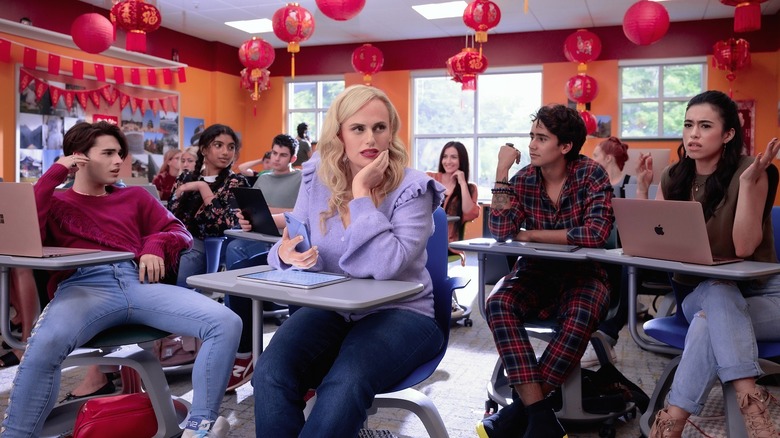 Boris Martin/Netflix
Last, but certainly not least, Rebel Wilson is sensational from start to finish in "Senior Year." As a bit of a time traveler, her character of Stephanie definitely has some very different moves than her fellow Class of 2022 seniors, but she still doesn't hesitate to shake her stuff however she pleases, no matter what decade it is.
From channeling Salt-N-Pepa for a quick "push it" maneuver to creating interpretive dance tributes to classic films, Stephanie always brings her own era into the picture when she hits the dance floor, whether the other kids in her class are into it or not. Her biggest ode to her upbringing comes when she teaches her fellow Bulldogette cheerleaders to recreate the music video moves of the one and only Britney Spears ... with a few of her own delicious twists thrown into the mix, of course. 
Her energy throughout the pic is infectious, but with the spicy throwback performance, she wins over anyone who might've ever doubted her decision to return to her old stomping grounds at the school so many years later.