Why Kate Middleton And Prince William Just Interrupted Hundreds Of Radio Stations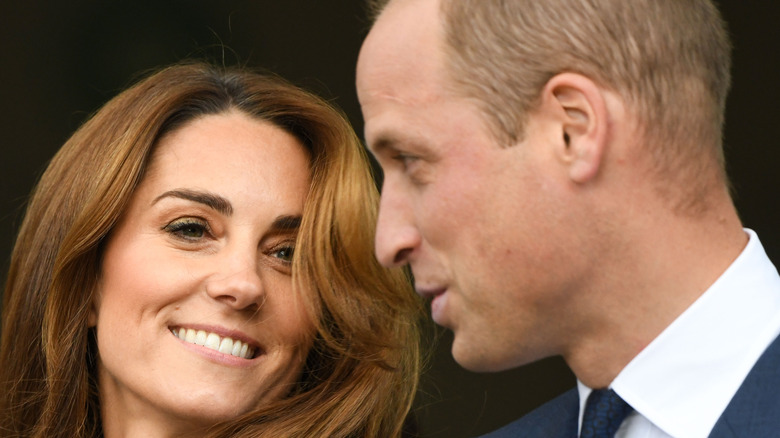 LINGTREN.COM/Shutterstock
Prince William and Kate Middleton have recently returned from a royal appearance in Scotland, per BBC. The couple, also known by their alternate royal titles, Earl and Countess of Strathearn, spent two days meeting and talking with people about topics and causes that are close to their hearts: children, mental health, and homelessness.
During the visit, the Duke and Duchess of Cambridge also emphasized personal connections. Kate spent time snuggling and reading to a baby at St. John's Primary School, where the royal couple participated in a Roots of Empathy program, per Daily Mail. The program teaches the concept of empathy by allowing school-age children to observe and interact with babies.
At a stop at a property managed by the Wheatley Group in Glasgow, William showed off his dad side by playing with a 2-year-old girl and making silly faces. When the duke and duchess met another tenant, Joanne Wales, Kate chatted with her about their sons' mutual love of Spider-Man. Reflecting on the visit, Wales said (per Hello!), "They just put you at ease, they are so nice and welcoming."
During the trip, William and Kate further demonstrated their approachability by breaching royal protocol and taking a selfie with a fan (via PureWow). After they returned home, the royal couple promoted the topic of connection with a special, heartfelt message on the radio that reached a huge audience. Introducing themselves simply as "William" and "Catherine," they addressed the very real issue of loneliness and its connection to mental health.
William and Kate shared an important message about mental health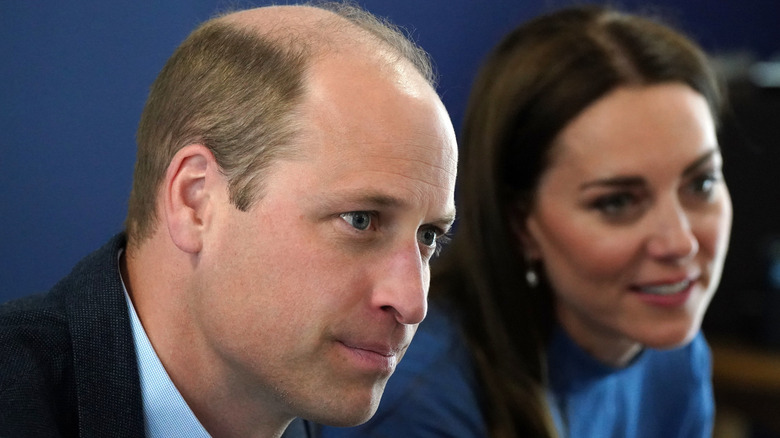 Wpa Pool/Getty Images
According to Prince William and Kate Middleton's Royal Foundation, the Duke and Duchess of Cambridge shared a special message as part of Mental Health Awareness Week. The 2022 Mental Health Minute reached approximately 20 million listeners — when it aired on more than 500 radio stations throughout the U.K. — on May 13.
Loneliness is the theme for 2022's Mental Health Awareness Week, and Mental Health U.K. is emphasizing the importance of connecting with people. The message was recorded at William and Kate's home at Kensington Palace, per People, and it featured the royal couple discussing ways people can help each other cope with loneliness, particularly after the isolation and difficulties of the COVID-19 pandemic.
The prince explained, "We're all in different places right now...and we can all feel lonely sometimes." Kate added, "Small acts of kindness can make a big difference and help us all feel less lonely. Just give them a ring, send them a text or knock on their door." William further noted, "Maybe suggest meeting for a cup of tea or a walk."
After William apologized for the interruption in regular programming, Kate added, "If we interrupt the lives of those who are feeling alone," and William concluded, "We can help lift them out of loneliness."
The Office for National Statistics polled adults on feelings of isolation in May 2020 and from October 2020 to February 2021. During that time, an additional 1.1 million people reported persistent loneliness, per Independent.
Mental health continues to be an important cause for the Cambridges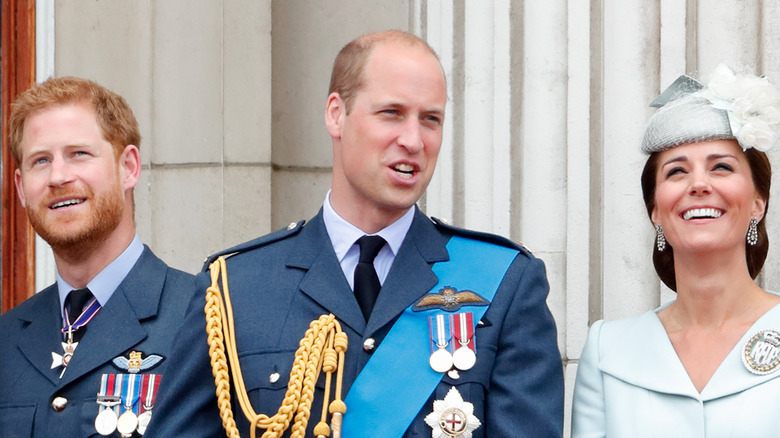 Max Mumby/indigo/Getty Images
Prince William and Kate Middleton have been at the forefront of mental health advocacy since May 2016, when they started Heads Together with Prince Harry. The initiative encompasses eight mental health charities, and the royals' ability to speak openly about mental health has increased awareness and support for this cause, per W Magazine. At the time they began the organization, none of their celebrity contacts were willing to join them, William explained at a conference. "For some reason, we're all embarrassed by emotions — British people, particularly — we're very embarrassed by revealing our emotions," he said. But that didn't deter the couple's work. 
On May 6, Kate became the royal patron of Maternal Mental Health Alliance, which will enable her to combine her efforts in promoting mental health and supporting mothers and young children, per Romper.
The duchess has said that she "wouldn't hesitate" to seek professional mental health help if her children needed it, further adding to the couple's openness. "The mental health of our children must be seen as every bit as important as their physical health. For too long we have been embarrassed to admit when our children need emotional or psychiatric help, worried that the stigma associated with these problems would be detrimental to their futures," she said, per Hello! Magazine.
This is the Cambridges' fifth Mental Health Minute, per Independent. Last year, they were joined by celebrities like David Beckham, Jamie Oliver, and Joanna Lumley; this year, the royal couple delivered the entire message as a duo (via People).