The Hilarious Way Justin Timberlake Proposed To Jessica Biel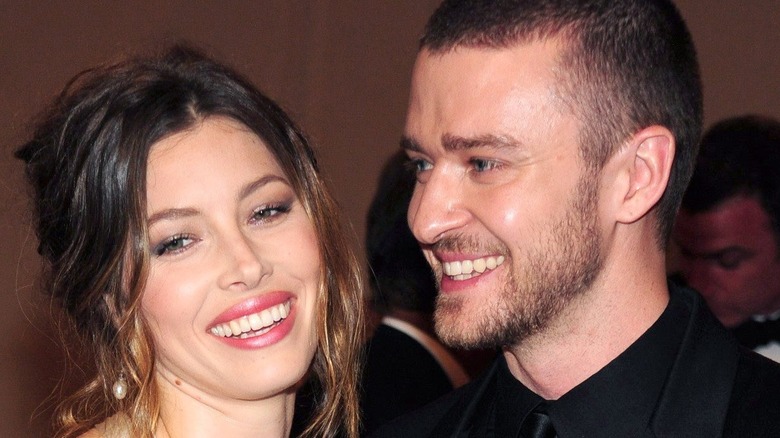 Everett Collection/Shutterstock
Jessica Biel and Justin Timberlake are quickly approaching a significant milestone in their relationship — their 10th wedding anniversary. The couple won't be celebrating the occasion until October of this year. Still, it's become a major topic of conversation while Biel's been promoting her new Hulu series "Candy." She plays the real-life Candy Montgomery, who was accused of killing her lover's wife in 1980 (via the New York Post).
Speaking to Access Hollywood, Biel expressed how it feels like her time with Timberlake sometimes feels like it's "just flown by in the blink of an eye" even though they've had their rough patches. "I just feel really proud of it," the actress said. "We've had our ups and downs like everybody and I'm just really proud of it and I'm still the happiest and loving my life."
Their upcoming anniversary also gave Biel an opportunity to reminisce on the couple's hilarious proposal story, which she happened to share during an appearance on "The Late Late Show with James Corden."
Justin Timberlake proposed to Jessica Biel in Montana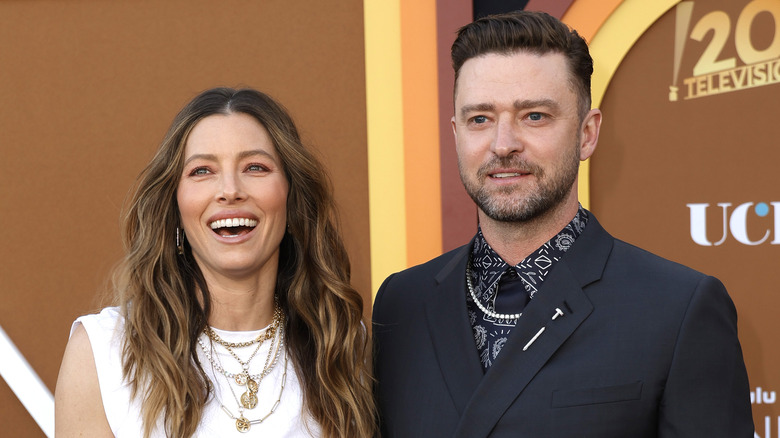 Frazer Harrison/Getty Images
During an episode of "The Late Late Show with James Corden" that aired May 12 (via YouTube), Jessica Biel expressed how her engagement to Justin Timberlake happened. She stressed that the moment was "so nice, so sweet, and so unexpected." Timberlake decided to pop the question while the pair were on a snowboarding vacation in Montana, where they were also viewing a piece of land they'd recently purchased. The state is clearly important to the couple as the hitmaker named a song "Montana" on his 2018 album "Man of the Woods."
"We go up to the property to check out how the foundation is looking, and all of a sudden he gets down onto his knees and he just sinks into the snow," Biel told the late-night host James Corden while laughing. "Then he looks up at me and pulls out this ring and it was the most lovely, surprising, hilarious [moment]."
Having already explained that they were "head to toe in snowboarding outfits," Corden pointed out that it was rather "bold to go [snowboarding] with a ring in your pocket," to which Biel responded: "That's a good point. I never thought about that!" The actress went on to say she should've, seeing as she had "this huge glove on" that she had to try and yank off for Timberlake to put the ring on her finger.
Jessica Biel swears by something Justin Timberlake said in keeping their marriage healthy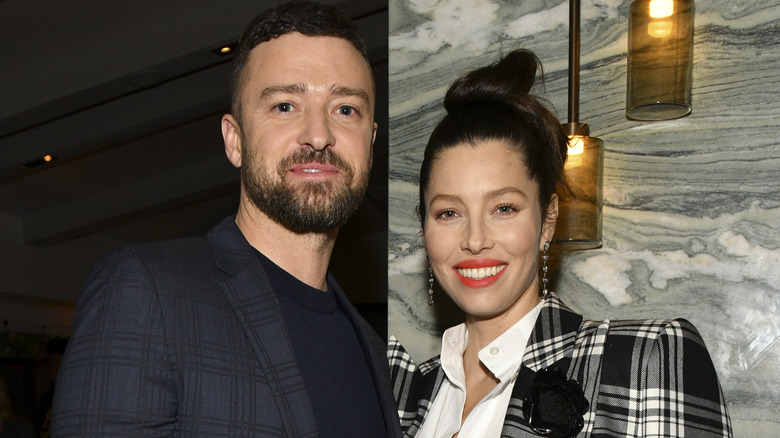 Rodin Eckenroth/Getty Images
Justin Timberlake and Jessica Biel got married in a ceremony that took place in Puglia, Italy (via Brides). Three years later, they welcomed their first son into the world followed by their second, who they named Phineas, in 2020. Despite having a little hiccup in their relationship prior to getting engaged — they split up in March 2011 (via People) — Biel and Timberlake have continued to maintain their relationship despite the "ups and downs" that the actress previously described.
When asked what the secret was in keeping their marriage happy and successful for nearly a decade, Biel told Entertainment Tonight that she'd have to "give Justin the credit in this moment" for something that he always says to her: "We might be married, but we have to keep dating."
"It's so true," Biel said. "You just have to keep making time for each other and you have to keep making each other a priority. And do the things you love together." While it's "not always easy," Biel highlighted that "those touchpoint moments make all the hard times palatable."