Soap Opera And Hallmark Star Jen Lilley Shares Exciting Family News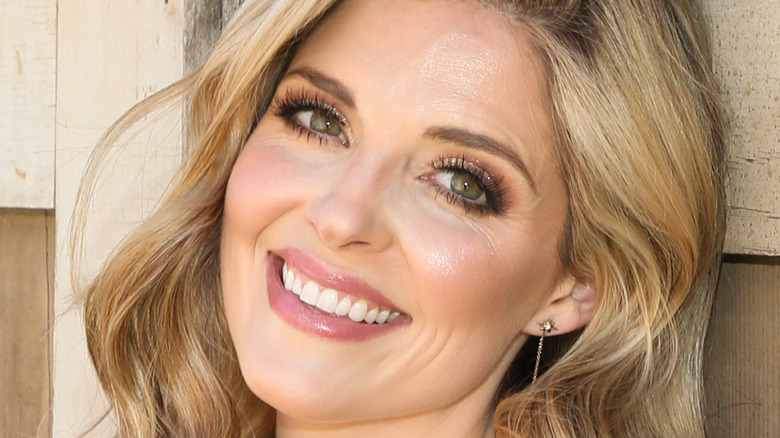 Paul Archuleta/Getty Images
When Jen Lilley isn't acting, the former "Days of Our Lives" star — who has appeared in a host of Hallmark movies — makes it her mission to take care of children far and near. As a celebrity ambassador for Childhelp, an organization that helps fight and prevent child abuse, Lilley has spent years advocating for the safety, health, and happiness of children. She even took two children, Caden and Jeffrey, into her home as foster sons and eventually adopted them, opening up to us in an exclusive interview about the experience.
"Foster parenting is not for everyone. It's extremely hard. There's no way to sugarcoat it; it's emotional," Lilley told us during our sit-down interview. "It will challenge you mentally, and physically, and spiritually, and emotionally, beyond the capacity you think your heart can handle. But at the same time, it's amazing because it opens up your heart for so much empathy, and you learn so much." 
After her sons came into her life, Lilley learned she was pregnant and gave birth to her daughter, Julie, with husband Jason Wayne in 2019 (via People). If you've been following Lilley on social media of late, you'd also know that she was waiting for another little girl to arrive, giving updates on her pregnancy status as her due date neared and she anxiously awaited labor. Now, Lilley has big news to share.
Jen Lilley has welcomed a second daughter
Paul Archuleta/Getty Images
On May 12, Jen Lilley and husband Jason Wayne welcomed a fourth child into their family, Jacqueline Grace, who weighed in at 7 pounds, 10 ounces and came into the world in dramatic fashion, as the couple recounted to People. Telling the publication that it was a "surprise pregnancy," Lilley confessed that she simply had to have faith that everything would work out. Her trust was not misplaced, as she experienced an "insane delivery." 
"I had no idea if I was really in labor. I had Jackie seven minutes after pulling up to the ER. If I hadn't left when I did, I would have had her in the car, and I'm not sure she would have survived," Lilley told People, explaining that she had no idea how far along her labor was when they arrived at the hospital. "The midwife told the nurses, 'Get her pants off!' And I was thinking, why is everyone thinking this baby is coming right now?" the star continued to share. 
Lilley further explained that she and her husband were "stunned" that the baby came so quickly, but both mom and little Jacqueline are doing well, with Lilley telling People that she is "so, so happy." Congratulations to the happy family!