Why Travis Scott's Billboard Music Award Performance Has Fans Scratching Their Heads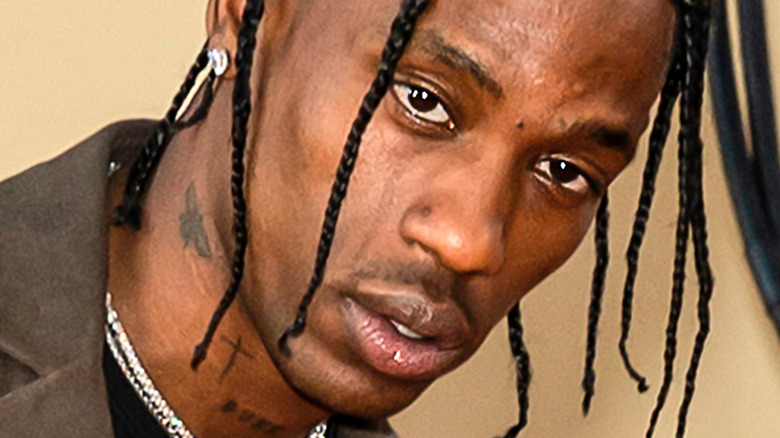 Ovidiu Hrubaru/Shutterstock
The last several months have been a rollercoaster for rapper Travis Scott. On the bright side, he welcomed a second child with Kylie Jenner, though the baby boy's name has been up in the air (via The U.S. Sun). The baby now has Prince vibes, having the title "the baby formerly known as Wolf."
Aside from becoming a father for the second time, things haven't been great for the performer. Following the tragedy that occurred at his 2021 Astroworld Festival, where several fans lost their lives following crowd commotion, Scott has faced a litany of legal troubles. Most recently, a lawsuit names him as the responsible party for the wrongful death of a fetus, lost via miscarriage by a survivor of the catastrophe who suffered severe injuries (via BuzzFeed News). Though he denies any liability, Scott's reputation arguably hasn't recovered.
Scott has kept a low profile since the AstroWorld tragedy, but he hit the stage for the world to see this weekend during the Billboard Music Awards. All eyes were on him, of course. Somehow, Scott created another controversy during his performance that had fans wondering what was actually going on.
Fans were unsure if Scott's performance was live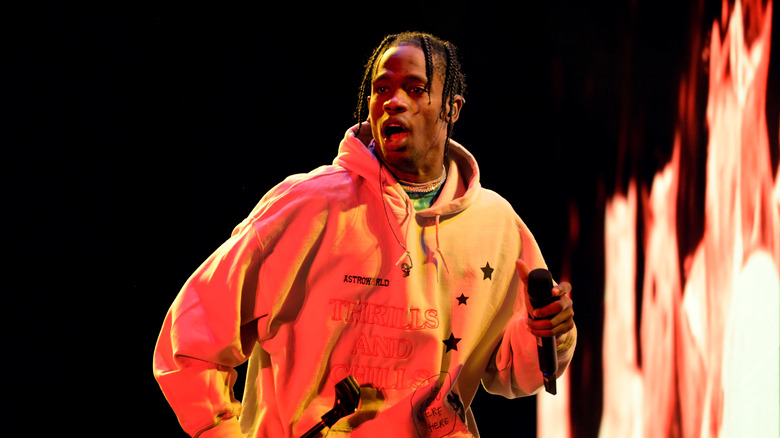 Christian Bertrand/Shutterstock
This year, Sean 'Diddy' Combs was the host of the Billboard Music Awards, and the multi-hyphenated artist was determined to have Travis Scott perform. Combs took to Instagram six days before the award show, writing, "I made a request. I made a demand. I said 'My brother Travis Scott has to perform. Diddy is hosting the show. I'm executive producing. He has to perform,' and NBC said 'yes.' It's going down. Sunday, Travis Scott will be performing. Let's go," adding that he hoped to see Scott lose his canceled status (per CNN).
Scott would hit the stage at the award show but in doing so, he started yet another — albeit less severe — controversy. He debuted a new song at his first TV performance following the AstroWorld tragedy, but fans had a lot of questions (via Pitchfork).
Viewers who tuned in (and who also took to Twitter) were convinced that Scott was not performing live — not like he was having a 1990s lip-sync moment, but more so that he filmed the performance ahead of time, as no audience interaction or venue footage was shown during his set. Fans quickly took to the social media platform to share their thoughts.
One viewer wrote, "Billboards ain't let Travis Scott perform in front of a live audience??" with another adding, "Very confused by Travis Scott's performance." Another Twitter user simply aired their feelings about the performer, writing, "Sorry Travis Scott. That performance was basic as hell."
While it's unclear if Scott performed live or prerecorded it, one thing is clear — viewers have mixed feelings about seeing the rapper back on stage.