Machine Gun Kelly Fans Squash Rumors That He's Expecting A Baby With Megan Fox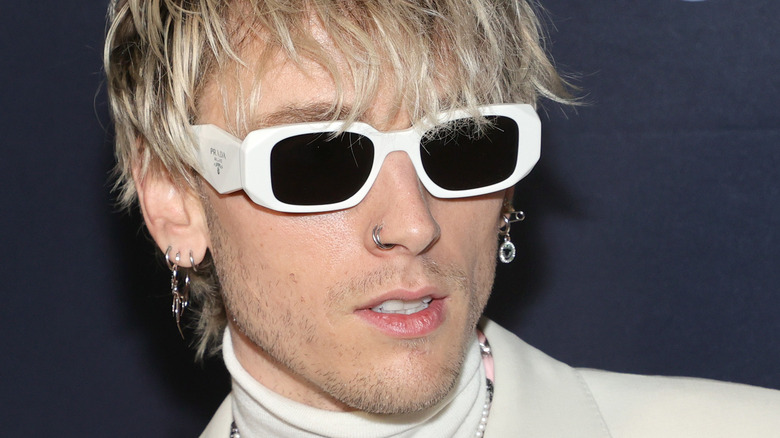 Jamie Mccarthy/Getty Images
Machine Gun Kelly and Megan Fox are never afraid to express their love for each other on social media or at red carpet events. The lovestruck couple just attended the Billboard Music Awards together, and this event was no exception. Kelly posted a plethora of photographs of himself at and getting ready for the event alongside Fox (via Instagram), as the stunning couple wore matching black outfits with a lot of sparkles. The love that the musician has for his wife-to-be sparkles in his eyes in these pictures.
Fox also posted pictures of the couple in Las Vegas, along with a heavily suggestive text and a shrugging emoji. However, Fox's post hinted that the duo's time in Vegas consisted of deeper feelings than just fashion and sex, as she captioned the post: "An introvert in Vegas for three days during eclipse season ... just SO much crying in the shower."
While some fans think that Fox is expecting a baby with Kelly, others explained the sad reason why this is not the case.
Machine Gun Kelly referenced their miscarriage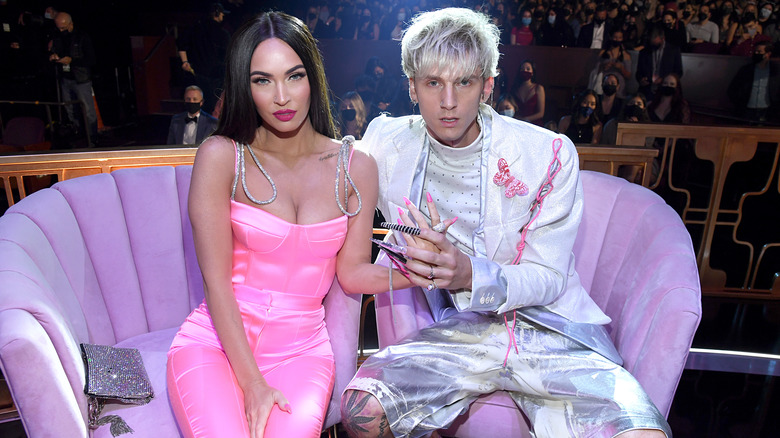 Kevin Mazur/Getty Images
Machine Gun Kelly gave a touching performance of his song "Twin Flame" at the awards (via YouTube), saying "I wrote this song for my wife." While the earlier parts of the song seem to be about his love for Megan Fox, the lyrics eventually took a darker turn as Kelly said, "this is for our unborn child," before singing "go to sleep, I'll see you in my dreams. This changes everything, now I have to set you free."
Despite some optimistic people believing that this meant that Fox and Kelly are expecting a baby, fans are explaining that the musician's reference was to a miscarriage that they suffered. A Twitter user said "for those saying '[Megan] is pregnant' she's not. The heartbeat in the song ['Twin Flame'] is their unborn child. They had a miscarriage" (via Twitter).
Another Twitter user wrote, "for anyone confused, [Megan] miscarried and ['Twin Flame'] started out as a song entirely about their experience losing a child." She also posted a picture of Kelly's album booklet with the words: "The second part of this song came almost two years later. Well actually it stared as a song called 'One Day and 10 weeks.' Then I made a song called 'Last November.' Neither expressed the sadness we experienced from what I will leave private, and I circled back to this song and decided to add on to the story. Our story" (via Twitter). Our hearts go out to him and Fox.