The Young And The Restless: The Truth About Nikki Newman's Health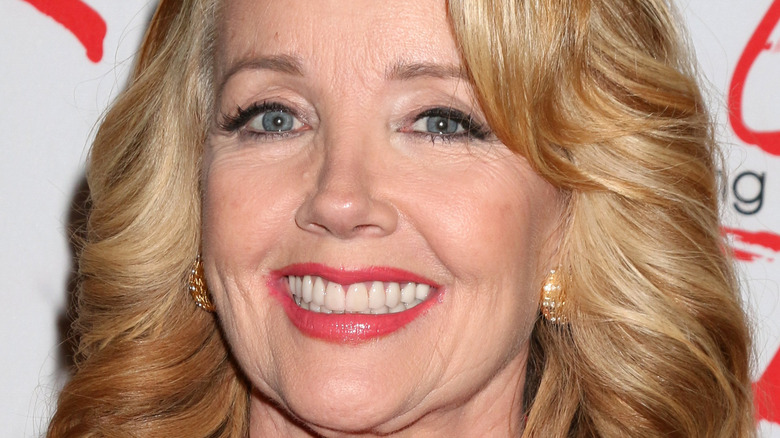 Kathy Hutchins/Shutterstock
Nikki Newman, played expertly by Melody Thomas Scott, has been a staple character on "The Young and the Restless" for over 40 years as one-half of the iconic on-again-off-again supercouple "Niktor," alongside Victor Newman (Eric Braeden).
Nikki was from humble means and was working as an exotic dancer before she married into high society (via Soaps). She's had a tumultuous life so far with seven husbands, three children, countless affairs, and a few dead bodies to her name.
It's no surprise, considering the drama that Nikki often finds herself in, that her health would become affected. In true soap fashion, the formidable matriarch suffers from both a disease that wreaks havoc on her body and one that wreaks havoc on those around her.
Nikki Newman's struggles with alcohol started decades ago
Nikki's trouble with alcohol began during her first marriage to Jack Abbott when she suffered two miscarriages and the loss of their newborn baby. She turned to alcohol as a way to cope with her grief, and during this time she also became addicted to painkillers after she fell off a horse and injured her back (via Soap Central).
Nikki has relapsed several times through the years, though not always of her own doing. Once, a woman named Meggie McClaine (Sean Young) began slipping alcohol into her drinks in an attempt to win Victor's affections. When Victor realized that Nikki had fallen off the wagon he helped check her into a rehab facility, though she continued drinking when she discovered that Victor had married Diane Jenkins (Maura West).
Nikki snuck out of rehab and, drunk, got into an altercation with Victor's new wife, which resulted in Diane's death. Having blacked out and believing she had killed Diane in cold blood, Nikki began drinking even more heavily to cope with the stress. Victor, not wanting to see Nikki imprisoned, took the fall for the murder before video evidence surfaced proving that Nikki had acted in self defense.
Later, she relapsed again after the death of her dear friend Katherine Chancellor (Jeanne Cooper), several times after being betrayed by Victor, and again after the death of her son-in-law J.T. Hellstrom (Thad Luckinbill).
Actress Melody Scott Thomas who has played Nikki Newman for over 40 years said in an interview with Michael Fairman that she enjoys her character's drinking — as the cast, writers, and viewers all find "boozy Nikki" very entertaining and it's fun for her to portray.
If you or anyone you know is struggling with addiction issues, help is available. Visit the Substance Abuse and Mental Health Services Administration website or contact SAMHSA's National Helpline at 1-800-662-HELP (4357).
Nikki Newman is surprised by a multiple sclerosis diagnosis
In 2013, Nikki was diagnosed with Multiple Sclerosis after noticing her hands trembling while playing the piano, which Scott described in an interview with TV Guide at the time. According to the National Multiple Sclerosis Society, "MS is an unpredictable disease of the central nervous system which disrupts the flow of information within the brain, and between the brain and body." MS can result in a wide variety of symptoms, including fatigue, numbness, weakness, vertigo, pain, mental and emotional changes, and difficulty walking.
At first, Nikki decided to keep her illness a secret, before realizing that it was better to be honest and lean on her loved ones for support. However, Nikki's MS diagnosis was also used as a manipulation tool by Victor. After offending Nikki with derogatory comments about addiction, he tried to make it up to her by using his extensive resources to hold a fundraiser for MS research and even had her name put on a research facility for neurological diseases (via Soap Central). Later, Nikki herself uses a fake MS flare-up to explain away why she's been distant with her son-in-law Billy Abbott (Jason Thompson) (via Global).
Scott told TV Guide that she hopes Nikki's storyline will be informative for viewers and help people to understand that MS is a controllable disease when properly treated — not to mention it's a handy plot tool for "Y&R" to keep in their back pockets!