The Surprising Reality Show Downton Abbey Cast Members Are 'Absolutely Obsessed' With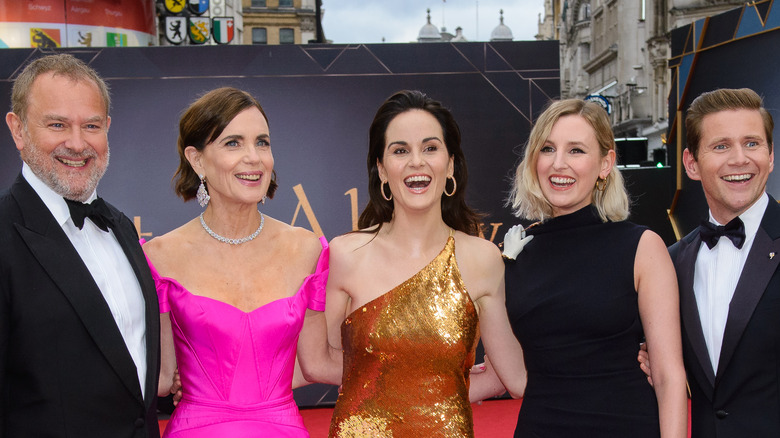 Joe Maher/Getty Images
When "Downton Abbey" initially wrapped up in 2016, fans were left completely bereft, as Town & Country notes. However, just three years later their prayers were answered when the hit TV show successfully transitioned to the big screen, in a spinoff movie entitled simply "Downton Abbey." Per Box Office Mojo, the film earned $192,199,131 worldwide from a budget of $13 million, so naturally a sequel was swiftly ordered. Due to the pandemic, "Downton Abbey: A New Era" has seen its release pushed back a few times, but Variety confirmed it will finally drop on May 20.
In an exclusive interview with The List, stars Laura Carmichael and Allen Leech opened up about what fans can expect from "Downton Abbey: A New Era." Of the premise, Leech shared, "What was wonderful was it opened up the world of 'Downton,' taking part of the cast abroad, and what Julian's [Fellowes, writer] very cleverly done as well, he's brought them from both the family and the servants. It's not just the family — you can experience exactly as you would back at 'Downton.'" Naturally, both actors were thrilled to see the final product and can't wait to finally unleash it upon the world. 
We haven't got too much longer to wait, but in the meantime, a couple more co-stars are sharing the surprising show they bonded over. And, in particular, how it kept at least one of them entertained on set during those long shooting days.
The long-time co-stars can't get enough Real Housewives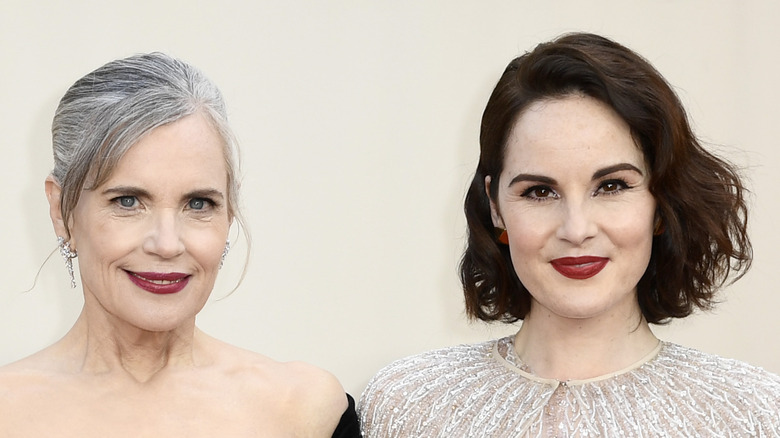 Gareth Cattermole/Getty Images
They may be accustomed to the plush surroundings of Downton, but Michelle Dockery and Elizabeth McGovern are just as addicted to reality television as the rest of us. Their show of choice is "The Real Housewives of Beverly Hills." As McGovern told People, "We're obsessed." Co-star Dockery agreed, admitting, "Absolutely obsessed." They play heiress Cora Crawley, Countess of Grantham and her on-screen daughter, Lady Mary, respectively, with both reprising their roles in the upcoming movie, "Downton Abbey: A New Era." 
It was actually McGovern and their fellow co-star Laura Carmichael (Edith Crowley) who originally got Dockery hooked on the hit show. She began watching, right from the beginning, while they were filming, with the actor quipping, "If anyone wants to know what I was doing while we were doing the 'Downton Abbey 2' film, I was watching 'The Housewives of Beverly Hills.'" In fact, Dockery got so involved in the show that she was watching it every chance she got, including between takes. Dockery has yet to catch up on Season 12, though, which kicked off last week.
She might soon have more time to kill on the set of a third movie, all things going well. The actor opined to Entertainment Tonight, "It feels like as long as there's an appetite out there," they'll keep making them. She added, "The audience seems to just keep wanting to see more of 'Downton.'" Dockery loves the character, so she'd be up for it.
Michelle Dockery and Elizabeth McGovern aren't the only celebrity fans of the franchise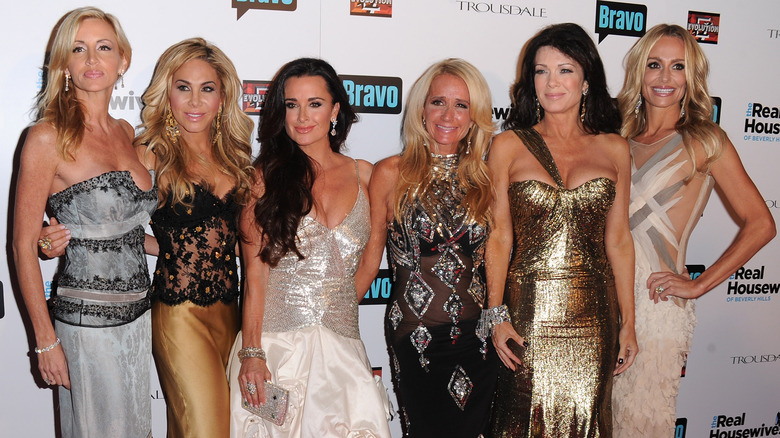 Alberto E. Rodriguez/Getty Images
Funnily enough, there are plenty of celebrities who turn to "The Real Housewives of Beverly Hills" to wind down from a tough day, including none other than Oscar-winner Meryl Streep. According to People, she revealed during a Zoom interview for the movie "Don't Look Up" that whenever reading the news feels overwhelming, Streep turns to the hit Bravo franchise as an escape. Elsewhere, Rihanna shared her love of Lisa Vanderpump, in particular, in a chat with Vogue. 
"She's chic but still funny. She likes to be at home with her husband and then goes and handles her business. Maybe there's a couple of thousand Birkins in her closet, but she's still focused. I love that about her," the Fenty Beauty founder shared. Even former First Lady Michelle Obama can't resist, admitting during an appearance on "Live! With Kelly and Michael" (via E! News), "I do love a little 'Real Housewives' every now and then." 
Elsewhere, actor Zooey Deschanel told HuffPost she's a fan of the entire franchise, but "The Real Housewives of Beverly Hills" is her favorite, while country star Maren Morris freaked out over meeting series stalwart Kyle Richards, per Us Weekly. As it turns out, celebrities may really be just like us after all — at least, when it comes to their taste in (amazing) reality television.