Amy Schumer Spends A Day In The Life Of A Kardashian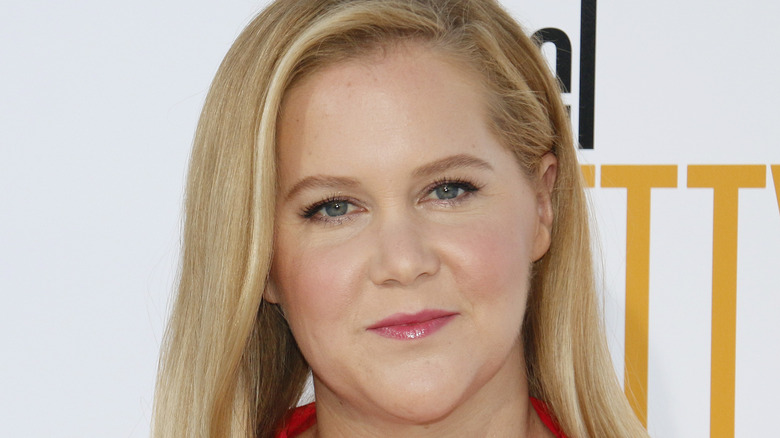 Tinseltown/Shutterstock
Skeptics of Kim Kardashian and Amy Schumer's relationship were collectively blown away when Hulu's "The Kardashians" revealed the two stars are actually good friends. Not only did the comic help the reality star work on her "SNL" monologue, but it turns out the moms share a mutual respect for one another, with Schumer long admiring Kardashian's ability to laugh at herself and the SKIMS mogul appreciating the actress' dedication to being a real pal.
Of course, we can't help but notice how different the two celebrities are, despite their apparent unbreakable bond, with Schumer sharing she and Kardashian often text one another. The reality diva is hyper-focused on her appearance, rarely ever being seen without full glam. Meanwhile, Schumer is nothing if not one of those stars who seems lovably normal and often shows the reality behind her fame.
Most recently, the mom of one even opened up about having undergone liposuction. She also posts photos and videos of herself without any makeup on or her hair done — which is very un-Kardashian like.
Perhaps this is why fans are sitting up and taking notice of Schumer's Kardashian makeover.
Meet Kamy Kardashian
Taking to her Instagram, Amy Schumer — who continues to surprise fans – looked very different in a new video. She donned a pair of very trendy sunglasses, her hair was clearly styled with extensions and, wait — is that a Kardashian-esque manicure we see?
Indeed, it seems that the comedian was living the life of a Kardashian for a day, with Schumer captioning the video that she was now known as "Kamy kardashian." Then, in true Amy Schumer fashion, the Hulu star joked, "Anyone with these nails how do you do anything?! "
The "Life & Beth" actress then shared her makeover was for the Hulu upfronts, where she got to present with two of her "new family members," Khloé Kardashian and Kris Jenner.
At time of writing, it did not appear that her "sister" or "mom" had yet commented on the post. But we're betting they would welcome Kamy into the family with open arms and fresh manicures.