Bianca A. Santos On Grey's Anatomy, The Fosters, And Producing - Exclusive Interview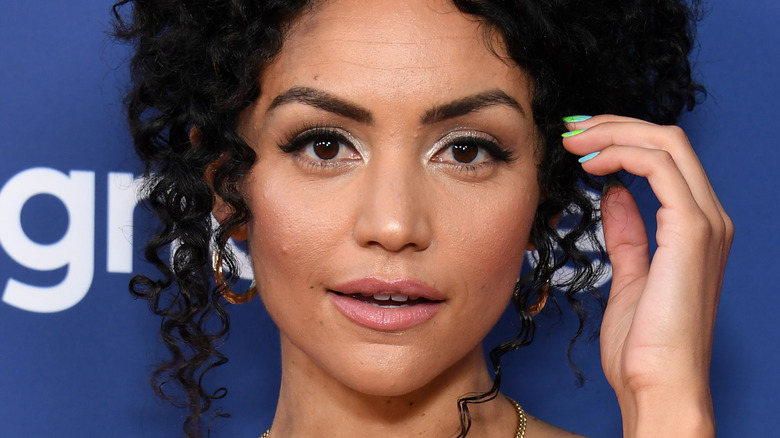 Jon Kopaloff/Getty Images
Like writing, painting, or singing, acting centers on one's ability to grow from their experiences, with each role they've performed hopefully adding new skills to their repertoire. Then, if they're lucky, they get to display these new skills in future roles. Bianca A. Santos is one actor who makes it clear to viewers of her programs that she is always evolving, always craving to learn more. 
Dedicated to her craft, Santos began her screen career on then-ABC Family's "The Fosters" — the network now operates under the name Freeform — before starring in films like "Ouija" and "The DUFF" (via IMDb). Now, everything has led her to the one and only "Grey's Anatomy." On its 18th season, the Shonda Rhimes-helmed series is going strong, and in its May 12 episode, it introduced Santos' character, Kristen Clark. As reported by Variety, Kristen and her husband, Simon (Cedric Sanders), come to Grey Sloan Memorial Hospital for medical care for the latter, whose cancer and chemotherapy treatments are weighing him down. Meanwhile, Kristen is far into her pregnancy and experiencing extra stress due to her husband's health.
This role allows Santos to showcase the depth and range of her acting abilities like never before, which we were lucky enough to hear about firsthand. We recently sat down to chat with the "Priceless" actor, who told us not only about her character's arc on "Grey's" and what working with its actors was like but also how "The Fosters" changed her career, her feelings on "Legacies" being canceled, and her experience pivoting to producing.
Bianca Santos discusses her Grey's Anatomy arc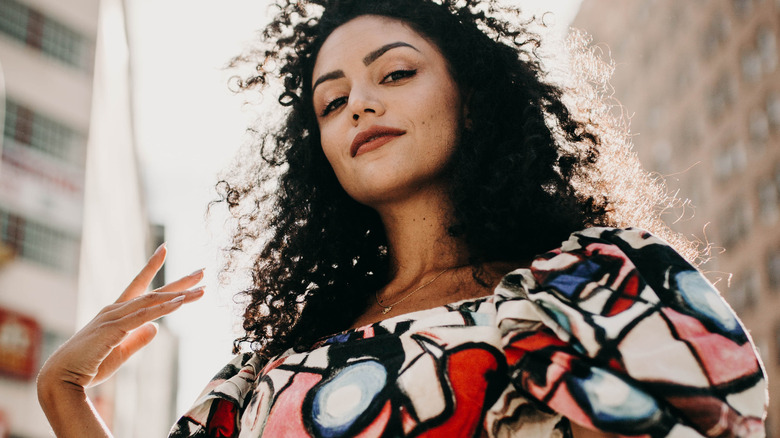 Lisandra Vasquez
You joined "Grey's Anatomy" for this really special multi-episode arc. What can you tell us about your character's story over the course of these episodes?
My character, Kristen Clark, and her husband, Simon, come in because my husband has cancer, and what we come to find out is that it's getting worse. Meanwhile, I am pregnant, and it's a race against time to see [if] he [is] going to live long enough to meet the baby. It's a heartwarming and heartbreaking little arc, and it's a whole journey with many doctors of Grey Sloan Memorial. There's so many moments that haven't aired yet that I'm really excited to watch. It's a fun little encapsulated journey.
You're joining a show that's in its 18th season. What was that like for you?
Incredible. It's an iconic show. That's literally the only word we can use. We [could] use multiple words, but that's the word to use. It was intimidating coming onto the scene, but they're so good at what they do, and they're really warm and welcoming. It made joining something so incredibly iconic really easy to be a part of, which I'm grateful for.
To hear that it's as good as it seems on TV — that's really reaffirming. Were there any cast members you specifically hit it off with?
I worked with — and that's the other part that was really cool was because of the four-episode arc, I really got to work with a lot of the cast, which was so exciting for me. I got to work with Chris Carmack and Camilla, and I got to even work with two of the original three. I got to work with Jim and Chandra. She directed the episode that comes out [tonight]. I was like, "What day is it today?" Even that, getting to work with two out of three originals, is iconic. I can't keep saying it, but that's the word that I use.
On getting into character for Grey's Anatomy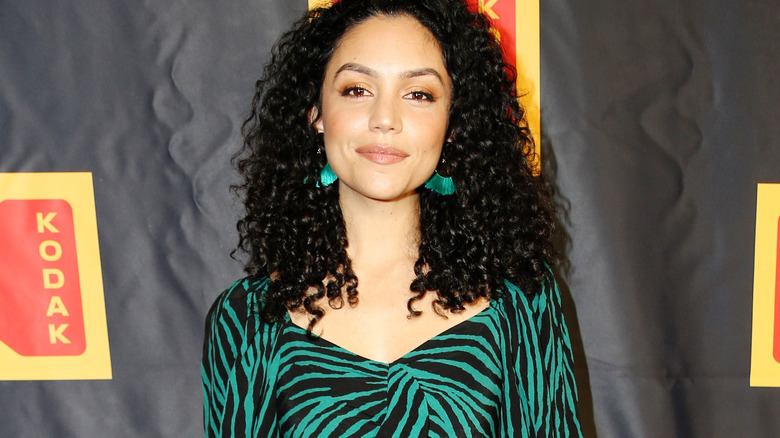 Rachel Murray/Getty Images
"Grey's Anatomy," that's the only word there is! As you noted, your character's arc, it's very emotional, both the good and the bad. How did you approach getting into character with such strong emotions?
The turnaround for getting cast and then being on set was, I don't know if I've talked about this, but the quickest turnaround that I've ever experienced in my decade of my acting career. To be like, "Hey, so, great, now you're going to have these extremely high stakes and an extremely complex storyline," I really had to jump in deep water feet first.
Because of that, I was able to be like, "Okay, I am Kristen Clark." It was such an emotional journey, but at some point, I was like, "I am her" and I'd show up to set, and my makeup artist would be like, "Okay, so are you crying today? Need to know for your makeup." I'd be like, "Oh, I don't think so. I don't think I'm going to be crying." I'd be in the scene and be in the reality of what's happening, and I would be crying and then I'd be like, "I'm crying because it's intense."
That's so real when you don't expect it, and it happens. That translates on the screen, which is wonderful. In the show, you're opposite Cedric Sanders, and the two of you work so well together. Just yesterday, I watched last week's episode, and it was powerful. How did your chemistry form, and how did you make that relationship so real?
Thank you. Cedric is a pleasure to work with. I met him on set and the first thing I said to him was "Hi, husband," and he said, "Hi wife." That was that. We clicked and we worked really well with each other. That sweetness that you see on screen, I think he's such a sweet person, and me too. It worked out. It really did. We got really lucky with each other.
What has her evolution on-screen been like over the years?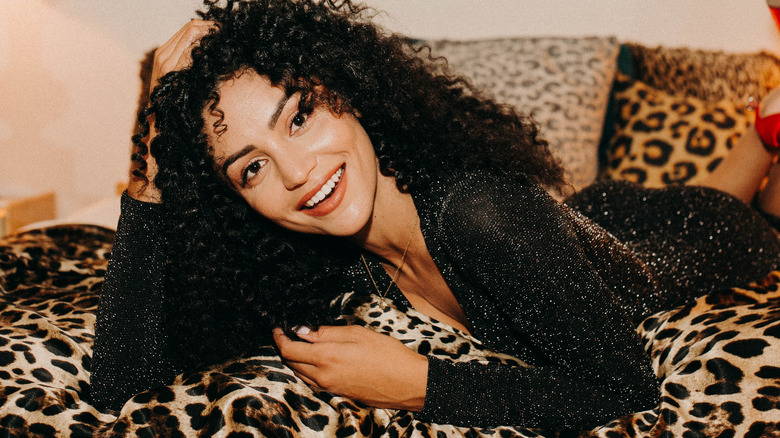 Lisandra Vasquez
I also want to talk about "The Fosters" a little bit and how it relates to now. You've grown up on the TV. Even in your characters, you start out as a high schooler in "The Fosters" and now you're this pregnant woman worried about not only her health, but her husband's health. What has that evolution been like for you on the screen?
Wow. I'm flattered. The way you put it like that is so eloquent because it really has been a little life journey and it's been wonderful. A lot of times ... Yeah, I really haven't thought of it that way, because I did start off playing 15 and now [I'm a] pregnant woman having a baby. It's the circle of life playing out. It's been awesome.
The journey itself has been interesting. There's almost — what I've felt personally is that there's a drop off in stories being told in your 20s, I really feel, and that's such a special time of life where I feel like, now, we're coming of age in our 20s. It feels more so than high school. I feel like high schoolers have beat faces and look amazing, but when you're in your 20s, you're like, "Wait, what does being an adult seem like?" I almost feel like my commentary on that is that I want our industry to tell more stories in our 20s.
In that same vein, how has your acting or the nuance you bring to characters evolved over the years now that you've also had more experience? And [in the way that] we've just talked about how you've grown over the years too.
Being an actor's an incredibly weird thing because you are your instrument. People who play the violin practice with the violin. My emotional availability is dependent on me being able to tap into that. Like you've said, having the experience of working, and it's like a fine wine, you get better with age, but it's true. You learn to use your tool, your instrument, your body more as time goes on, if you're practicing. If you're not, then you're not.
Bianca Santos on how The Foster's changed her career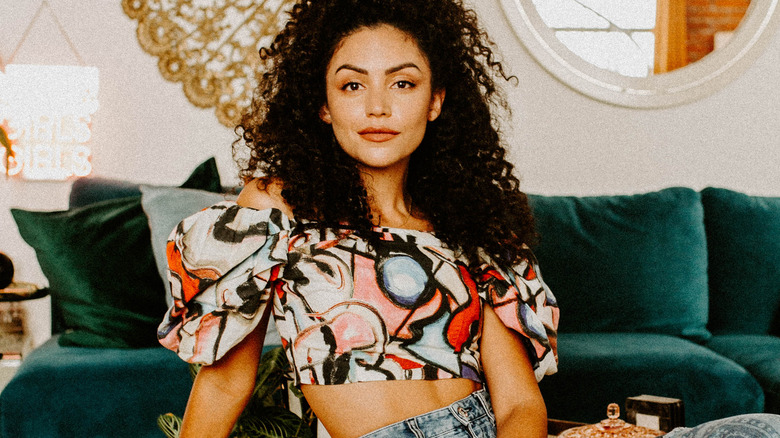 Lisandra Vasquez
I was obsessed with "The Fosters." I watched it from the time it started until the time it ended. Do you have any special memories from that show that you would be willing to share with us?
That show was so special to me as well. That was my start in television, and I made genuine friendships on that show, friendships that I still have in my life. My best friend is Madison Beatty, who played Talia. I've kept in touch with her. I've kept in touch with Caitlin Carver, a couple of the other girls.
It's one of those things that, for that time, it created a base for friendship, and also because it was like our own high school where it would be so many people worked on the show that we would find out, "Oh, wait, did you work on 'The Fosters' too?" It's like, "Oh, hey, you're part of the fam." It became its own. It became bigger than itself. That's a testament to what was created.
It was your first foray into television. How did it maybe help prepare you for the industry and propel you all the way to where you are now in "Grey's"?
From where we started to where we are, we have grown. It's the little things where, I remember one day, I was so young, and a lot of the things that I learned there were the things that I needed to learn to go on and continue doing better and better moving forward. Little things like, I remember my wardrobe girl, one day, knocked on my trailer door and she was like, "Hey, can you fold your clothes at the end of the day?" 
I was like, "Oh, I didn't even think about that." When you're so young, there's a sense of professionalism that's more than just showing up and acting. You also have a responsibility to everyone that you're working with to be lovely and generous and kind. Those are the things that they don't teach you anywhere.
On the cancellation of Legacies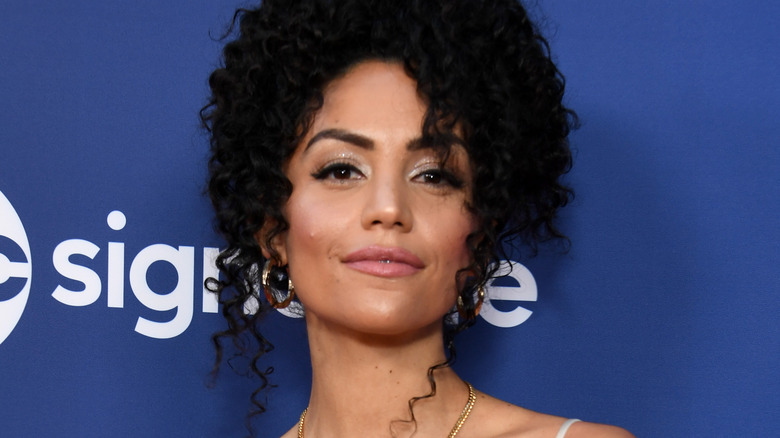 Jon Kopaloff/Getty Images
Switching gears slightly, The CW, over the last week, has canceled [about a million of their original shows. What was your reaction?]
I was heartbroken. There were so many shows. "Legacies" was canceled and I haven't even spoken about that, but that was really surprising. I kept refreshing to see where things would land with that, and it almost felt like there was two waves. It was like the first wave had "Roswell," [and] I have friends on that show. 
Oh, I love "Roswell"!
I know, and that was the first hit. I feel like "Legacies" was still up in the air, and then finally it got ... I didn't expect it because its viewership fan base is so strong, and so I hate it. I hate all of it, and it's hard and heartbreaking.
It is. Well, one, as a fan of many shows on the network, I was like, "What's happening?" But also for you, who works on the network — well, one, what was your experience on "Legacies"? But also, can you tease if you'll be in the show's final episodes?
That's a good question!
If you can't say, it's okay.
I can speak to my experience on "Legacies." [That's] another group of people that I absolutely adore and make me feel really [like], it's all about the people. At the end of the day, projects are, whether it's a series or whether it's a movie, it's a group of people coming together and the people can make or break the experience. I have friends on "Legacies" as well. I knew some people beforehand. Quincy and I were in the same acting studio together. When I came onto the show, it was like a little reunion. That was amazing, and working on that was really great. Super solid for people, which breaks my heart knowing that it's done.
Oh, I'm so sorry. To find out from social media or whatever, that's just not good, I'm sorry.
Thank you. I also feel like my heart extends to all of them because I got to be a small part of that story. I feel like they grew up on that show as well.
What's next for Bianca Santos?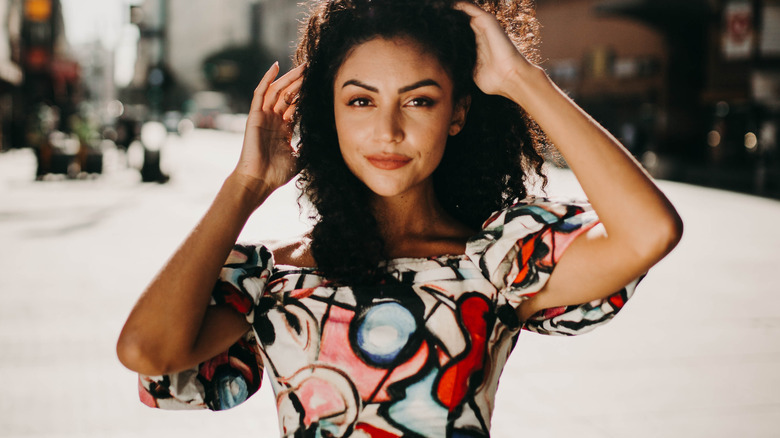 Lisandra Vasquez
I do want to switch gears one more time and ask you about "Stronghold," the post-apocalyptic film that you're not only starring in but also producing. Is there anything you can tell us about it?
[I'm] producing, [I'm] making moves. [I'm] doing it all. It's my first foray into both. We're in post production for it right now, and we want to do festivals. We're looking to do South by Southwest and Sundance. All of these things are really exciting, but it's one of those things where I always talked about doing this and to actually get into this world and stake my claim in the aspect that I can create and I can bring in other voices that are people of color and women of color, not only in front of the camera, but behind the camera, was really important to me. That's something that I'm going to continue to do. What I have to say about "Stronghold" is that it's the first of many.
What was your transition into producing like for you?
I had a friend who came to me for a web series and she's like, "I want you to play my sister." Our first day of shooting was a disaster. I said to her, "I love you. I could produce this better." She was like, "Thank you so much." I was like, "Wait, how did I just become a producer?"
I produced eight episodes of that. We had Perez Hilton in it. It's on Amazon Prime. That was hard knocks school of learning. That was my first venture into that. Being on both sides of the camera, in front of and behind, is definitely an interesting juggle, but one I want to do more of.
This is my last question for you, but it's an easy one. It's just what can you tell us about what's next for you?
We have "Stronghold," which is definitely something that I'm excited to share with everyone and see where it ends up. Aside from that, probably finding another project to produce. I'm working on a script too. I really need to finish. There's this script that's been hanging, and I'm ready to finish writing it this year. Some original content from yours truly coming sometimes soon.
"Grey's Anatomy" airs each Thursday at 9 p.m. EST on ABC.