Dove Cameron Shares Raw Post About Struggling With Her Identity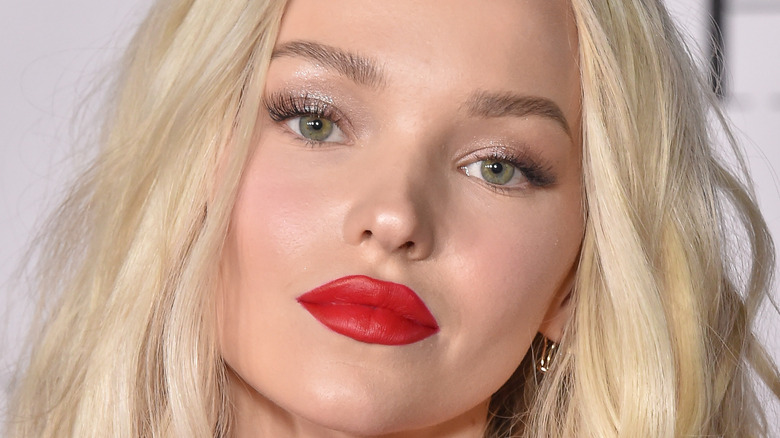 DFree/Shutterstock
Call her a double threat: Dove Cameron is making a name for herself as both an actor and a singer. While she rose to fame on the Disney series "Liv and Maddie," she's acted in many other projects as well, such as "Agents of S.H.I.E.L.D," "Good Mourning," and "Schmigadoon!"
But she's also killing it as a singer, recently getting tons of buzz for her hit song, "Boyfriend." Cameron revealed her bisexuality and made her attraction toward women clear via lyrics like, "I can be a better boyfriend than him." She also sings: "I don't need to tell you twice, all the ways he can't suffice, if I could give you some advice, I would leave with me tonight."
The 26-year-old isn't afraid to talk about her role in the LGBTQIA+ community, and she recently opened up about her struggles with identity, too.
Dove Cameron got honest about her feelings
Considering her incredible success in the entertainment industry, it would be easy to assume that life is easy for Dove Cameron. But that's a dangerous assumption to make about anybody. 
Cameron has experienced some heartbreaking moments in her life, including being bullied, dealing with an eating disorder, and losing her father when she was a teen. 
Recently, she opened up about her issues with identity. She posted selfies of herself crying on Instagram, along with a statement about what she's been going through. The caption started with: "identity vs the self !!! depression & dysphoria." She went on to discuss her problems reconciling her public identity with her inner self. 
"the self is someone i feel i have always deeply known, someone i deeply love and protect, like my own child, i know this self and we are very close," she wrote. "for me, identity and the self have always been diametrically opposed, and there has only ever been room for one at a time to occupy my life. i have never been able to make them hold hands."
However, even though she struggles in the spotlight of fame, she feels it could be a "conduit for change/mutual support/exploration/safety." Toward the end of her missive, Cameron seems hopeful. She noted, "there is room for us to talk about the things that terrify us," and she ended by saying, "i love you."
Many commenters offered their love and support, including actress Amanda Seyfried, who wrote, "We are all holding hands." Actress Kristin Chenoweth said: "Darling One. Remember: 'when the wind did not blow her way in the storm. What does she do? She adjusts her sails.'"
Kudos to Cameron for her honesty, and we hope her journey of self-knowledge brings clarity and comfort soon.