Here's What Chris Brown Had To Say About Rihanna's Baby News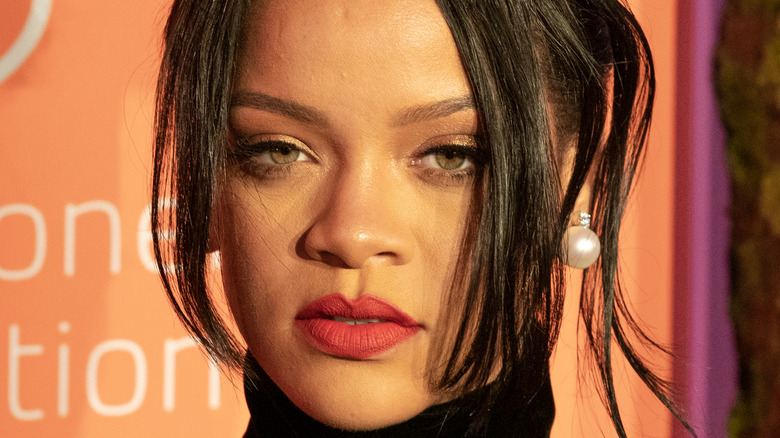 lev radin/Shutterstock
Trigger warning: The following article contains mention of domestic abuse.
The birth of Rihanna's baby was a bit of bright news during a time when every day seems to bring a grim headline. TMZ reported on May 19 that the singer and A$AP Rocky welcomed a son on the 13th, but waited to make the announcement public. Speaking to People, a source claimed that "Rihanna is doing well. They are very excited to be parents." No word yet on a name, but Us Weekly has spoken to a source who says that Rihanna wants one that reflects her Barbados heritage. 
Rihanna's pregnancy joy was marred by unfounded rumors that Rocky had cheated on her with designer Amina Muaddi, per Us Weekly. Prior to that, Rihanna had a complex dating history that included relationships with Drake, Hassan Jameel, and, most notably, Chris Brown. It was this last pairing that got the most attention, and for all the wrong reasons. In 2009, Brown allegedly physically assaulted Rihanna in the car he was driving, then left her on the street (via Vanity Fair). Surprisingly, one of the first celebs to offer good wishes to Rihanna was Brown himself.
If you or someone you know is dealing with domestic abuse, you can call the National Domestic Violence Hotline at 1−800−799−7233. You can also find more information, resources, and support at their website.

Twitter had something to say about Chris Brown's message to Rihanna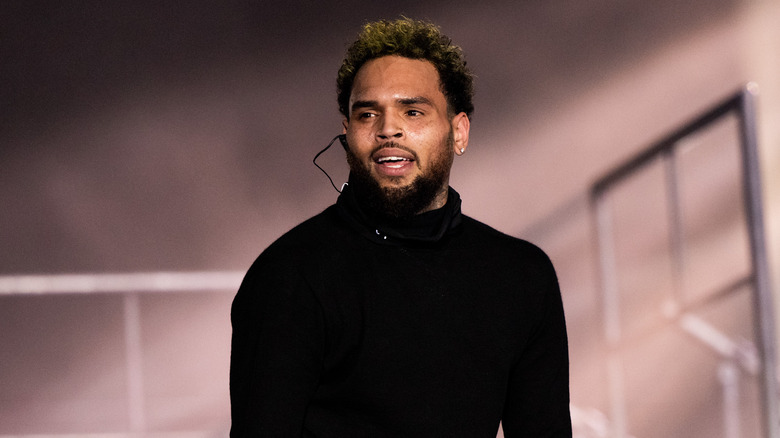 Scott Dudelson/Getty Images
Despite the shocking evidence of past abuse in their relationship, Rihanna and Chris Brown have remained on good terms. The superstar singer once told Vanity Fair, "I don't hate him. I will care about him until the day I die. We're not friends, but it's not like we're enemies." For his part, Brown has claimed self-defense, saying in a documentary that Rihanna assaulted him in a jealous rage (via The Sun). Still, he too harbors no ill will toward his ex; an inside source has told HollywoodLife that "Rihanna is an amazing woman that Chris highly respects and whenever she wanted to become a mother he is convinced that she would be the best."
Apparently, he still feels that way. Shortly after the news broke that Rihanna and A$AP Rocky had welcomed their son, TMZ reposted a since-deleted Instagram Story from Brown's account. It showed emojis of a heart, hands in prayer, and a pregnant woman, along with the greeting "CONGRATULATIONS." There were no names named, but fans could draw their own conclusions.
In fact, fans not only drew conclusions but also offered plenty of opinions. On Twitter, one supporter of Brown's wrote, "But of course he'd send a Congrats. They had a bittersweet love but moved on better than their fans did." But another tweet blasted Brown, asking, "Has everyone just completely forgotten" what Brown did.