Gov. Kristi Noem Faces Backlash Over Daughter's Preferential Treatment Scandal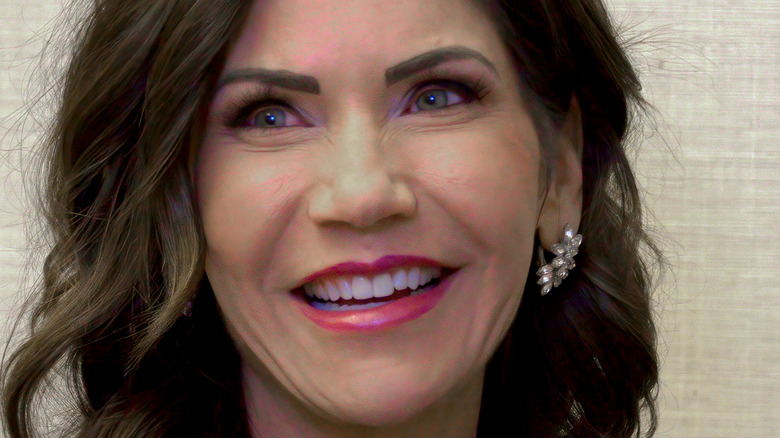 mark reinstein/Shutterstock
At a fundraising auction for South Dakota Governor Kristi Noem, attendees could bid on an interesting array of items, including a hunting rifle she'd used, the Indian Motorcycle Super Chief Limited she'd ridden to the Sturgis motorcycle rally, and a guided bison hunt with Noem, per Politico. She's a hardcore Trump supporter — Noem once gave Trump quite the interesting gift — and he's returned the support. During Noem's bid for governor, she was backed by former President Donald Trump, via Argus Leader. He's backing her again for her re-election bid in 2022, per The Hill.
Noem has quickly become a star in Republican circles, and she has been compared to Sarah Palin; they were both beauty queens before becoming Republican governors and making national news, per The Independent. Some have even called her the next Donald Trump, according to CNN. Similar to Palin and Trump, it turns out that Noem isn't immune to scandal. The South Dakota Government Accountability Board has confirmed Noem helped give her daughter a leg up, and people aren't having it.
People are calling out Kristi Noem for nepotism and abuse of power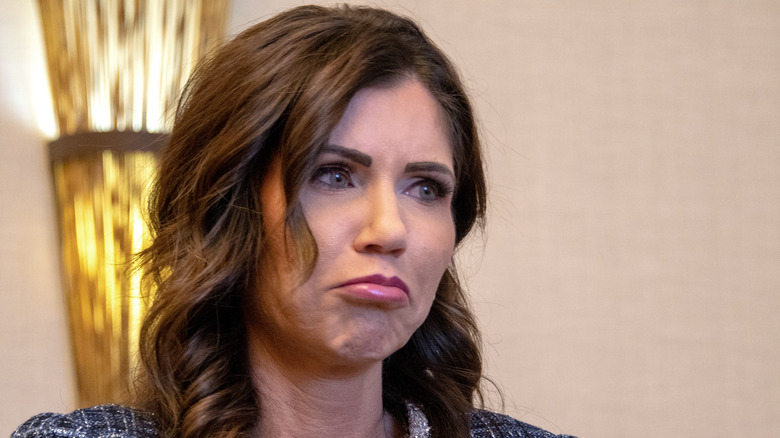 mark reinstein/Shutterstock
Here's what happened in a nutshell. South Dakota Governor Kristi Noem's daughter Kassidy Peters was working to get a real estate appraiser license, but a legislative panel has uncovered that Peters got special treatment in getting that license, thanks directly to her mother, according to the Argus Leader.
In response to a headline about the scandal and the legislative discovery, one person tweeted, "Are they going to hold her accountable or what?" Another thinks that Noem doesn't respect the state's voters, and that she's just using her time as South Dakota Governor as "nothing more than a springboard for her ambitions and a trough for her family."
Others called out Noem directly, tagging her in posts about nepotism like this one. What annoyed others was the fact that the whole thing also ended with the director of the appraiser program being asked to retire after it all went down. 
The findings were encouraging to one user, who tweeted, "I can't wait to see what their findings are on the other complaints they are investigating her on. Hopefully the same as these ... guilty!" That's about the other Government Accountability Board investigation currently ongoing into Noem's use of the state's airplanes, via The Detroit News.
For her part, when the news of Peters's appraisal license impropriety broke, Noem tweeted in part, "Listen I get it. I signed up for this job. But now the media is trying to destroy my children."
Kristi Noem called an unprecedented meeting with officials and her daughter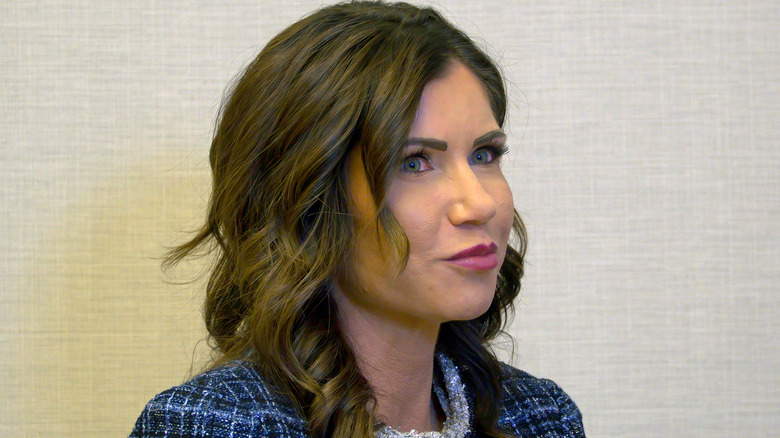 mark reinstein/Shutterstock
For more context, here's the bigger picture of what went down. According to the Argus Leader, in 2020, Kristi Noem's daughter Kassidy Peters was having trouble getting her license and was advised she'd need to do more coursework before she could get it, and then Marcia Hultman, state labor secretary removed that requirement. This is not a thing that someone in that position has done before, via the Argus Leader.
Still facing denial of the license in July 2020, Noem had a meeting about the appraisal certification with Hultman, appraiser program director Sherry Bren, Bren's supervisor, and Peters herself, via AP News. Shortly after Peters got her license in November 2020, Bren was asked to retire; she ended up getting $200,000 to withdraw the age discrimination complaint she had filed after the request, per AP News. Bren also said she felt "intimidated" by the July meeting, per The Center Square. The Government Accountability Board report of the investigation stated that Hultman "was not aware of another time when someone in training for a position, such as Kassidy Peters, had been included in a meeting such as the one" that Noem had called.
University of Minnesota Law School Professor Richard Painter called the meeting "an abuse of power for the benefit of a family member," per AP News.