General Hospital's Milestone Episode Centers On An Iconic Fan Favorite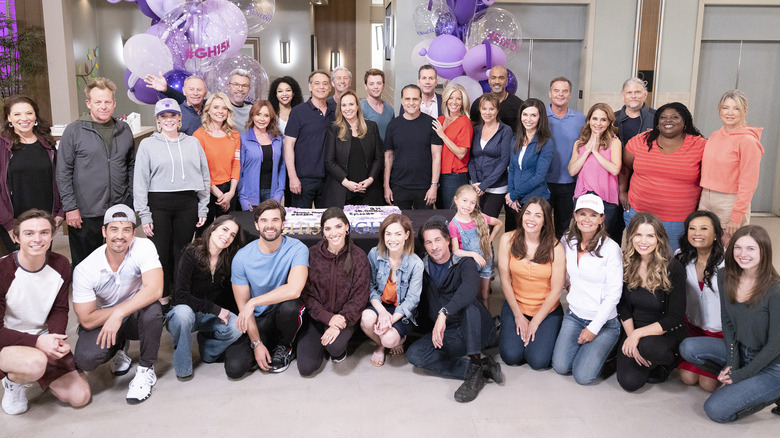 Liliane Lathan/ABC
In 2023, "General Hospital," the longest-running soap opera still airing on ABC each weekday, will celebrate its 60th anniversary. When the show premiered April 1, 1963 (via IMDb), it was joined by another medical drama called "The Doctors," but NBC's medical soap was canceled by 1982 (via IMDb). ABC's medical drama is still going strong in 2022, and it's sure to celebrate in a big way. However, before its 60th anniversary episode airs next year, the soap just taped another milestone hour celebrating its 15,000th episode, according to ABC Los Angeles. That is a lot of soap opera content over nearly six decades.
Most of the current cast was on hand when the 15,000th episode was taped. They even got together for a cast photo on the hospital nurses' station set, which is considered the hub of the show and the hospital. While "GH" may have veered into mafia stories and on-the-run adventures over the years, there's rarely a week where central action doesn't take place in the hospital halls. 
Aside from the hospital, the heart of "GH" for the past 45 years has been one actress that may come and go, but is still an integral part of the canvas today — which is why the 15,000th episode will center around her.
Genie Francis is getting her very own special General Hospital episode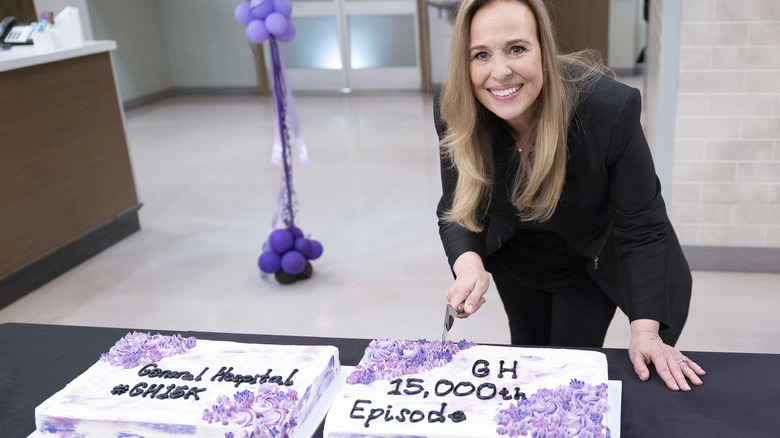 Liliane Lathan/ABC
When "General Hospital" airs its 15,000th episode June 17, Genie Francis — one half of the iconic and controversial soap pair, Luke and Laura (via TV Insider) — will get the royal treatment as Laura's life in Port Charles is remembered in a very special way. The soap has yet to reveal the details on what will happen during this episode to make it Laura-centric, but executive producer Frank Valentini gave ABC Los Angeles a bit of preview.
"It'll be happy. It'll be sad. It'll be dark. It'll be scary," Valentini teased. "It'll be fun. It'll be thrilling. It'll be exciting. But most importantly, it has almost every single cast member in it." 
The celebration on the hospital hub set came with a cake, which Francis had the honor of cutting. There were also various photos of the actress posing with longtime cast mates. She told ABC how she feels about her character's evolution through the decades.
Genie Francis celebrates Laura and reflects on the past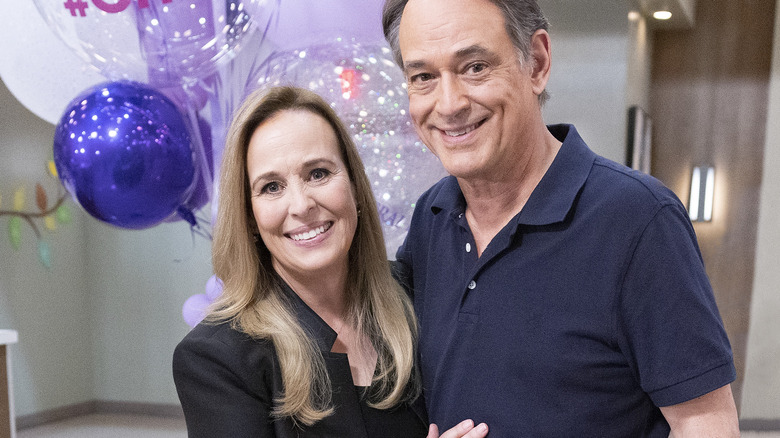 Liliane Lathan/ABC
Genie Francis was 15 when she first started playing Laura Vining on "General Hospital" in 1977, and she's become one of the longest-running cast members (via IMDb). She was only 17 when her character was thrust into the spotlight thanks to a controversial plot point involving Anthony Geary's Luke Spencer. The show re-wrote what viewers saw happen and called it a seduction (via the Associated Press). Luke and Laura went on to wed in 1981, and it became the most watched soap opera episode in daytime television history, according to TV Insider.
In 2015, Geary left the soap for good; that was the same year Francis returned after a hiatus. By 2022, Luke was presumed dead and given a memorial in Port Charles, the fictional town where the soap takes place (via TV Insider). Laura is now the town's mayor and is married to Dr. Kevin Collins (Jon Lindstrom). 
Francis told ABC Los Angeles that she plays Laura differently now than she did as a teen as both character and actress have grown up together. "I'm very happy with how the character has grown and changed," she said. "In the beginning, of course, she was very, very vulnerable. And now I focus much more on her strength."