The Young And The Restless Scene That Always Makes Kate Linder Cry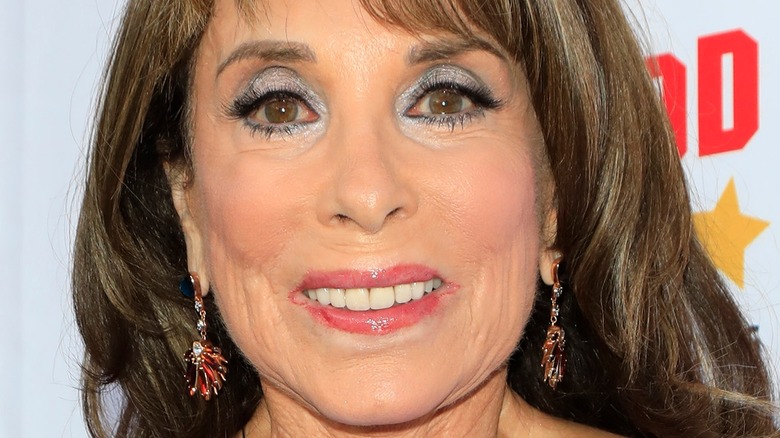 Kathy Hutchins/Shutterstock
Kate Linder first appeared on "The Young and the Restless" in 1982 as the maid to the prominent Chancellor family, Esther Valentine — in a role that was only supposed to last one day, but became the impetus for a 40-year career on the show. Not only did Linder thrive in the role but she formed an unbreakable friendship with Kay Chancellor's Jeanne Cooper — who even named Esther's character! (via TV Insider).
Before Jeanne Cooper's passing in 2013 (and thus Kay's as well), the two women had some ups and downs in their relationship. When Esther was inadvertently involved in the death of Kay's beloved husband Rex Sterling (Quinn Redeker), Kay was ultimately able to forgive her (via Soaps in Depth). In turn, Esther named her baby Kate in honor of Kay. When Kay was presumed dead in 2008 it was revealed in her will that she left $1 million of her estate to Esther, as well as one-half interest in the Chancellor mansion. That's true friendship!
Though Kay is now gone and Esther has been through much of her own heartbreak, including the presumed death of her daughter, who changed her name to Chloe Mitchell (Elizabeth Hendrickson), and the tragic passing of her granddaughter Delia (Sophie Pollono), Esther remains in Genoa City due to her loyalty to Kay and the Chancellor family. Esther has been the comedic relief in the "Y&R" world for decades now, and she doesn't plan to give up her infamous duster any time soon!
Kate Linder tears up remembering Kay and Esther's friendship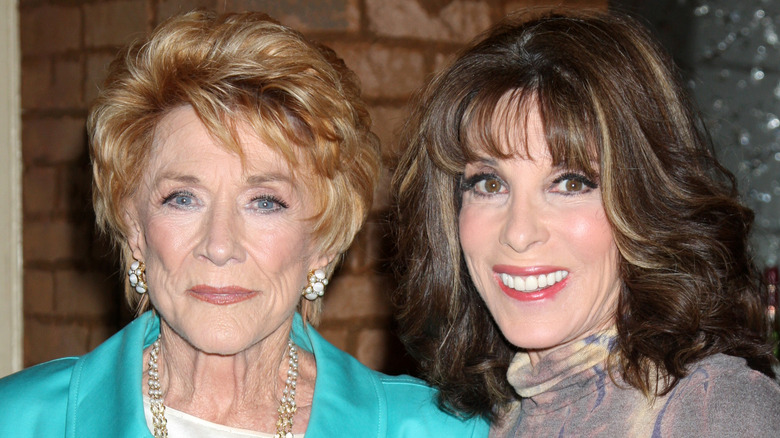 Joe Seer/Shutterstock
In an interview with Soaps, Linder explains the "Y&R" scene that never fails to bring tears to her eyes. In 1991, Kay and Rex put on a masquerade ball for charity that included fine dining, costumes, and lots of singing and dancing. Esther got on the stage to perform the song "Everybody Ought to Have a Maid" and it was Kay's introduction as emcee that still gets to her. Linder explained, "She said something like, 'Well, now ladies and gentlemen, I give you..' She started to say, 'I give you, my maid.' But instead, she went, 'I give you my...' Just a little beat. 'My friend.'"
It is special moments like this one, when Kay expressed kindness to Esther, that makes Linder miss her dear friend Cooper that much more. Linder explained how Cooper became her on-set confidant much like Esther was for Kay on the show. She said, "I can hear her today, I hear her in my head saying, 'Really! 40 years...'" Cooper would undoubtedly be proud of her friend for hitting such a huge milestone in her career.
Esther remains loyal to the Chancellors even after Kay's death
When Kay actually passed away in 2013 Esther was somewhat disappointed to learn that instead of being given the mansion, Kay only left her a "significant salary" with the added stipulation that she must remain as the Chancellor's maid (via Soaps in Depth). Though Esther did leave the estate briefly to take a job at Crimson Lights, it wasn't long before she returned to honor Kay's wishes. Linder told TV Insider, "Esther's very loyal and so is Kate."
Currently on the show, Esther spends most of her time as a doting grandmother to Chloe's two children Bella and Miles. Though she's happy with her life as it is, Esther has expressed interest in trying to find love, with her daughter's encouragement, and has recently signed up for a dating app aimed at seniors (via Soap Dirt). We're excited to see what kind of storylines "Y&R" is going to cook up for this iconic character — that don't include a maid's uniform!