Travis Barker's Calabasas Home Is A Far Cry From His Typical Punk-Rock Style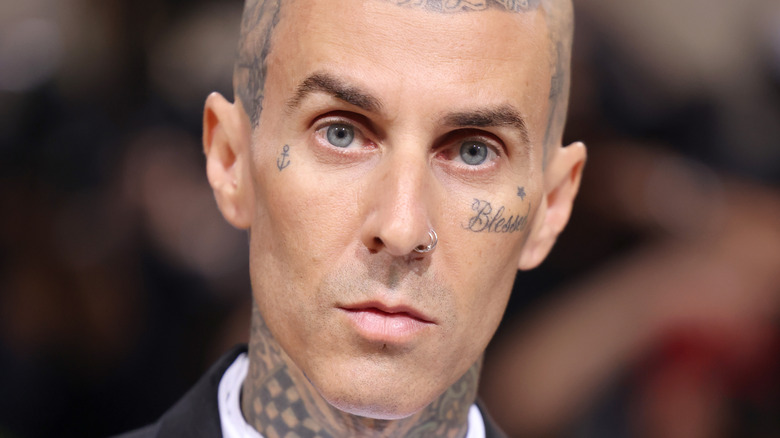 John Shearer/Getty Images
Travis Barker is the tattooed drummer from Blink-182, so one would expect his home to reflect his punk-rock style. And yet, when the star opened up his Calabasas mansion for Architectural Digest, fans were in for a shock. Because Barker's home isn't anything that we would have pictured. The gorgeous abode instead boasts a calm, clean aesthetic with neutral tones and a beachy, modern vibe.
Watching a video tour of the impressive house, we aren't sure which room is the most gorgeous — the cozy-looking living room, the luxurious bedroom retreat or maybe even the resort-worthy pool. Each space employs cream, beige and gray colors, which may totally surprise fans of the star.
There's a perfectly-reasonable explanation for why Barker's home has a different feel than his punk-rock persona. The drummer's mother-in-law Kris Jenner turned him on to a designer named Waldo Fernandez whose "zen" style the musician says he immediately admired. Meanwhile, Fernandez told AD, "​​Travis wasn't looking for a major statement or any kind of caricatured rock-star style." Instead, the artist wanted to be able to enjoy "peace" at home, likely with his new wife, Kourtney Kardashian.
There's still a lot of Travis Barker in his home
Travis Barker admitted to Architectural Digest that houses he's lived in in the past were more what fans might expect from the artist. "I've had homes with lots of flashy cars, murals and bikes hanging from the ceiling," Barker said. The rocker went on to share, "But with three children of my own, plus Kourtney's kids, this place felt right for this moment in my life. I wanted a house where I can rest and enjoy my family."
To be fair, the video tour does reveal a garage full of cars and a music room, and Barker definitely put his stamp on the home, with the star revealing some of this favorite artists' works hang on the walls. 
At one point we see Kourtney Kardashian, whom Barker will marry in a third ceremony this weekend, sitting on the kitchen counter enjoying a matcha that he made for her. "I actually make the best matcha," the drummer confides before moving on to showing off his matcha station.
So will the two stars be living together in this sophisticated, calming home, which also features an entertainment room for the kids complete with a cement ping pong table and a Dior BMX bike? According to Barker, Kardashian still has her own house closeby and they may ultimately buy another property together in the future.