The Truth About Bruno Peek, Beacon Pageant Master For Queen Elizabeth's Platinum Jubilee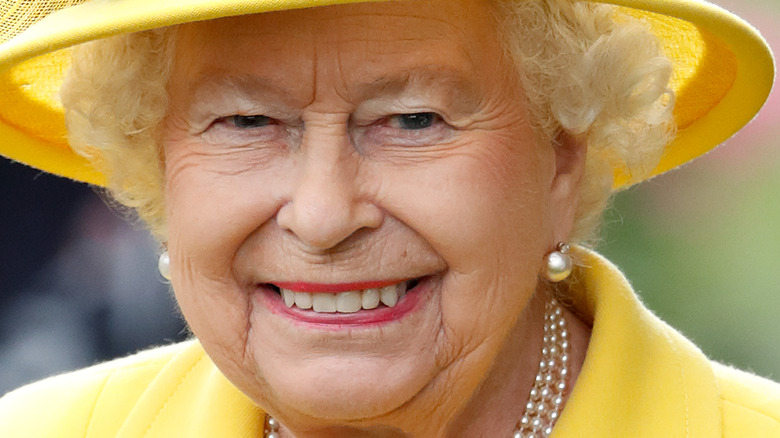 Max Mumby/indigo/Getty Images
Queen Elizabeth's Platinum Jubilee celebration is the event of the year in the UK. Honoring the monarch's record-breaking 70 years on the British throne, the Jubilee festivities will fill the four-day weekend of June 2 through 5. There will be something for everyone — luncheons, floral tributes, a huge slide at the Tower of London — culminating in a massive Jubilee concert led by some unexpected performers: among others, Queen + Adam Lambert, Duran Duran, Andrea Bocelli, Lin-Manuel Miranda, and Diana Ross. (It's only fitting that the Queen of Motown would honor a fellow monarch.)
One of the most stunning portions of the weekend will be the Queen's Platinum Jubilee Beacons ceremony. Thousands of beacons — gaslit torches, braziers with metal shields, and bonfires — will be illuminated across the UK and its commonwealths, creating a spectacular display. The man in charge of making sure the illumination goes off successfully is Beacon Pageant Master Bruno Peek. 
Bruno Peek helped with the Golden and Diamond Jubilees as well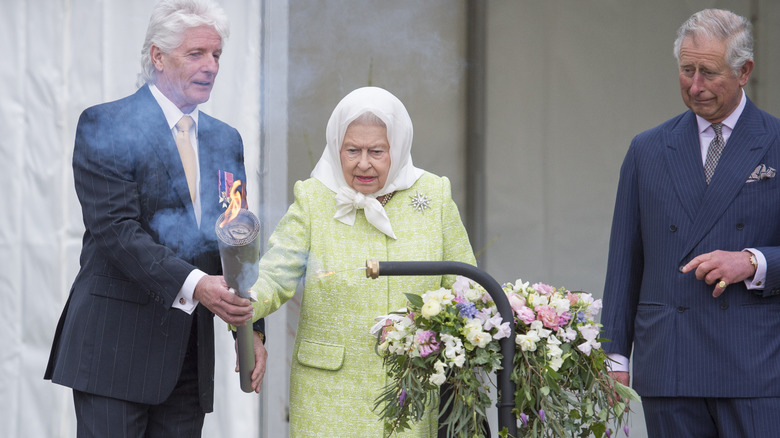 Wpa Pool/Getty Images
Bruno Peek is in charge of registering all the official beacons and making sure they all get lit at the appropriate moment. As People reported, the former welder handles the whole affair from home, and will accompany the queen to the lighting of a central beacon in London. He also coordinated the ceremonies for the Golden and Diamond Jubilees.
It's a job Peek enjoys because of his respect for the queen. "She's very caring, very understanding, very polite," he told the magazine. "And she makes you feel very welcome when you're in her presence."
As the official website explains, there will be three beacon events taking place on June 2. The first will be a simultaneous lighting of thousands of beacons all across communities in the UK and its territories. The second will be a lighting of torches and fires in the 54 principal cities of the Commonwealth, and then, the Principal Beacon, a large torch in London is expected to be lit by a member of the royal family. 
The queen enjoys beacons. Fireworks? Not so much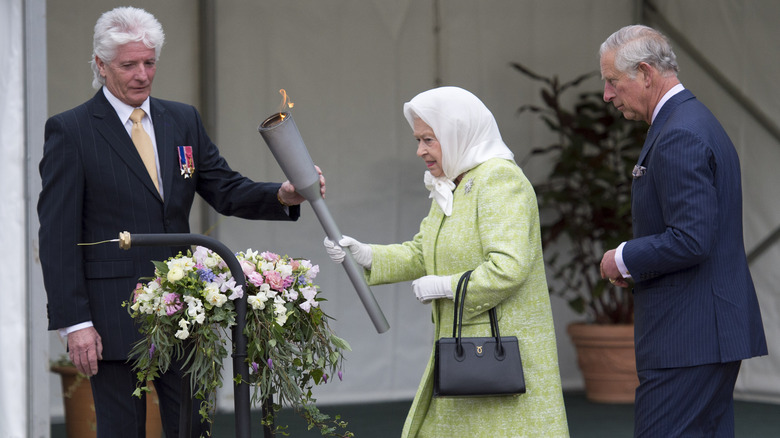 Wpa Pool/Getty Images
Beacon Pageant Master Bruno Peek told People that the beacons, once used as a signal of an impending invasion, are now considered "a symbol. The one thing about beacons is that you can bring people of all ages, all nationalities, all religions — it doesn't matter who you are, you can bring them together at one moment in time to celebrate an important anniversary."
Peek admits to feeling a pang at realizing this will be the last such ceremony for this remarkable monarch. "I don't mind admitting, I'm gonna shed a few tears that night," he told People.
Another traditional light display is less popular with the queen, it seems. Peek reported that during her Diamond Jubilee, she opted not to stay and watch a fireworks show because it was too reminiscent of the bombing of London in World War II. She told Peek, "Do you know it reminds me — it's the Blitz all over again."