The Bold And The Beautiful's Darin Brooks Shared A Sweet Message For His Wife Kelly Kruger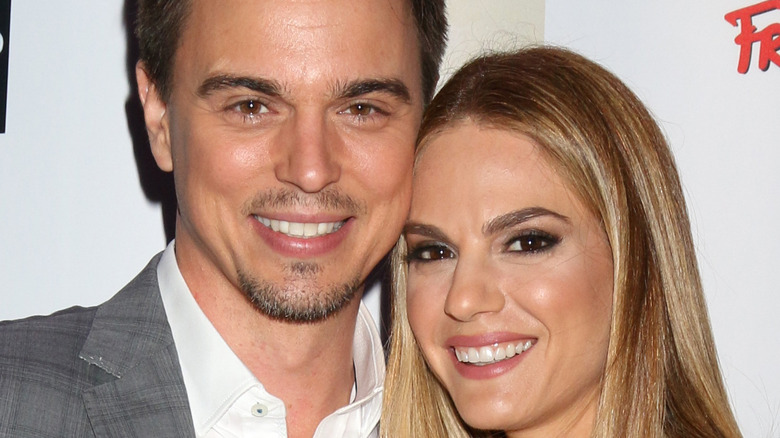 Kathy Hutchins/Shutterstock
Darin Brooks and his wife Kelly Kruger are both soap opera vets, in addition to being an adorable couple and parents to their little ones. Darin is known for his role as Max Brady on "Days of our Lives" from 2005 to 2011, and for portraying the strong-willed Wyatt Spencer on "The Bold and the Beautiful" since 2013 (via IMDb). Over the past 20 years Kelly has bounced back and forth between roles as Mackenzie Browning on the "Young and the Restless" and Eva on "B&B" (via IMDb). Both husband and wife are successful in their acting careers and have several other television roles to their names.
According to The Knot, Darin and Kelly were married in Hawai'i in March 2016 after they met on the set of "Blue Mountain State" in 2010 and dated for several years. With a beautiful French-inspired theme and a traditional Jewish ceremony, the couple celebrated their future life together with their closest friends and family. In 2019, the couple announced that they had welcomed their first child, a daughter named Everleigh (via People). Just a few months ago in February 2022, Darin and Kelly became parents to two when their daughter Gemma was born (via Soaps).
Kelly Kruger shares the reality of post-partum life as a mom of two
Kelly took to Instagram in April to share with her followers what the experience has been like bringing a second baby into their world. She shared how difficult it was to split her attention between the two girls and her guilt over not being able to give Gemma the same undivided attention she was able to give her first daughter, and how one-on-one time with Everleigh is limited. Part of her caption read, "The transition [from] one to [two] is definitely a challenge, but it truly is the best thing I've ever done in my life."
The actress also shared that Everleigh is thrilled about the addition to their family. Kelly wrote, "She LOVES her baby sister, she helps take care of her, changes diapers, brings her toys when she cries and just wants to hug and kiss her all day long." When speaking to People, Kelly and Darin explained that they both had siblings in their lives growing up and that it was important for them to give their children that same experience.
Kelly Kruger offers advice to fellow moms and husband Darin Brooks shares support
In the same Instagram post, Kelly offered advice to moms transitioning from one to two children. Her first tip was to "prepare the older one," sharing from her own experience that they had talked to Everleigh extensively about her soon-to-be sibling so she would be ready for her arrival. She also suggested that parents "get a baby doll so the older one can mimic what you do," and expressed that there's no shame in having the older children help out with the younger one.
Darin commented on the post in support of his wife, writing "Just remember ... you're doing great babe!!!" In his own celebratory Mother's Day post a few weeks ago, Darin reiterated his feelings toward Kelly. His caption read, "I know it can be tough sometimes, but just know ... I think you're doing an AMAZING job!!"
We are wishing Kelly and Darin all the best with their new little one and can't wait to see more of Darin's Wyatt Spencer on "B&B" this week!